Strolling around SM Mall of Asia for hours is bound to make one hungry... with that size of a mall, who wouldn't be? A good thing about hanging out in a commercial area as huge as MOA is that there's a myriad of choices where you can whet your appetite. In one of those mall-strolling days, if you happen to pass by the Main Mall, you will be greeted by a very colorful and mouth-watering food display against white modern-looking interiors. And if you were as hungry as I was during one of those trips to the mall, the warmly-lit restaurant is something my stomach would willingly try out.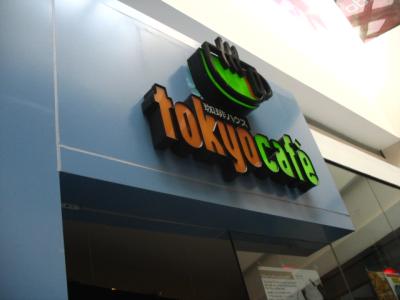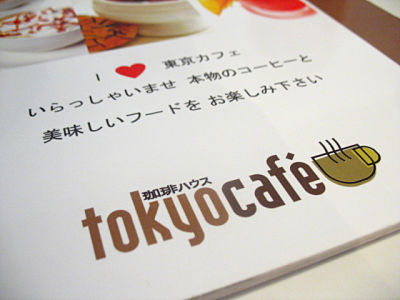 No sushi in here! Their name might mislead you.
'Philippines' Only Japanese Family Restaurant'
Tokyo Cafe
is Japanese but not - that sounds a bit odd, but let me explain why. Mr. Atsushi Yoshizawa, the owner, explains to me that Family restaurants which are common in Japan offer 'Western food with a touch of Japanese culture'. This is what Mr. Yoshi wanted to share to the Filipinos, hence, Tokyo Cafe was born. Pass those large glass windows and see that the place exhibits a modernistic fusion of Eastern and Western design. The style definitely suits the concept of the establishment. Hanging red spheres of light and wooden furniture accentuate the plain white walls of Tokyo Cafe.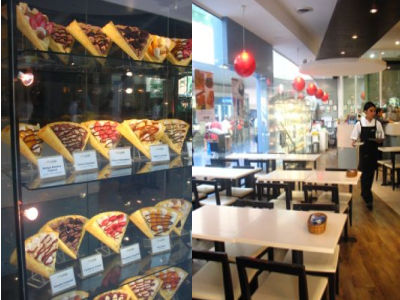 'We don't serve traditional Japanese food, we serve Western food with unique Japanese touch,' he shares, as I asked him about the food options of his cafe. Their menu include an impressive array of pizzas, pastas, sandwiches, and burgers. For dessert, there are many crepes to choose from, and a good number of hot and iced coffee as well. The selection is quite unexpected for a restaurant with 'Tokyo' in its name, but Mr. Yoshi has incorporated Japanese ingredients in preparing the dishes so expect a little something to give the food a twist.
For our late lunch, Mr. Yoshi was kind enough to accommodate and prepare for us the cafe's best sellers.
As a certified pasta lover, it was instinctive to me to first try their
Creamy Ebiko Pasta (P255)
.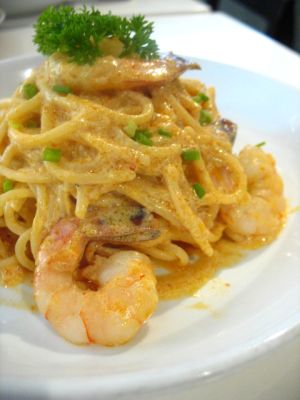 Creamy Ebiko Pasta
True to its appetizing pictures in the menu, the pasta dish is as mouth-watering. Presented humbly in a white plate, its flavor was more than what meets the eye. The rich, creamy pasta and shrimps perfectly complemented each other. The shrimps tossed about the pasta were remarkably generous, and they also tasted oh-so-fresh and scrumptious. This dish immediately became my favorite and I do recommend this as a must-try.
Next on my line up was the
Hamburg and Shrimp (P235)
: two juicy and thick-enough patties, served with rich gravy plus two breaded tiger prawns.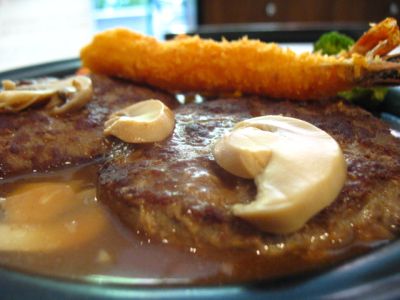 Hamburg and Shrimp
One can have the option of adding Japanese rice or garlic bread by just adding P25. I opted to eat it as is, as the serving size is huge! The breaded prawns were equally good and satisfying as the shrimps in the pasta I devoured previously. I really love prawns and to my delight, they were unlike some of the tempura dishes of other restos where you can barely distinguish the taste of the seafood from all the flakey mix of flour and oil.
Though the first two dishes were already heavy enough to fill my stomach, I still couldn't resist to try their
Mango Chicken Salad(P150)
and
Kani Crab Sandwich (P140)
.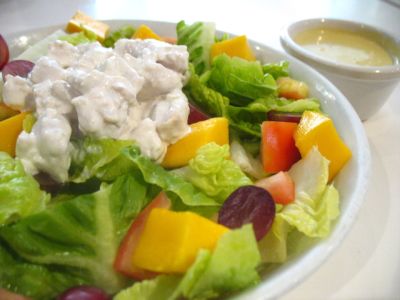 Mango Chicken Salad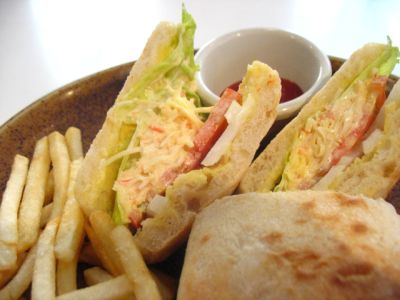 Kani Crab Sandwich
The sandwich was served with crispy fries and some ketchup for dipping. The Kani Crab Sanwich was fully loaded - three ciabatta sandwiches filled with kani sticks, onions, tomatoes and cheese. I think that the Kani Crab Sandwich's serving was very generous for its price, as it is a great item to share with a friend.
After a taste of the sandwich, the delightful and colorful mix of vegetables and fruits of the Mango Chicken Salad refreshed my tastebuds. Though I am not really a big fan of salads, I must say that this was impressive. The salad is good for those who want to have something light from the cafe, but good enough for a meal in itself. This salad is dressed with a classic light dressing, a good option for those who don't want to feel guilty counting the calories.
And because this is Tokyo
Cafe
, of course I wouldn't let this opportunity pass to try out their coffee selection. Mr. Yoshi is a certified coffee connoisseur, so it just simply follows to offer coffee in their menu. Tokyo Cafe's unique coffee concoctions are personally designed by Mr. Yoshi, and he adds that the cafe uses the traditional and elaborate Japanese Drip method. They also have their own signature coffee mix, giving a distinctive flavor. Mr. Yoshi gamely demonstrated to us how
Sumibi Yaki (P84)
, one of their best sellers, is prepared. He even shared to us exact temperatures one must use to make a good cup of coffee!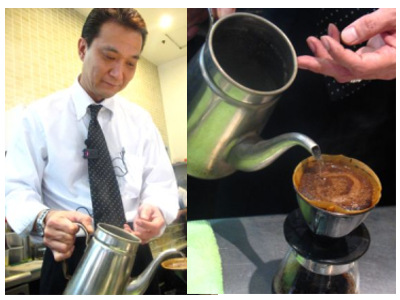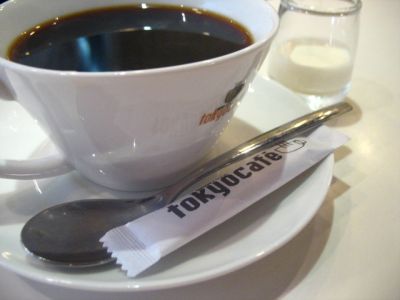 Sumibi Yaki
The Sumibi Yaki hot coffee was distinctively bold as promised, its taste different from the strong coffees Filipinos are accustomed to with the Barako.
Aside from that, we were served
Iced Chocolano (P116)
,
Iced Royal Milk Tea (P68)
, and
Iced Caramel Vienna (P116)
to try out their cold coffee blends.
Iced Chocolano, Iced Royal Milk Tea, and Iced Caramel Vienna
I opted to try out the Iced Chocolano. I didn't really taste much difference from my drink, from what is available in other popular cafes, but it was still refreshing. And it is also good to note that their coffee prices are very competitive and they have that other important factor: unlike in the regular cafes where they have minimal food selection, Tokyo Cafe lets you enjoy your coffee with a whole lot of food options.
After a lot of tasting, devouring and drinking, my first try at Tokyo Cafe proved to be satisfying. Their meals' serving sizes do justify their respective prices. Their coffee line-up is worth checking out, too! There's a little something for everyone - the coffee drinker, the food lover, the sweet-toothed folks. With their varied menu and feel-good ambience, Tokyo Cafe is indeed a one-stop dining experience, perfect for casual get togethers. It is guaranteed that I will be back to try the rest of the food they offer!