Comfort food is as varied and diverse as food is but it is always something that involves great pleasure. To some it's as simple as mom's adobo or tita Inday's callos, and maybe anything, that reminds one of home. To me, it's French fries and a chunk of rich dark chocolate (at room temperature please!). You see it's not typically hard-to-find or expensive; it's just something that makes you smile.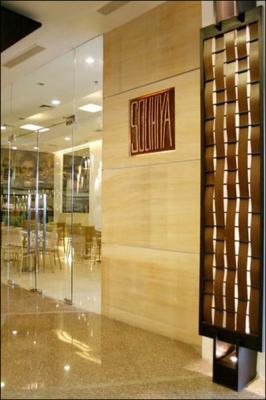 On a recent trip to
Greenbelt 5
, I found a dish in
Solihiya
that I can add to my list of feel-good food. Solihiya is that picture-pretty restaurant on the third floor of Greenbelt 5 that can easily earn as much praise for its Tsinoy menu as its interiors. Well-lit with yellow lights, large windows and clean white walls, the place is furnished with handsome custom-made furnishings from Cebu and is the masterpiece of Cebuano Architect Ed Gallego. Solihiya means "weave" and is more commonly known as a popular kind of Asian furniture design. The restaurant is symbolic of "weaving the different flavors that has shaped the Filipino cuisine." The menu is a mix of Filipino and Chinese favorites, and their alliance as the cuisine of panciterias and esteros from Old Binondo.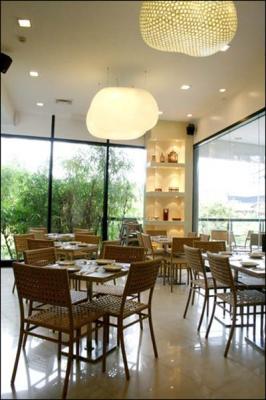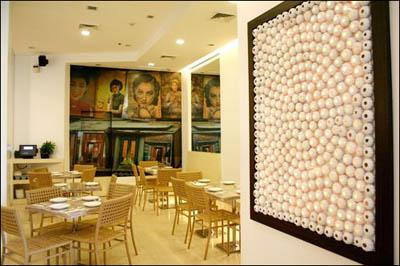 At helm is young
Nick Santiago
, also the chef/teacher (teaching Asian Cuisine in College of St. Benilde) who was trained in Hawaii to open Polu Kai in Serendra. I had the
Cold Tofu Salad (P200)
, fresh tofu cuts with sprinkled kiam tsay, spring onion, garlic, century egg, pickled vegetables and oyster sauce. I can imagine non-tofu fans liking this because in its simplicity it packs flavors that blend nicely. The century egg is a nice touch as it breaks the delicateness of the tofu and adds texture. Admirably, it has its ways of making you feel refreshed.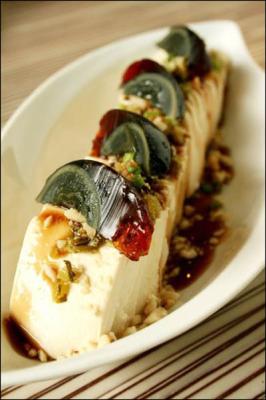 Cold Tofu Salad
Chef Nick's
Escabeche Solihiya (P255)
was impressive. Judging from the name, it's often a good sign when the restaurant stakes its claim in the entree's name. The dory fillet is fried to perfection, and by that I mean that it was cooked at a specific heat that makes the fish crispy on the outside and tender on the inside, and served with sweet and sour sauce. It was hard not to be fascinated despite my aversion to anything sweet and sour. The sauce lets the fish be the rightful star and refuses to overpower its flavor.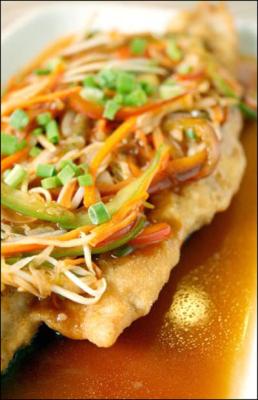 Escabeche Solihiya
The
Pata Tim (P635)
, slow-braised pork leg in sweet but not too cloying soy-based sauce, had the meat falling of the bone.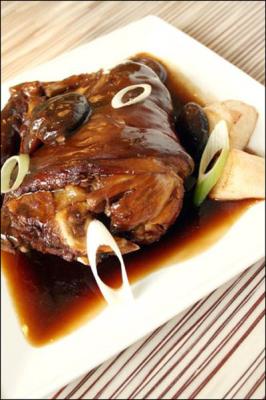 Pata Tim
Entrees in Solihiya are very Pinoy in a sense that they're packed with flavor. Solihiya's
Binagoongang Belly (P395)
can be your worst nightmare if you're watching your weight so watch out. Not only will this seduce you into reaching for more rice, it's a classic example of the irony that something so good can be
sooo
bad. But if one thing, Solihiya is a place to indulge so suspend any cholesterol concerns and live a little!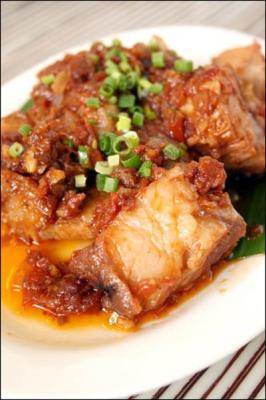 Binagoongang Belly
Their
Cha Misua (P310)
, I dare say, is the best pancit in the world. It might not be the most heart-friendly dish around, what with lechon bits and fried quail eggs on top, but I'm not even counting calories at this point. It's wonderfully oily (in its own right!) and I don't mind, especially after catching a forkful of noodles with peanuts and bits of coriander. This one had me talking about it the rest of the day.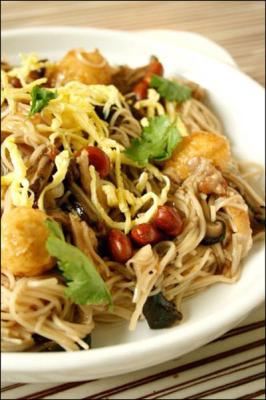 Cha Misua
For dessert, there's
Mango Pudding with Fruits (P145)
, which really has a native feel to it because it uses creamy coconut milk, and
Fried Banana with Ice Cream (P120)
. The bananas are sautéed in muscovado sauce and served warm, making them lovably bittersweet. Top it with ice cream and the play of the hot and cold is comfort food at its best.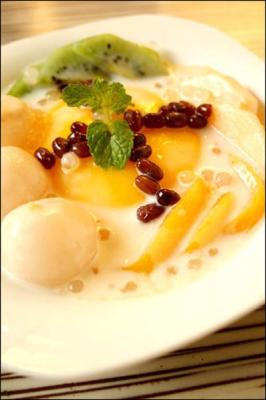 Mango Pudding with Fruits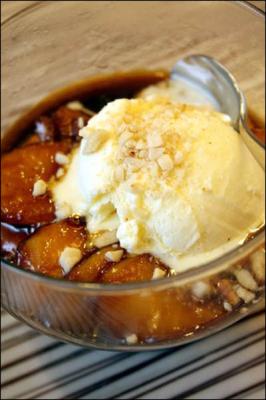 Fried Banana with Ice Cream
Compared to its neighbors, Solihiya is one of the least expensive options in Greenbelt 5 with nothing over P635. It's where you might escape the highbrow crowd and lose hours over a meal, talking about good food and good times.