It was a fitting homecoming for someone who just traveled for 29-hours from halfway across this planet. Umu, Dusit Thani Hotel's Japanese restaurant, was a beautiful backdrop for an intimate family gathering.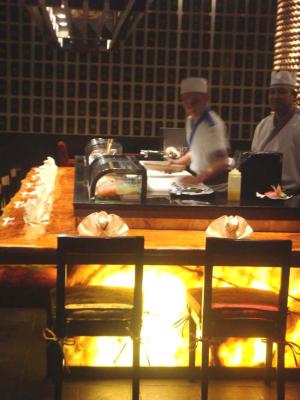 If there is one word to describe Umu at first glance, it would be tasteful, without being the least bit ostentatious. With an intelligent play of lights and wall details, this stylish bistro's interiors seemed to transport me to a different part of the globe altogether. Huge wooden buckets of fruit and vegetables welcome diners at the entrance, giving the place some sort of market charm - a sharp contrast to the otherwise sleek design.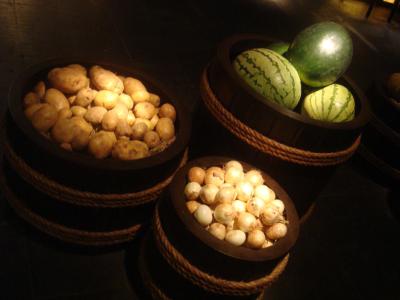 We started on a high note, as the weary traveller plopped down on his seat. We were about to be graced by one of the freshest sashimi selections I've had in Manila.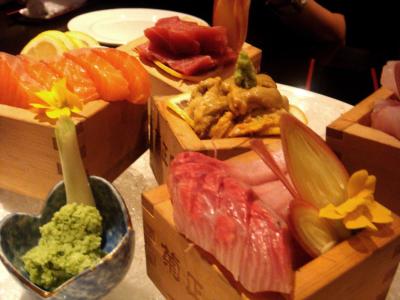 Sitting on a bed of crushed ice, the
Goshyumori (P1,190)
made for a symphony of five kinds of sashimi: shaké (salmon) , uni (sea urchin), maguro (tuna), lapu-lapu and hamachi (yellow tail). Each kind contained five hefty slices. All are very artfully and individually served in traditional miniature cargo-looking boxes called
masu
. Scooping a dollop of wasabi onto my soy sauce dish, I watched the pale green paste dissolve on its own very quickly.
Right then and there, I knew that our dinner was off to a good start.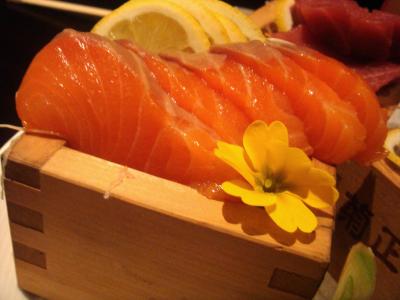 Shake Sashimi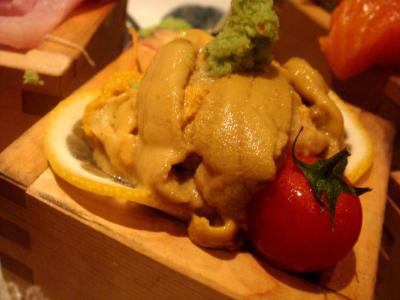 Uni Sashimi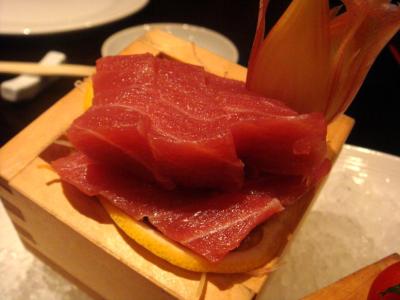 Maguro Sashimi
Everyone was busy chattering and carving the
Syongyo Kabuto Yaki (Hamachi Head, P800)
. And since everyone else at the table was watching their cholesterol levels, I discreetly demolished most of the uni sashimi.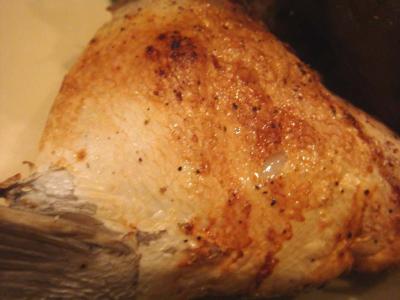 Then a little 8 year-old sitting to my right asked me to cut her large and fat
Ebi Tempura (P825, 6 pieces)
into bite-size pieces which she managed to eat on her own with chopsticks.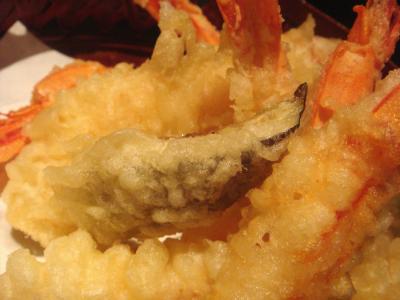 Playfully hovering around her brother, who was trying to stay awake while adjusting to jet-lag, she skipped back to her seat when our server came in with sliced rolls of
Tempura Maki (P700, 8 slices)
on the table.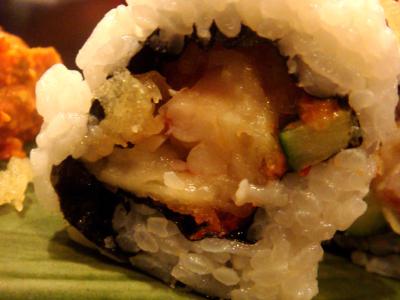 It was one sizeable, spicy and tasty dish which was flavorful all the way to the core. For a spectacular kick, the evening's host suggested that I dunk my chopstick in that reddish ball of chili mayonnaise served on the corner of the plate and dab it on a slice of roll. I followed his advise, and I'm glad I did.
A bundle of fresh inoki mushrooms wrapped in home-made bacon,
Butabara Inoki Maki (P250, 2 sticks)
made for a mouth-watering dish. I've ordered this before. The difference, though, is that previous places did not come remotely close to the flavor, value and portions of Umu.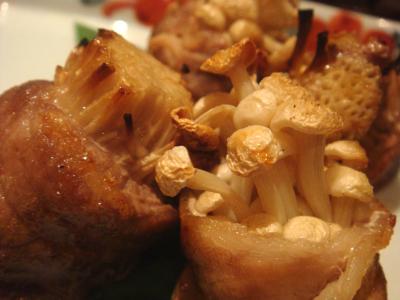 It gave a nice salty blend in my mouth, mixed with the sweet fragrance exploding from each bite of the mushroom. It mixed fatty textures from what we think was home-made bacon and the smooth crisp stems of fresh mushrooms. Because the traveller's little sister doesn't eat raw fish yet, we had an order of
Tori Karaage (P250, 7pcs)
. It was done to a nice golden crisp with that ever-so-slight hint of ginger and garlic with each bite, putting a smile to her face.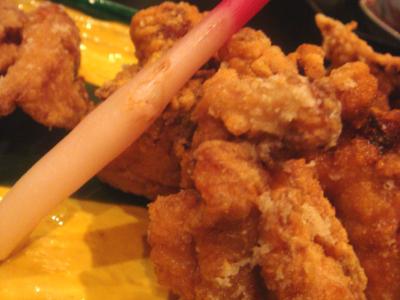 The evening was a fabulous harmony of excellent Japanese fare, remarkable interiors, privacy (our server sheepishly shut our screen doors as we were creating quite the happy ruckus), easy laughter and warm camaraderie, as we capped it with a
tokkuri
(traditional ceramic bottle) each of warm
Sake (P380-782 a jar)
.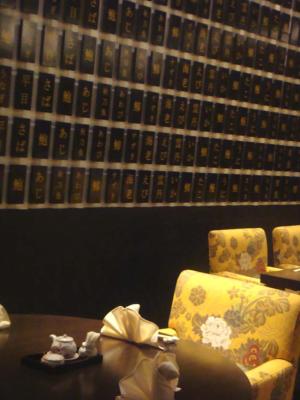 Attempting to walk off the weight we probably acquired from the evening's merry feast, we made our way to the valet desk of Dusit. This is where I befriended Cupid, a 3 year-old yellow Labrador standing guard at the entrance who was all too pleased to have us fussing over him. Should you see him on your way to Umu and want to shake hands (shake paws) with this sociable canine, make sure to ask for the left.
The new furry acquaintance was the icing on the cake which definitely made for one very good evening.