It could have been Austin Powers' pastry shop crossed with Willy Wonka's Chocolate Factory. One can easily mistake it for a virtual time machine for I felt as if I was transported to the psychedelic era that preceded my debut into planet earth (and back to the old 80's Goya Fun Factory commercial). I wasn't even fully awake yet when a burst of colors jolted me out of my stupor as I entered the sweets shop that was littered with thereabouts fifteen wide-eyed girls out for 8 year-old Nicole's birthday party and raring for a sugar high at 10am on a Saturday morning.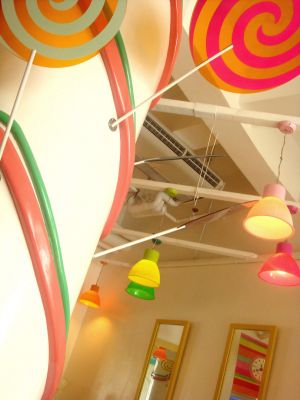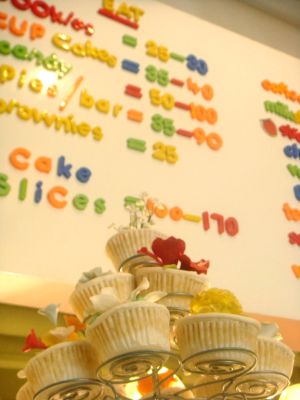 Marta's Cakes
was a saccharine feast for the eyes as well as the palate. Everything looked too pretty that for a moment I thought the cupcakes were painted ceramic sculptures. The glass counter displayed wonderfully-crafted sugary delights that were truly works of art in itself, perfectly laced with bright-hued butter icing with a splatter of candy sprinkles.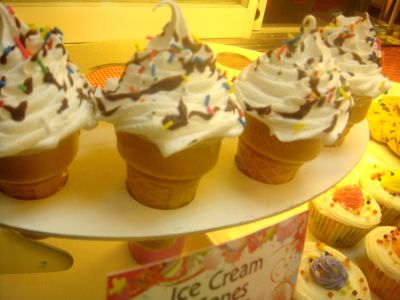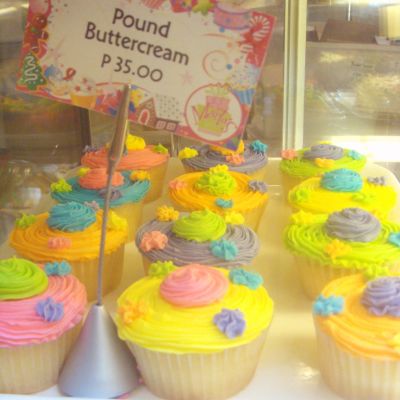 Buttercream Cupcake (P35)
Still somewhat spacing out from earlier than usual day, I felt Nicole grabbing my hand, tugging as she pointed excitedly and said, "Look! Look!" Next to the counter were jars and jars of gumdrops, candies, gummy bears and decorated cookies lining up one side of the store, a sight that reminded me of drawings in story and comic books I would read as a kid.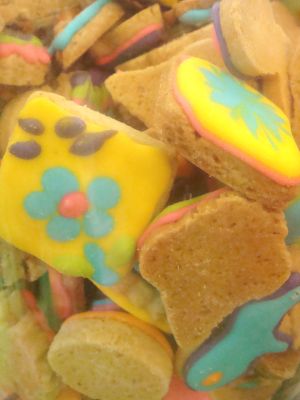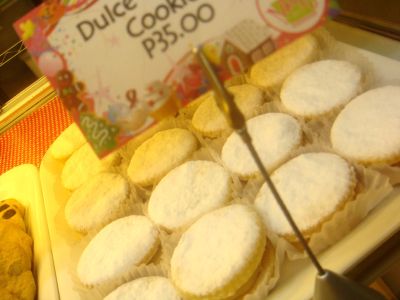 Marta Matute
explained that being more than a pastry shop, they are really cake artists who can execute designs straight out of your imagination by meticulously sculpting a sugar-based cream confection (fondant). The place is a dream come true both for the little girl with a Hansel-and-Gretel gingerbread house fantasy, and paradise for the sweet-toothed grown up foraging for a new indulgence.
Marta's Cakes was an experience unto itself more than being just a mouth-watering pastry shop. The best thing I love about this place is this must be probably the one place in town where the children are given full license to literally play with their food, as these lower school kids busied themselves in their psychedelic-colored chairs and tables making their own personalized desserts!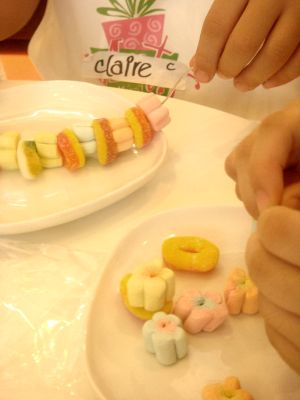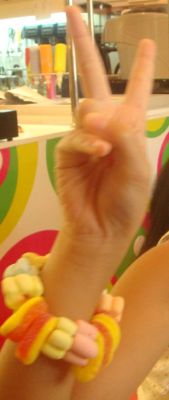 Rocio Matute-Lista, or Chef D, was commendable in being 100% hands-on with the kids as she expertly hustled about, providing the happy girls with jelly candies and marshmallows they could use to string into bracelets, as well as bottles of colorful icing to make art on various-shaped biscuits as well as butter and chocolate cupcakes.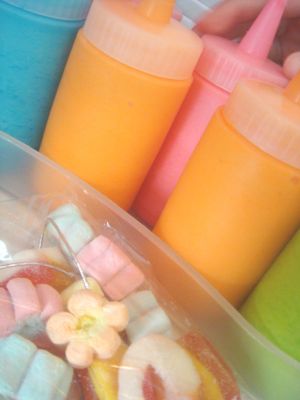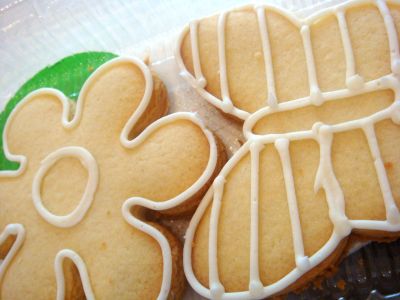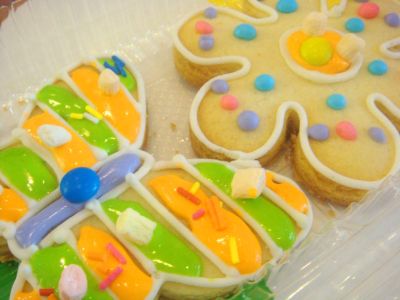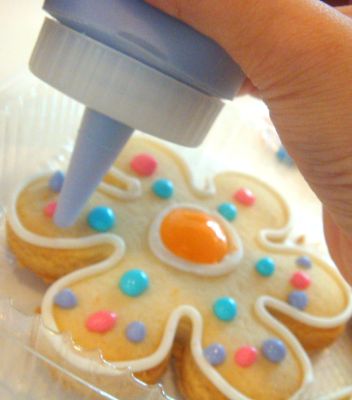 Being the self-appointed, obsessive-compulsive paparazzi of the morning, I didn't get the chance to experiment with my baked goodies while everyone else was having a ball. Because I spent all my time being the trigger-happy lens man, I ended up bringing home plain cupcakes. As I sank my teeth in them, I actually caught myself smiling as I savored the flavor melting in my mouth. I used to think that a cupcake was a cupcake. That day, Marta's Cakes just raised the bar for me.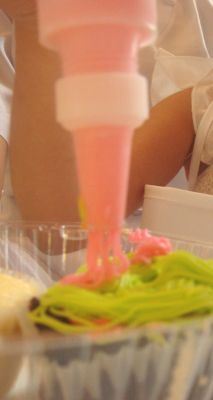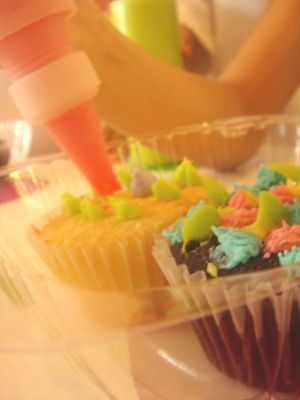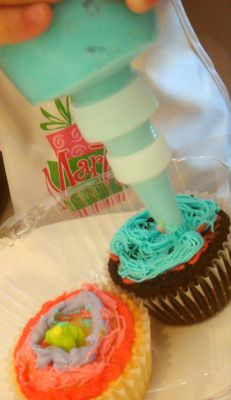 I must say that it was a rather innovative and stylish way to host a birthday bash, and I was happy Nicole invited me even if I was almost four times her age. For the first time, I witnessed highly satisfied kids having sheer fun sans the blaring karaoke machine (thank goodness!) blasting the cacophony of bass music and a squawking, high-pitched voice battling over the din.

If it is true that one should live in constant awe and wonder like a child for one's lifetime, then this should give all the children-at-heart with a passion for sweets an inspiration for their next birthday bash.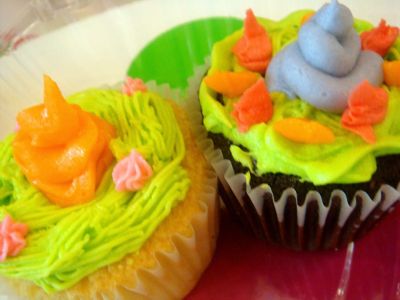 A Cookie-decorating or Cupcake-decorating Party at Marta's Cakes costs P27,400 - for 20 people, 3 hours, 2 activities (inclusive of materials), and 1 host. A 7x11 inch custom-made cake costs P1,800.