Entering this old Spanish house-turned-restaurant may make one feel like you're in a time-space warp (any Shaider fans out there?), transporting you to that bygone era of Jose Rizal. Think old world beauty, or romance in the time of hacienderos.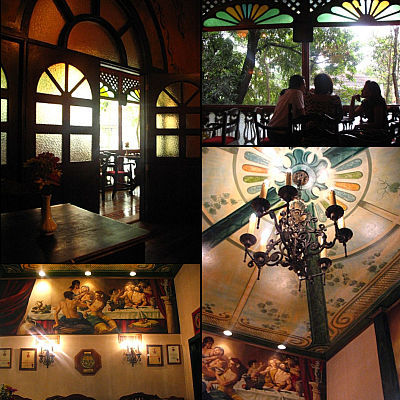 While the entire place is dimly lit, it is far from being gloomy: walls are beautifully and intricately painted, stained glass accents let in daylight with colorful hues; long afternoons over coffee and meeting the evening with the clinking of wine glasses. Somewhere, a smiling chef is seen walking around, often in animated conversations with his restaurant patrons.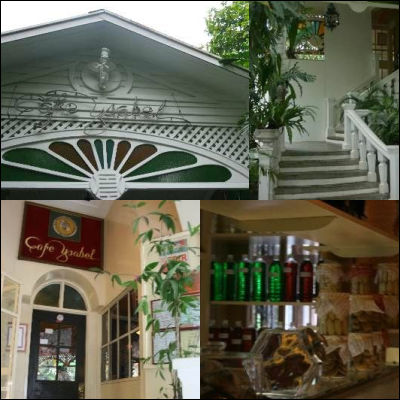 There is really something magical about Café Ysabel.
The Smiling ChefCafé Ysabel
has been around for a long time - you have heard about it, your parents have heard about it, and it's most likely you have read or seen things about the place. This is no surprise as the restaurant is consistently praised by food patrons and top food and city lifestyle publications, for bringing in quality cuisine at such a lovely ancestral atmosphere.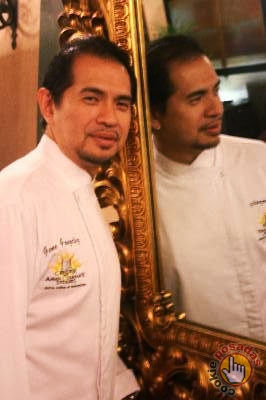 Chef Gene Gonzalez
Equally charming and full of life as Café Ysabel is
Chef Gene Gonzalez
, the 'smiling chef' who opened and operated the restaurant at age 23.
"I've always loved food," he shares, telling stories of his childhood, growing up with a grandmother who always had a busy kitchen. As a child, it fascinated him how his grandmother was always preparing things in the kitchen, producing home grown dishes, mouth-watering scents of which always wafting in the air, leaving one excited to taste what
lola
has prepared for her guests that day.
Chef Gene's passion for food brought him to France and Italy and all over, training under Michelin-starred chefs and becoming an awardee of the 'Ten Outstanding Young Men in Culinary Arts'. He also put his culinary adventures and musings into writing, authoring several books - award-winning ones, mind you - popular ones include the "Little Pinoy Cookbook" series. And as if his zest for life is still not apparent with all that being mentioned, he continues to share to others by opening The Center for Asian Culinary Studies, a training center which he runs with his son, Gino.

World-class Cuisine in a Classic Cafe

Café Ysabel's menu is an interesting mix - you see classic Filipino favorites alongside French, Italian, Mediterranean, and American dishes. Personalized menus (Degustation) are also available, giving customers more choices in dining. Oh, and let's not forget about sweet endings - dessert. Their pastry kitchen is also popular for its sweet and tempting creations. Oftentimes, loyal customers order items not found on the menu, and Café Ysabel will never fail to deliver - just call in advance to let them know what you want.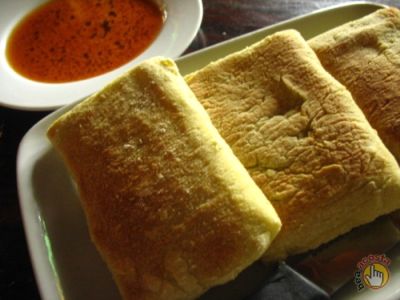 While I was taking in Café Ysabel's classic charm, freshly baked bread is served by the waiter, with a dipping sauce of olive oil and balsamic vinegar.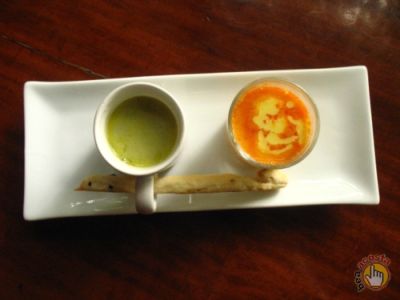 Cappucino of Roasted Tomato and Roasted Eggplant



I was served a pair of hot and cold soups to start my lunch. The Cappucino of Roasted Tomato and Roasted Eggplant gave off nuances of wood spices, giving the soups a fresh twist. I wish there were larger servings since the hot and cold duo made me almost forget that I had more dishes to come.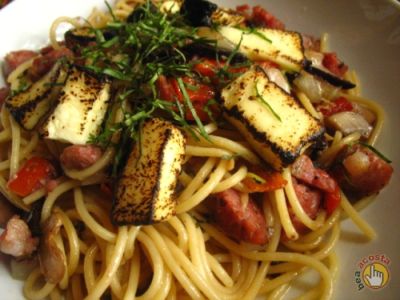 Polly's Pasta



I was first served Polly's Pasta (P228), which had grilled white cheese, Calumpit sausage, Kalamata olives, and basil. The play of textures is interesting on the palate. Café Ysabel makes their own version of the Calumpit sausages of Bulacan in their very own kitchen, and its saltiness meets well the smoky flavor of the generous chunks of grilled white cheese.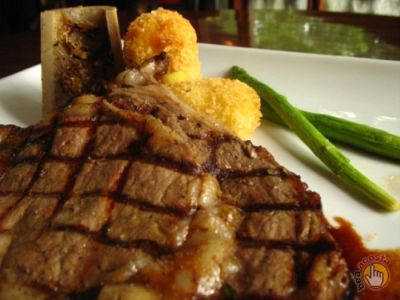 Grilled US Angus Ribeye, Garlic Roasted Bone Marrow and Truffle Potato Croquettes, Cognac Demiglace



Next in line for my lunch was the Grilled US Angus Ribeye, with Garlic Roasted Bone Marrow and Truffle Potato Croquettes and Cognac Demiglace. As expected from a fine dining restaurant, our grilled meat was served as ordered - medium well, and tender when sliced and eaten. What makes this dish noteworthy compared to other Ribeye is the brilliant pairing of the meat with the croquettes. Truffles are undoubtedly rich in taste, and to add that in the potato croquettes brought a delightful twist to the common finger food.

Are you a fan of Foie Gras? Well, I am. That is why the next dish to follow had me in a level of heightened anticipation. I actually had eaten Gooeseliver the day before I had lunch in Café Ysabel, but I immediately shrug it off for the love of food. Hey, we have to indulge every now and then.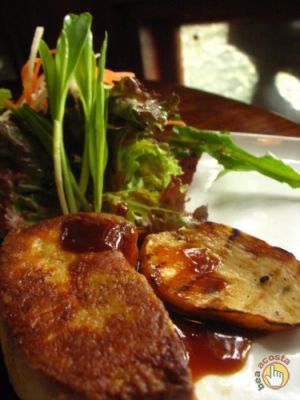 Seared Gooseliver and Grilled Elk Mushroom, served with Mesclun Greens, Corn Sprouts, Caramelized Walnuts



May I be allowed to describe this dish as heaven served on a plate? I was served Seared Gooseliver and Grilled Elk Mushroom on a shiny white plate, served with mesclun greens, corn sprouts, and caramelized walnuts. Taking in this dish was such an ethereal experience that I think my eyes expressed such emotion right after eating a slice of the Foie Gras. Cookie, my partner in (food) crime, seemed to agree with me, judging by the look on her face.

The goose liver is cooked perfectly, an orgasmic melt-in-your mouth experience. It was so soft, disappearing immediately upon taking in a slice! The crunchy caramelized walnuts added another dimension to the texture when eaten with the Foie Gras. The elk mushroom contrasts the goose liver with its texture, and the corn sprouts add to the flavorful teamwork with its herby kick.

And then, to end lunch at Cafe Ysabel on a sweet note, we head on with dessert.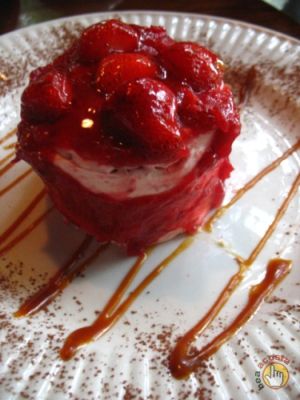 Strawberry Shortcake



Their Strawberry Shortcake (P168) is a good choice for dessert for a fan of 'fruity' pastries like myself. Fresh strawberries from Baguio glisten in the soft and fluffy cake. Better hurry and gobble up this dessert while strawberries are in season!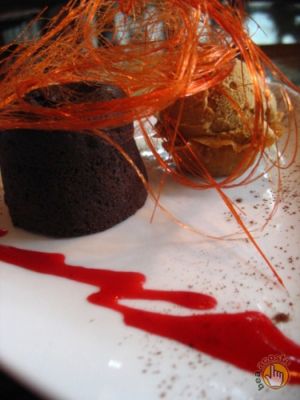 Molten Chocolate Cake with Rum Raisin Ice Cream



As for chocoholics, a must-try is their Molten Chocolate Cake with Rum Raisin Ice Cream (P198), because you can expect a good chocolatey experience, and be surprised with the add-on of an unusual flavor of ice cream. The Rum Raisin Ice Cream took me by surprise, I did not expect its flavors to be the way it was, but the initial sourness of the ice cream grew on me. I am used to sweeter, sugar-loaded ice creams, and this sweet-sour blend served with the cake is a fresh take on the frozen delight we're all familiar with. A spoonful of the rum raisin ice cream tames down the ultra-rich, happily gooey molten chocolate cake... Or if you will look at it the other way, the soft, warm bites of the cake sweetens up the ice cream in your mouth, tantalizing your tongue with its soft texture.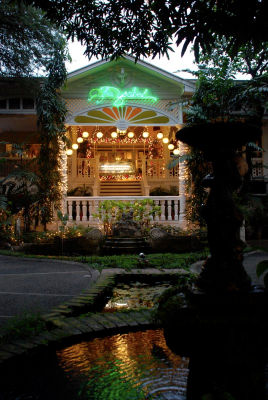 Photo by Giannina Gonzalez



Café Ysabel can be described as magical. You have all these great elements harmoniously working together - intimate setting, classy atmosphere, excellent service, quality food. Like your favorite book, Cafe Ysabel is sharing us timeless, tireless stories with its food, its setting, and the people behind it - and, the people who love it. And if you linger a little bit longer, perhaps after a cup of coffee or two, the smiling chef may just head on to your table and share some stories of his own.

For P1998 per head, you may have their set menu which includes Cappuccino Roasted Tomato and Roasted Eggplant, Seared Gooseliver and Grilled Elk Mushroom, Grilled US Angus Ribeye with Roasted Bone Marrow and Croquettes, Molten Chocolate Cake, and a choice of coffee or tea. Reservations are highly recommended. Café Ysabel can whip up your favorites even if they are not found on their regular menu. Personalized menus are available, just call in advance to inquire about specials and prices.