Ziggurat
has been around for quite awhile now, becoming a food haven for night owls, a gustatory oasis for foreign clientèle, and a regular haunt for food fanatics seeking something different.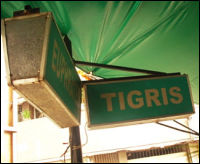 Tucked away at the corner of
Euphrates and Tigris
Durban St. and Makati Ave. near the red-light district of Makati, the restaurant is one of the richest best-kept food secrets of the metro because of its promise to its customers: the dining experience takes you to different corners of the world. Where else in Metro Manila can one savor the colors and flavors of authentic cuisine from India, the Mediterranean, Africa, and Middle East in one place?
The Food Temple.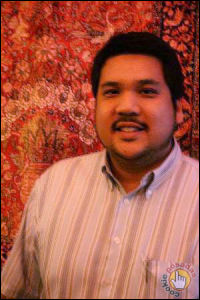 Ziggurat was born out of owner
James Concepcion
's frustration of running out of food choices here in the metro.
"I've always enjoyed different types of food, and I enjoy a lot of the food abroad." Calling himself a closet chef, James' passion for food makes him try out all kinds out there - from eating in the streets, to dining at the high class restaurants. He then recreates his favorites for his family on Sundays. Food definitely is his love and vice, and you will immediately notice this when you strike a conversation with him. His immense love for food and wanting to have something different from the typical we have brings to us Ziggurat.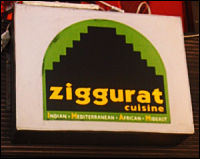 "Looking at all the dishes that I liked - African, Indian, Mediterranean, Middle-Eastern - putting it all together is how Ziggurat came about." Aptly named so, as the design of their building,
Sunette Tower
, is pyramidal. James also points to a map framed inside the restaurant, saying that a lot of the dishes fall within the 13th to 15th Century Islamic Empire, coincidentally jiving with the Islamic theme. And perhaps as another good sign, Ziggurat's cuisine serendipitously spells out
IMAM
: Indian, Mediterranean, African and Mideast cuisine.
Diverse. Different.
"Traveling, living abroad changes your taste in food," James shares, pointing out that more and more Filipinos are settling in different countries and that you can find a Filipino in just about any corner of the world. "Your taste changes. Spicy food from before is not that spicy anymore. When you really look at it, its really hard to say Ziggurat is 'exotic'." After all, they serve grilled meat - something we're all familiar with. Perhaps what may take people aback when trying out unfamiliar Indian, African, Mediterranean or Mideast dishes is some of their spices - maybe some cumin, perhaps some cilantro. Bizarre food Ziggurat ain't, but it's a far cry from the staple Japanese-Chinese-Italian craving Filipinos usually have (of course, there's Pinoy food, but that's stating the obvious).
Afraid of trying out their food because you think it's all hot and spicy? Worry not. "The dishes are completely authentic, except for the
sili
factor," James explains, "the spices are there, but I hold off on the chili until customers request more."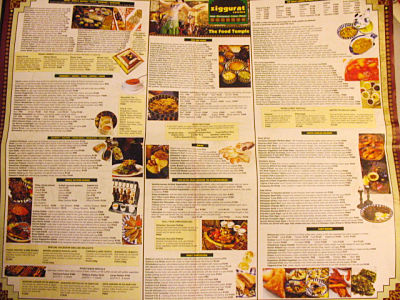 Take one look at Ziggurat's menu and you are sure to be both overwhelmed and impressed. Their menu which doubles a gazette is a dream come true for foodies - while you browse the pages and travel the world through a myriad of dishes presented through words and pictures, the paper also educates you with interesting write ups on spices, curries, yoghurt, and vegetarianism - just enough to rev up your appetite for the meal to come.
The real beauty of their menu is its variety. Take your pick and for sure there will be a dish that will suit to your preference.
"We have almost 30 varieties of rice, different varieties of bread," says James, "we also have 18 varieties of curries." If you get intimidated with the menu (which happened to me), fret not. Ziggurat's well-trained staff can shoe-horn customers with unfamiliar dishes and suggest items that lean to your liking.

There is just so much to choose from in their menu! While I would want to try all of their dishes or sample a couple or three items for every cuisine Ziggurat offers, I do not think it is humanly possible to do so in just one sitting (even if I really, really want to do so). For that reason alone, their menu flirts with you, beckoning you to come back for more another day, and then another day, to get to know each other better.

Equally overwhelming is Ziggurat's interiors and décor. If you are not a fan of color, step away from this place. Otherwise, prepare yourself for a visually bedazzling experience.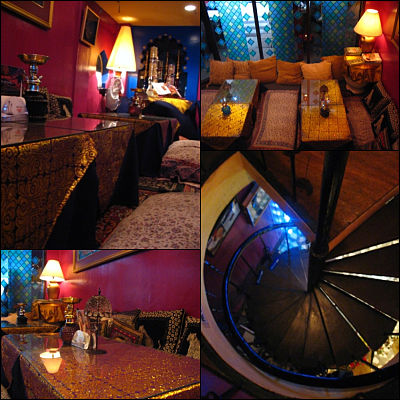 Each corner and area is busy with colors and details, luscious textures and shimmery hues. One can opt to have their meal seated on the chairs inside by the comforts of air-conditioning or lounge the night away at the al fresco area. You can choose to sit Indian-style on their plush carpets and throw pillows, sharing a round or two of hookah with friends.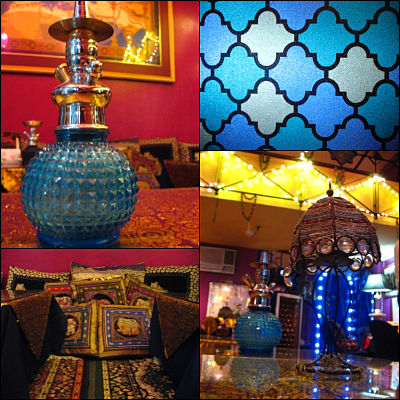 Travelling Without Moving

When it comes to eating, I can say I usually do not hold back - I have to thank good genes and health that I do not have food allergies, nor am I picky with food. It is relatively easy for me let myself be a bold adventurer in Ziggurat. Let's now grab a menu, and let it serve as the passport to a wonderful gastronomic trip to exotic destinations... time to let my tastebuds travel!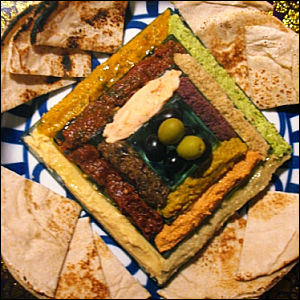 The Great Pyramid of Mezze



For a Ziggurat virgin like myself, a wonderful way to start off your journey is with The Great Pyramid of Mezze (P800). If you find yourself lost in their appetizer selection with so much dips and spreads to choose from, the Great Pyramid serves as your guide, with 12 types of mezzes to choose from.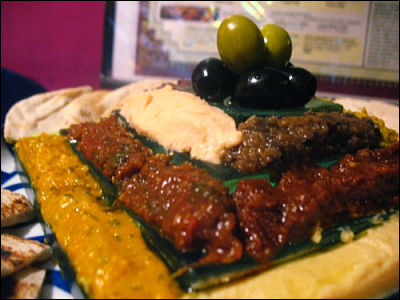 A vegetarian favorite, the ultimate selection introduces your palate to different types of flavors, from sweet, salty, spicy, to smoky, rich, and light. The appetizer is served with seven khobiz (flat bread) and topped with some olives.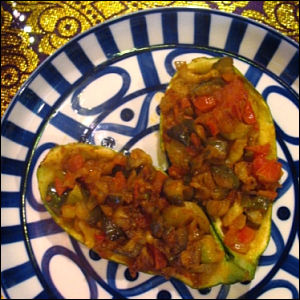 Mediterranean Grilled Vegetables



If your food preference veers you away from spicy-hot menu entries, try Ziggurat's Mediterranean Grilled Vegetables (P250), a plate with a rich blend of vegetables in season, basted with a special house blend extra virgin olive oil and spices.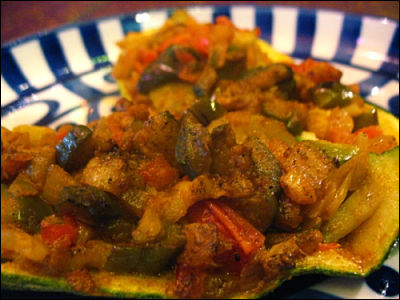 I definitely will urge non-veggie eaters to try this one out, so they can savor for themselves how vegetables need not be prepared and presented in a boring way. Each bite wants to tell you a story, making you wonder what secret spices they have added to this dish that makes it addictive.

If you are a more stubborn or choosy customer who may feel that no meal is considered a meal without meat, Ziggurat will be more than happy to satisfy you with their kebabs. The Hanging Garden of Ke-Babylon (P1,500) intrigues and amuses me with its name, and its presentation.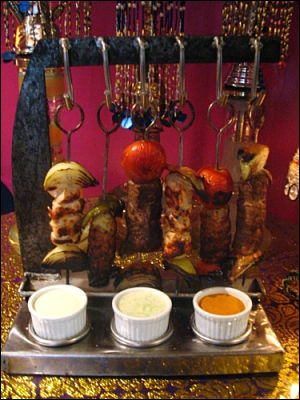 Hanging Garden of Ke-Babylon



Stuff yourself and your friends silly with six different kinds of kebabs - shrimp, tuna, beef, lamb, duck, and gibna (cheese). The kebab selection also comes with condiments that enhances the flavor of each kebab, and I favored the extra-spicy dip over the rest, and enjoyed the fact that I downed 2 glasses of water within a couple of minutes after each bite. Whew! now that's a bold flavor.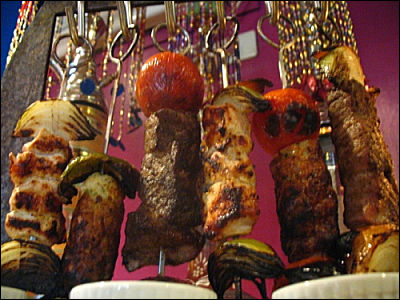 As my lunch was nearing its end, James casually mentions that they have a hot new item on their menu called the Chili Beer, so new that at the time of my visit, it still wasn't printed out in their menu. Sili ng sinigang... plus a bottle of cold pale pilsen? Has this closet chef gone too crazy with his food? I just had to find out for myself. Since I was playing a bold food adventurer for the day, I gamely asked for a bottle of Chili Beer.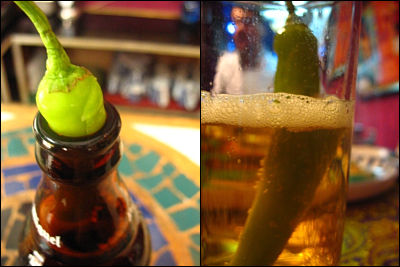 Chili Beer



What a delightful surprise it was to take a sip of this new concoction by Ziggurat's main man. Who would've thought it would work? Interestingly, it ends up not tasting like the beer, and introduces a brand new alcoholic beverage. The cool liquid excitingly tingles my tongue, just enough zaps of spice after each gulp of beer. Hey, this is not bad... it's actually... great!

Now before you head on to the nearest convenience store to grab a bottle of beer then slosh around a piece of sili (which I thought of doing, in all honesty), Ziggurat of course adds their own little magic touches with the drink with extra special, secret spices. So ladies and (mostly) gents, this item is only found at Ziggurat.

If you're seeking for something different, something much more than typical food outlets that churn out familiar food that you may just easily forget about once another similar food joint pops out in another corner in town, then you mustn't miss out on Ziggurat's many offerings. This may just be your ultimate passport to a memorable and adventurous food-trek around the world.