At a glance, Chateau 1771 restaurant at Greenbelt 5 seems to have it all: one of the best locations in Ayala's redeveloped shopping mall, tasteful European interior, modern jazz music and a cosmopolitan theme which fits so well into the world view of the glamorous, Prada-clad, mobile phone brigade. And would you just look at those art nouveu paintings by noted Filipino artists, plush lounge sofas, high ceilings and chandeliers. Nowhere in that area has dining establishments come close where society, art, architecture, culture and fine food interact in a curious timeless way.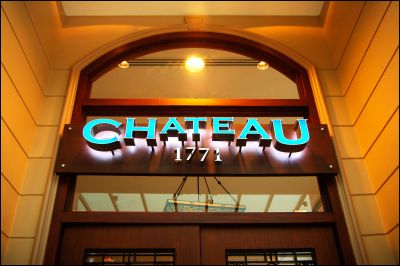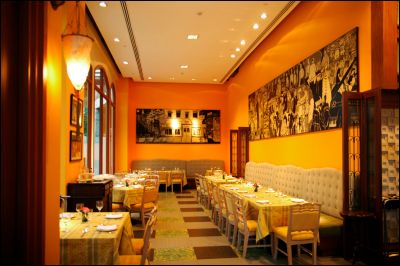 Inside Chateau 1771
Chateau 1771's creative chief operations officer and executive chef
Vicky-Rose Pacheco
continues the celebrated tradition of the restaurant's patented
No Borders Cuisine
: mouthwatering innovations on well-loved Swiss, Italian and French culinary concoction that are simply divine on the taste buds.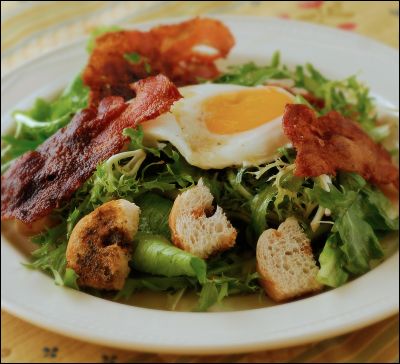 Salade Lyonnaise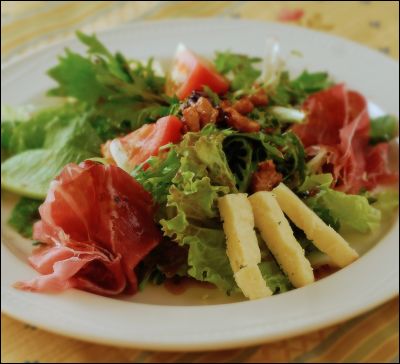 Four Seasons Salad
If your craving is as audacious as your sense of style, savor some of Chef Vicky's newest creations like Beef Braciole, Salade Lyonnaise, Prawns and Shitake Salad, Cranberry Duck Breast, Sandbass with Chorizo Saute, Grilled King Prawns and many more.
Vol-Au-Vent Cardinal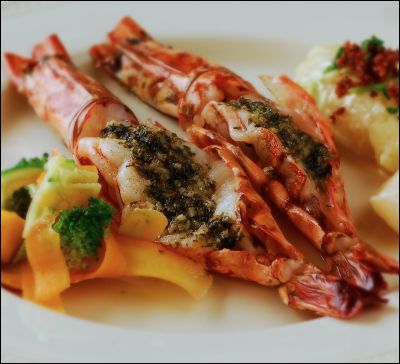 Grilled King Prawns
On my return for another business lunch the day after, I almost missed my reservations due to the cue for tables at the restaurant. I tried their strong menu favorites which I was familiar like
Lemon Chicken
, tender morsels spiked with the sweet-tangy taste of honey and lemon. I was glad to see on their menu their signature dish of
Potence (steak flambé)
, a slab of beef tenderloin on metal gallows with a heady hint of brandy. There was also their
Tomato Cheese Fondue
,
Osso Bucco
and
Pasta Chorizo
.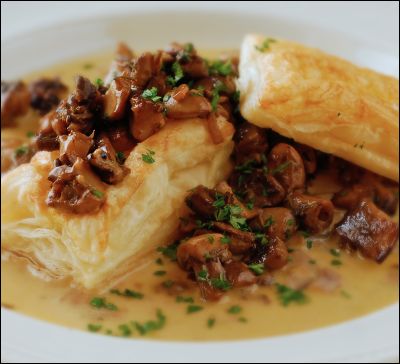 Croustade Forestiere
A new attraction for me was their sinful servings of home-made ice cream selections and the chocolate ganache tart. It was no surprise that it was getting harder to get a table in this sensational restaurant. But a dining experience at Chateau 1771 is reason enough to fight through the maddening cue. I've known the owners Vicky and Ricky Gutierez since they started their restaurant in the late 80s. And every time I dine at their restaurant my verdict remains: Chateau 1771 has always been consistent – a confluence of excellent food, wine selection and service and an elegant but personable cosmopolitan French bistro ambience. But most of all, I love how diners and guests love this restaurant, enough to kick their heels, lick their plates and laugh from their hearts and souls as they live up every minute of their meal.
Chateau 1771 in Greenbelt 5 is open on Sundays to Thursdays at 7 to 11 am for breakfast, 11am to 3pm for lunch and 6 to 10pm for dinner. It is open until 11pm for dinner on Fridays and Saturdays. Photos courtesy of Chateau 1771