When you think of museum food and unsavory thoughts of overpriced sandwiches and ketchup spaghetti come to mind, you must be an
M Café
virgin. Short for Museum Café (it's
Ayala Museum
's famed "cafeteria"), M Café is the opposite of museum eateries in your mind. The restaurant-cum-bar, like a treasured artifact, is enclosed in tall glass walls that lure curious passers-by to ogle at its swanky interiors. Inside, masterpieces by local artists make up the décor.
(Photo courtesy of M Cafe)
My first time at M was in 2005 but I've returned time and again for a multitude of reasons. One is their
Duhat Iced Tea
. This is just one of many examples of how M innovates otherwise mundane items on their menu. The subtlety of the duhat is delightfully intriguing; at first sip you may not its exotic flavor but it sneaks up on you with a tangy kick. Halfway through the glass I was hooked.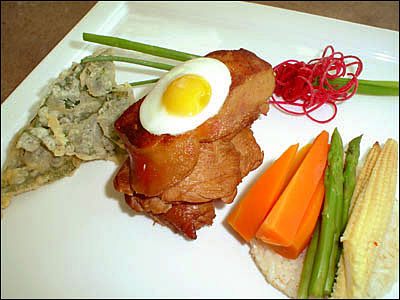 Adobo Foie Gras
(Photo courtesy of M Cafe)
At its helm is culinary genius
Chef Sau Del Rosario
, a US-trained pinoy chef also known for whipping up
Chelsea
's New York-style menu. Chef Sau was one of the firsts to introduce Filipino fusion dishes like Chicken
Adobo Foie Gras (P475)
, an M original and specialty. A thick serving of foie gras (or goose liver), cooked adobo-style sits like a juicy indulgence on top of a slice of chicken, much like how its served atop a ribeye in French restaurants. Chef Sau's version is served with quail egg sunny side up, crispy kangkong, pickled vegetables and garlic rice.
For starters, I dare you to try the Norwegian Smoked Salmon and Roasted Corn Chive Pancakes (P310). It may sound out of this world at first but let me tell you, the harmonious mesh of sweet and salty in this appetizer is lovable. Add some coriander sour cream and it's a riot of flavors.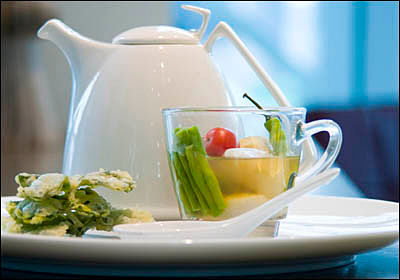 Guava Sinigang Teapot
(Photo courtesy of M Cafe)



A favorite entrée is the M Soya Chicken (P295), the safest bet for those who don't want any of the "fusion-confusion" dishes. This tasty number is very Asian, prepared with sesame seeds and blue ginger and with a delicate sweetness that's divine with rice. A must-try is the Guava Sinigang Teapot (P150), a spicy variation of the classic sinigang made with pacific scallops, pink guava, snake beans, tomatoes and, just for kicks, a splash of chili oil. Expect it not to be as sour as tamarind-based broths but just as comforting on a rainy day. I hear the Aligue Risotto (P295) and the Spicy Garlic Tuyo Penne (P250) are also bestsellers.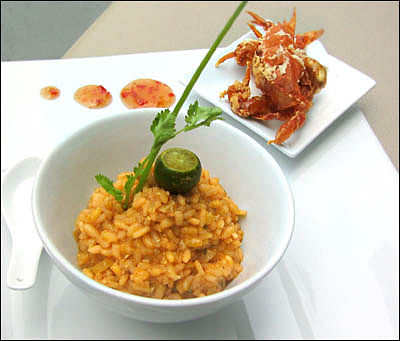 Aligue Risotto
(Photo courtesy of M Cafe)



On my nth visit, I tried their Bento Boxes (P495) for a taste of a little bit of everything (and more). There are six varieties to choose from that comes with soup, main dish, vegetables and dessert. Most items in the bento boxes are not found in the regular ala-carte menu save for the sweets. I particularly liked the creamy Smoked Salmon Pasta with pandesal garlic bread, which came with a light Hainan Soup, a tastier version of kimchi, and for dessert, Crème Brulee.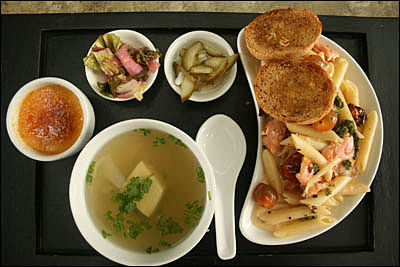 Smoked Salmon Bento Box



Desserts at M deserve another story. If you're like me and you leave the most room for dessert, M will fascinate you with their creative line up. The ongoing theme seems to be novelty.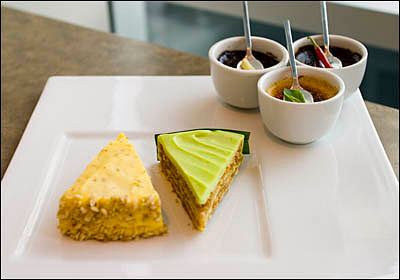 Jackfruit and Pandan Sans Rival, with Crème Brulee trio
(Photo courtesy of M Cafe)



Only at M will you find Crème Brulee Trio (P195) with exciting flavors like chocolate labuyo chili, holy basil, and chocolate ginger. The Pandan Sans Rival (P150) is a surprising hit, pleasantly sweet without going overboard. If chocolates are your thing, their Choc-Nut Valehona Chocolate Cake (P195) just might knock your socks off.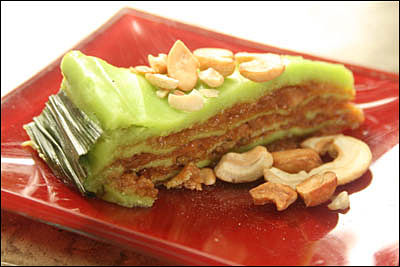 Pandan Sans Rival



In my book, M Café falls under the not-to-miss category. Innovation is their specialty. If you've tired of the humdrums of local cuisine, let M reacquaint you with the classics and introduce a new era of comfort food.