I'm a BIG street food junkie. Back in high school, I'd feast on those orange flour-coated quail eggs (kwek-kwek), squid balls, fish balls and kikiam fingers in vinegar and sweet sauce bought from Manong Fishballs; calamares, dirty ice cream, ice "skrambol," "isaw" (intestines) and "balun-balunan" (chicken gizzard) dipped in spicy vinegar. Street food is my comfort food, it honestly cheers me up! Because, aside from being delish, street food ticks my hungry tummy's ABC's: a) it doesn't hurt the wallet, b) it is accessible and c) it provides variety! It's a wonder I haven't caught any disease and my liver is still in tip-top condition.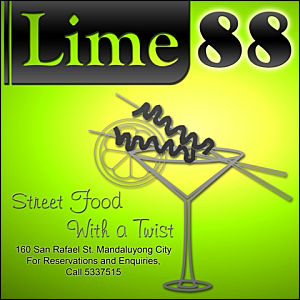 The green sign you should watch out for!
I think clean and delicious street food is any foodie's ultimate guilty pleasure. So I was ecstatic when I heard about
Lime 88
, a new hole-in-the-wall resto grill located at Mandaluyong City. This place offers street food with a twist! It says it right there on their signage, which shows a martini glass and two sticks of isaw.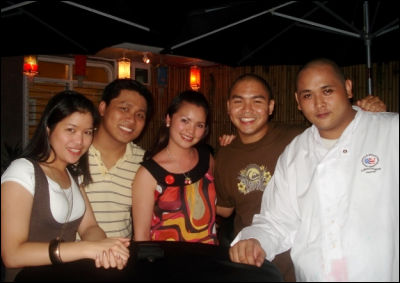 Lime 88's band of owners
Lime 88 is owned by six entrepreneurs who have been friends since way back their high school and college days.
Archie Juanta
is a corporate chef in various restaurants such as Max Brenner, Oliver's and Tea 'n Therapy,
Earl Flores
and
Daryl Cruz
are bankers,
Michelle dela Cruz
and
Lyn Aguilar
are flight attendants based in Bahrain and
Josevic Bantique
is a flight mechanic based in Dubai. All six of them, though in different fields and countries, have joined forces to create a haven that is comfortable, fuss-free and accessible—sort of the proverbial "tambayan" in teen-oriented shows where the entire "barkada" gets together after a hard day's work in school or in their day jobs. And that concept of great hangout plus delicious food, these guys have certainly perfected. Because what can induce you most to take a seat and relax than good old street food, al fresco dining, the ambiance of home and great company?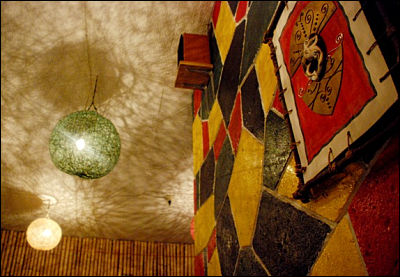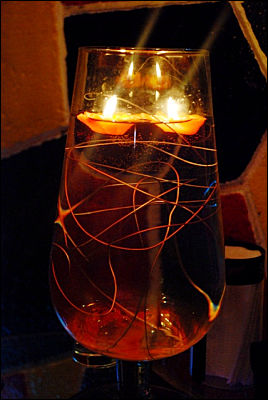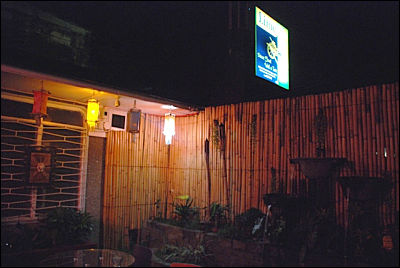 Having taken my seat under the yellow lights encased in colorful native balls, I immediately went into "tambay" mode. I looked around and realized I'm in a garage of a rather old house, one that is prettified with plants, a man-made stone fountain, colorful décor and brightly-painted walls.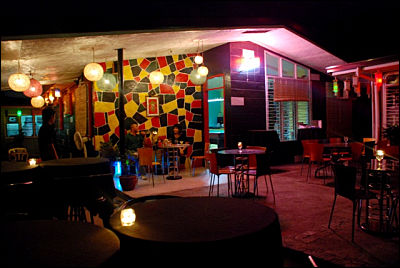 Lime 88's interior is chillax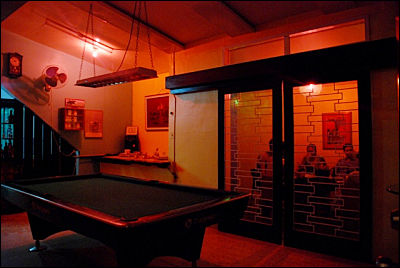 The VIP room can be reserved for small groups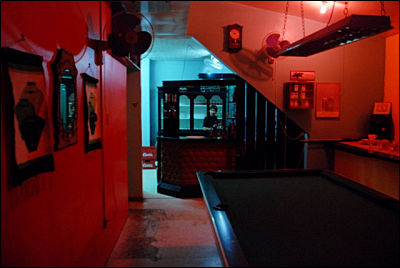 The billiards table can be rented for P100 per hour
To further put me in the mood for some chilling, I had this cocktail drink cleverly called
License to Chill (P60)
, which is a concoction of melon liquor, vodka and pineapple juice. I love cocktail drinks and this one I certainly put on top of my list! Its lightness prepares the palate for more serious flavors. Having awakened my taste buds, I geared up for the array of dishes Chef Archie has prepared for me.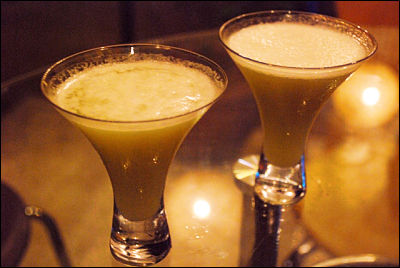 License to Chill
For appetizers, I had the
Quail Eggs Tempura (P60)
, which is really akin to the familiar kwek-kwek, only it has no orange food coloring. Instead, the quail eggs are individually wrapped in a thin coating of flour, making it more crisp and flavorful. The eggs are strewn with thin strips of seaweed wrapper, giving its every bite a little zing. To fully reach gustatory heaven, dip the eggs in soy mirin glaze or
sinamak
(vinegar). As for me, I tried the soy mirin glaze and the sour-sweetness of the sauce complemented the light saltiness of the delicately-coated quail eggs.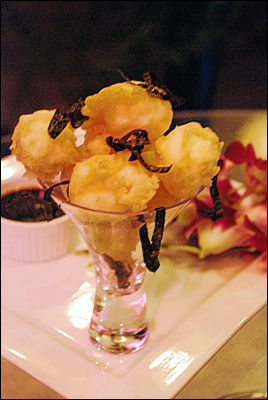 Quail Eggs Tempura
True to its claim, Lime 88 does serve street food with a twist and they sealed this with the
Street Style Barbecue Platter (P160)
. Composed of chicken ass, chicken satay, chicken intestines (
isaw
) and pig's ears (
tenga ng baboy
) skewered on barbecue sticks, the platter is a glorified "pulutan" dish. The dish is accompanied by peanut sauce that has a bit of ginger flavor to balance the taste, sort of a battle between good and evil. The peanut sauce added a great twist to the usual grilled taste of the skewered meats. I suggested that they also put chicken gizzard (
balun-balunan
) in the platter and probably get rid of the chicken ass just because I only know a handful of people who eat the latter. But yeah, that's just me.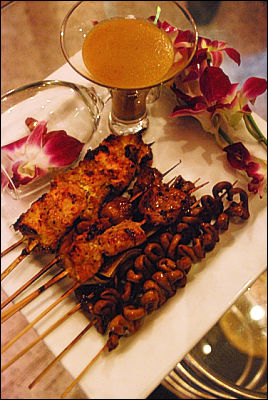 Street Food Platter
The next dish roused my appetite because of the way it was presented—a plateful of creamy pasta topped with herbs and stabbed right smack in the middle with a whole "tuyo" (dried fish). It's the
Creamy Garlic Tuyo Pasta (P130)
, seasoned with virgin olive oil, white wine and chili flakes. It's actually my favorite amongst everything that was served to us because I found the distinct flavor of the "tuyo" taking the taste of the creamy, oily (healthy oil!) pasta onto a higher level.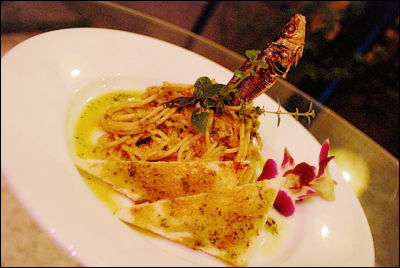 Creamy Garlic Tuyo Pasta
I also tried the
Street Style Pizza (P190)
, which was topped with longganisa, "tuyo" and "kesong puti." I didn't find anything new with this pizza. With its price, I would recommend trying other dishes instead. I found it too sweet, maybe because of the longganisa, and then missed out on the supposedly very evident taste of "tuyo." The "kesong puti" didn't quite make it to my taste buds too. Making the pizza's crust a bit more crisp and balancing the contrasting flavors of its toppings will certainly improve this dish.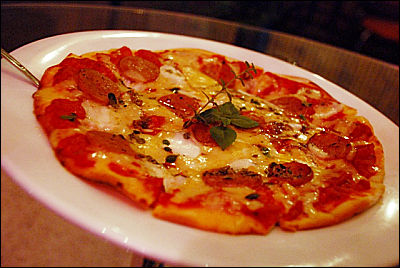 Street Style Pizza
To cap my meal, Chef Archie prepared the
Langka Torte (Jackfruit)
, a dessert not yet in the menu because it is still in the testing stage. I've always been a sucker for desserts so despite my tummy's vehement refusal to take in any more food, I bit a spoonful of the torte. I was glad I did because it's the first time I tasted langka prepared this way. The torte had the right amount of sweetness and the most crumbly, chewy crust. I'm sure it'll be a hit when they finally place it in their desserts list.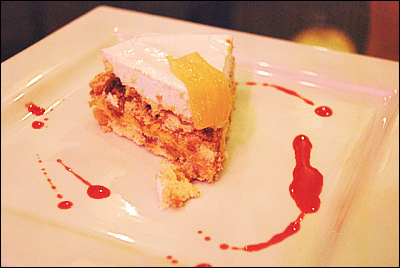 Langka Torte
Alas, I am full and guilty of gluttony. As I tame my rebellious tummy, I absorb the concept that this new resto has undertaken. Then, I reach a burp and an epiphany: Lime 88's more sophisticated street food will not replace the good old street food we buy from the stalls and carts we've grown accustomed to but it certainly is a welcome deviation. It's a refreshing take on the usual fare that Filipinos already know of. The attempt to add a twist to what has been otherwise, familiar and typical, is indeed a brave undertaking. Because of this, Lime 88 will certainly be my "tambayan" whenever I want an upgrade from Manong Fishballs.