I've heard stories of it from a few older people. It used to be located in Greenbelt 1 back in good old 1989. If I ate there before, surely I wouldn't remember being 7 years old. Anyway, I was excited to find out that New Orleans Bourbon Street Steaks & Oysters is making a massive come back by residing in its new home, Bonifacio High Street. With intensive preparation and research, the remarkable tandem of restaurateurs, Raymund Magdaluyo and Murray Hertz, bring New Orleans back to life to remind everyone how it is to appreciate the enigmatic Authentic cuisine of New Orleans.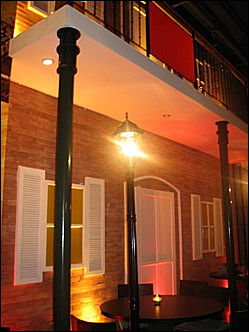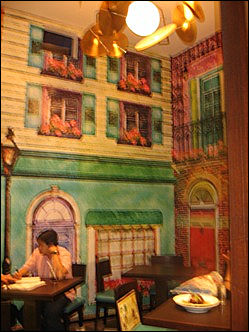 It was as if I stepped into a different world. Lamp posts, murals and ersatz of the French quarters along Bourbon St. Its architecture divulged the multi-cultural diversity of those who lived in New Orleans, as well as the famous Mardi Gras. I got the vibe as soon as I stepped in. I said to myself, "This will be a food adventure I will never forget."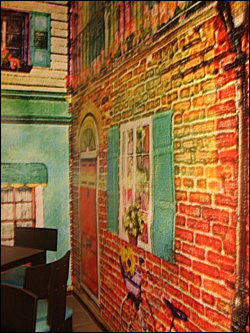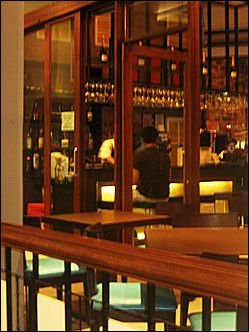 Uncertainty hit my self-proclaiming food enthusiast pride as soon as I first glanced on the words,
Debbie Does Debris Gumbo (P235)
, the soundest and curiosity-striking dish listed in the menu, at least for me. For the first time, I did not know what the dish (gumbo) was, how it tasted like, etc. "What the heck," I said to myself. "Let's be adventurous tonight." I heard it was a mixture of different ingredients like Cajun and creole, shrimp, okra, chillies, sausage and almost everything else you could find in your kitchen. Wild huh? Yes, indeed. My wild card pick of the night or should I say, my new chicken soup for the soul,was surely the most interesting soup I've had so far. Overwhelming flavours of diverse cultures struck my palate as soon as I had my first taste and all the rest was history. The gumbo was a start for a roller-coaster adventure in New Orleans.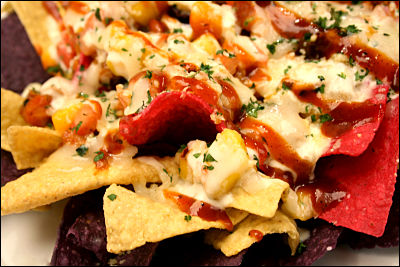 Six-Layered Chicken Barbeque Nachos
I wasn't satisfied with just soup. I had to have more appetizers! So, my friends and I decided to try the
Six-Layered Chicken Barbeque Nachos (P205)
, a massive plate of piled nachos, cheese, salsa and mangoes that seemed like forever to finish, the tasty
Carpaccio California (P185)
and the yummy
Cajun Shrimp Popcorn and Calamari Platter (P295)
.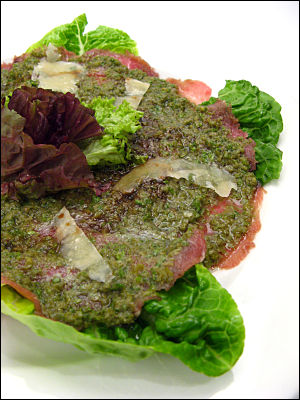 Carpaccio California
Now, off to the main course.
Who doesn't love ribs? A must-try is the
Cajun Blackened Ribs (half slab, P389; full slab, P669)
. The tender meat comes off the bones naturally and the spices and sauces is a perfect match with dirty rice. If you want something interesting, the
Seared Tuna with Lump Crab (P386)
may upset your pocket for its solo serving, but it is fantastically presented and worth every bite. For those who love steaks, they too have a wide selection under
Murray's Steaks
cooked according to your preference, with your choice of sauces and sides.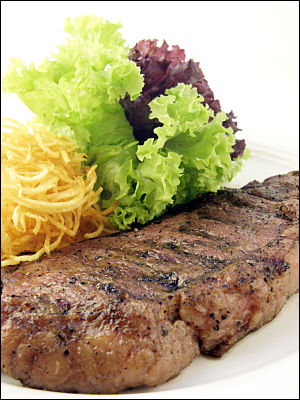 US Striploin Steak
My next stop:
rice
! Being a rice fanatic and Cajun-lover, I've had the
Seafood Jambalaya (P320)
twice after my first visit to New Orleans. The fusion of spices in the rice and on the Dory fillet turned this rather complex-looking dish into a beautiful and unforgettable impression. It may seem overwhelming and may not please anyone who is not as adventurous. It can be a bit spicy to a few but you learn to love it as your palate goes wild.
After that hot and exciting meal, we knew we had to have dessert. The
Blueberry Ice Cream Cake (P165)
and
Mississippi Mud Cake (P195)
was our pick and both were subtle and delightful.
I give this place 4.5 out of 5 stars. Nothing impresses me more than the ambiance of a resto that replicates the actual place of its origin and makes you feel that you are there, at that place, living in the same moment and enjoying the real thing.