Whenever I cruise along Maginhawa road in UP Village Q.C., my tummy lets out a little rumble with all the eateries and food stalls I see — some new, some already with a fan base. I've long declared Maginhawa road a happy collection of must-try food spots. Whenever I'm up North and feeling a food trip coming, I make it a point to try one (or two!) amongst the smorgasbord of food joints there.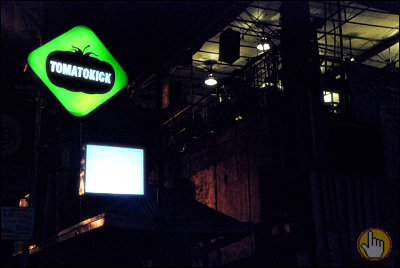 Tomato Kick – super cozy hangout!
A personal favorite is
Tomato Kick
, owned by artists
Paolo
and
Mara Bernaldo
. I was introduced to this tomato-lovers haven by my band mate Allan Montero when after practice sessions of our band Soft Pillow Kisses, we transform to rabid mongrels scouring the streets for a good chow. Allan is the road manager of band Moonstar 88, wherein Paolo plays the bass guitar but it's not favorable bias that directs us to Tomato Kick but their consistently delicious dishes that serve as comfort food for the heart and soul.
Not Exclusive To Tomatoes!
Tomato Kick introduces new dishes this month with a completely new look for the menu too! Tomato-head guy "
Kickman
," the restaurant's official icon, can be seen in various Bruce Lee stances as illustrated in pencil by Peter Mutuc. The updated and improved menu is both refreshing and appealing to the senses because of the youthful vibe of its lay-out and the yummy-looking photos of the dishes. It's noticeable that not all the dishes are tomato-based nor does every dish contain tomatoes. It's because, while Mara and Paolo love tomato dishes (hence, the resto's name), they also want to experiment with other cuisines—specifically, Japanese.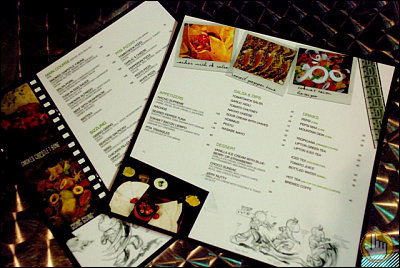 Tomato Kick's new menu with Kickman!
I was starving when I got to Tomato Kick with my partner in crime, Ping, so when the dishes were brought out one after another, my tummy was World War II mode.
To start off, we were offered appetizers:
Spiked Quesadillas
,
Tomato Kick Soup
and
Asian Salad
.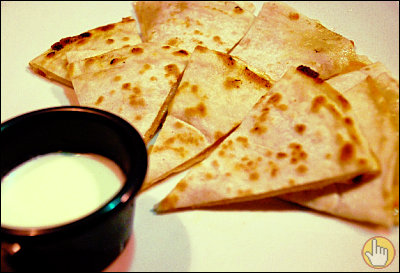 Spiked Quesadillas (P60)
These quesadillas were the best I've tasted primarily due to the bacon sandwiched amongst the mozzarella cheese, fresh basil, tomato, chili flakes and pita bread. Every bite was creamy but not too heavy on the cheese. I particularly liked the smoky flavor brought by the bacon and I swear I can wipe the entire plate off if it weren't for the other dishes I was supposed to make room for.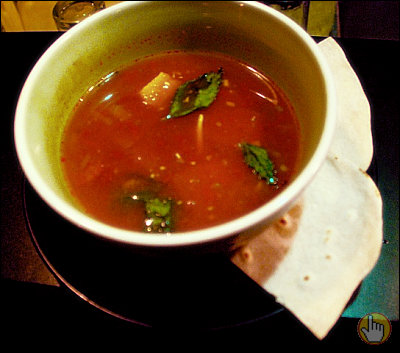 Tomato Kick Soup (P50)
The Tomato Kick Soup is how tomato soup should taste. It is blended with the right amount of cheese and basil, topped with bite-sized croutons. More so, the pita bread on the side complemented the rich texture of the broth.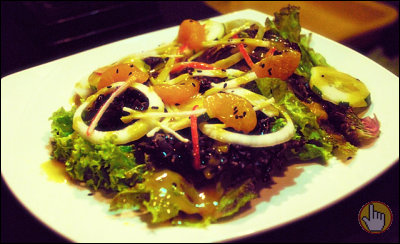 Asian Salad (P90)
The Asian Salad consisted of lettuce, cucumber, tomatoes, mandarin oranges, kani strips, mango and a special combination of two dressings: mango vinaigrette and sesame soy dressing. All the ingredients were fresh, the veggies crisp and the orange slices juicy. I loved the sesame soy dressing they sprinkled on top but I think there was just too much of it that it already drowned the mango vinaigrette. Nevertheless, we finished this too! These three dishes alone were enough to satisfy my appetite but there was more in the menu!
A take on Japanese cuisine is the
Seared Pepper Tuna with Wasabi Chips
, which Ping and I absolutely loved. The soft tuna slice goes so well with the crunch of the wasabi chips so I suggest they be eaten together. This dish was finished in a jiff!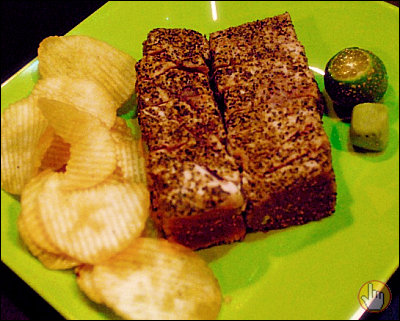 Seared Pepper Tuna with Wasabi Chips (P175)
Another tuna dish is Paolo's own concoction, which he is proud of, as he shared the rather unique preparation of the sauce. The
Tuna in Egg Sauce
is my favorite dish amongst everything we ate that night. The sauce is made of egg yolk, butter and soy sauce and possesses just the right blend of saltiness and sweetness that goes well with the tuna fillet. Served with a cup of steaming white rice and two stems of asparagus, this dish is already filling.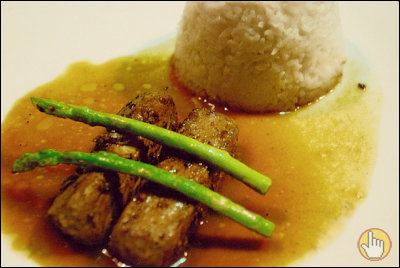 Tuna in Egg Sauce (P150)
There was another rice dish served to us and this time it was extra heavy:
Smoked Chipotle T-Bone with Rice
, which was seared with smoked jalapeno butter. I'm not a fan of red meat so I had a few bites and delegated the task of finishing them to Ping. The T-bone was tender and it gave off a sweet aroma of garlic and butter. Mara handed me a bottle of Worcestershire sauce to drizzle on everything. Indeed, it tasted better with the sauce plus the freshly made Tomato Kick salsa served on the side.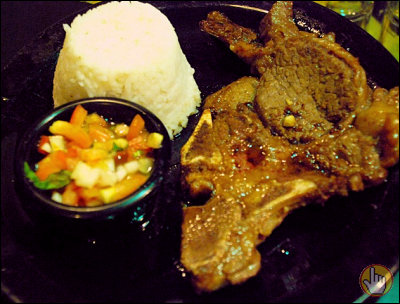 Smoked Chipotle T-bone (P160)
Another carbo loading meal is the
Puttanesca Pasta with Garlic Bread
. By the time this dish arrived, I was stuffed to the pits. Nevertheless, I dug in and chomped on the angel hair pasta blended in tomato sauce with olives, capers and anchovies. Tomato Kick's pasta can be suited to your taste. You can choose from spaghetti, fettucini, angel hair, penne and even tricolor fussili. The Puttanesca had a really distinct tomato flavor and I recommend it to people who are on a diet because the ingredients are not only healthy but also low-sodium and low-calorie.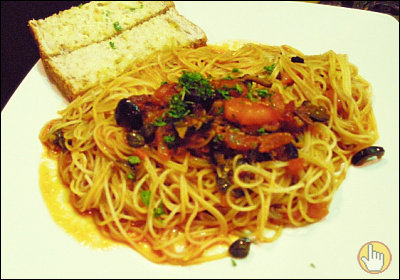 Puttanesca (P100)
Aside from really unique dishes, Tomato Kick also offers an interesting selection of cocktail drinks. Mara was actually combining peppermint with some liquor when we arrived. They have some of the best blends and affordable cocktail drinks in the area, a little known secret which you shouldn't reveal you read here. Just ask the bar list from the waiter, they don't usually give it because Maginhawa is a residential area.
Maginhawa's Artsy Haven
Aside from being such a cozy hangout and having excellent chow, Tomato Kick revels in bringing art closer to its business of good food. Mara and Paolo, being artists by profession, maximize their skills in making sure Tomato Kick is not just an expression of their culinary prowess but also of their artistic sensibilities. This month, the wall in front of the resto that is facing Maginhawa Road, will undergo a makeover via graffiti art by the owners themselves plus artist-friends such as graphic design artist Electrolychee and many others. The graffiti will feature Tomato Kick via the artists' various interpretations of the place as a restaurant, a hangout, or even a sanctuary for some.
Tomato Kick also features acoustic artists in its humble abode from time to time that's why aside from painters and designers, the resto attracts musicians too. Name-droppables include Parokya ni Edgar and Kamikazee. Aside from this usual crowd, Tomato Kick also reaches students, teachers and yuppies (some all the way from Makati).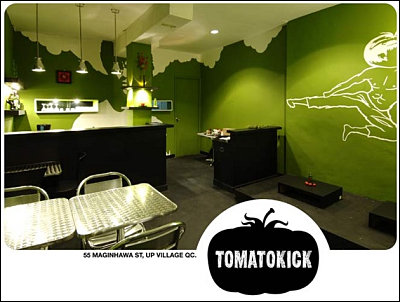 Inside Tomato Kick (photo from tomatokick.multiply.com)
High Kick!
It used to be that Paolo and Mara did not entertain thoughts of expansion or franchising. Nevertheless, seeing the viability of Tomato Kick as a business and probably wanting to share the gospel of good food to more people, Mara says they are considering giving in to franchising next year. And I'm sure this is good news for most people who travel all the way up North just to get their Tomato Kick. Being certified foodies, Mara and Paolo remain true to their vision of sharing great food amongst friends and reveling on a great dining experience.
Bruce Lee with a tomato head, black pepper dotting the redness of a tuna slice, a vibrant display of greens and fruits against a white ceramic plate, asparagus stems cris-crossed on a tuna chunk and blue liquor bubbly to the glass' rim.
I'd say, in Tomato Kick, food is indeed art.