The origin of cheese pizza is heavily debated. Some sources say that in ancient Greece, the Greeks covered their flat bread with oils, herbs and cheese. Others claim that it was only in the 19th century when cheese was added on pizzas to create the Margherita variant. While we may never get to the bottom of who created the first cheese pizza, there's one thing we're sure of: humanity is forever thankful to the genius who first thought of adding gooey, stringy, and chewy mozarella cheese on pizzas!
To commemorate Cheese Pizza Day (September 5), we've created a quick rundown of eight restos that carry our favorite cheese pizzas. Celebrate this day, turophiles, and feast on cheese pizzas with your friends and family.
Two Seasons Resorts' Cheese Pizza (P650)
Boracay and Coron
What's it like: Extra-thin and crisp, with enough crunch in the crust, and then smothered with lots of cheese: blue, cheddar, mozzarella, and parmesan.
Two Season's Four Cheese Pizza
Gino's Brick Oven Pizza's Four Cheese (P340)
Makati and Quezon City
What's it like: Airy and bubly crust edge with chewy center basted with tomato sauce; center's heavy with chunks of Mozarella, Ricotta, Blue Cheese, and Parmesan
Gino's Four Cheese Pizza
Photo from Gino's Facebook Page
Chef Davide's Quattro Formaggi (P490)
Lombardi's Authentic Italian or Lucia Ristorante
What's it like: Very minimalist. Salty and chewy harmony of melted Provolone, Fontina, Gorgonzola, and Mozzarella, atop a biscuit-thin crust.
Quattro Formaggi, made by an Italian Chef Lombardi
Isabelo Garden Restaurant's Quattro Formaggio (P450)
Marikina
What's it like: Imperfect "rustic"-style, elongated pizza with generous amounts of gooey cheese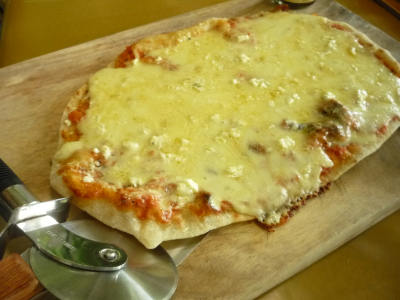 Isabelo Garden's Quattro Formaggio
Nolita's Regular Cheese Pizza (P130 per slice)
Bonifacio Global City
What's it like:  New-York style, pliant, and huge (about 20 inches in diameter); powdery edges; chewy dough
Nolita's Regular Cheese Pizza
Aria's Quattro Formagi (P525)
Boracay
What's it like: Almost cracker-like thin crust, unassuming-looking but is packed with four different cheeses: pecorino, feta, parmesan and mozzarella
Aria's Quattro Formaggio
S&R Cheese Pizza (P99 per slice)
Click to list branches
What's it like: Thick and oily crust that will fill you up fast; topping is equal parts cheesey and tomatoey; pretty gooey especially when consumed asap
S&R's cheese pizza
Photo from S&R website
Yellow Cab's Four Cheese Pizza (Regular - P325; Large - P540; New Yorker P795)
Click for branches
What's it like: New York style, oily, super pliant with ample toppings of mozzarella, cheddar, romano & feta cheeses
Yellow Cab's Four Cheese
Photo from Yellow Cab's Facebook page
Did we miss your favorite cheese pizza? Let us know in the comments section so we can try it out.