I've been a loyal patron of
Route 196
ever since its humble beginning last year. I learned about it from my good friend JP Balboa when we were still playing in a band called The Automatics. He is one of the owners and I was blessed to witness its progress from "understated hole-in-the-wall" to "cool party place" status. Though far from where I live (I hail from the South), I frequent the place if only for its delectable thin crust pizzas or the great roster of bands performing live. It has been my favorite "North side hangout" because it ticked all five in my criteria for must-patronize bars—good food, efficient service, great crowd, real music, and value for money. There is no other bar in Quezon City which passed with flying colors, but Route 196.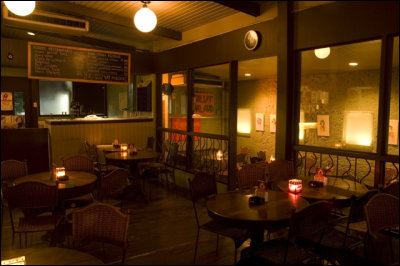 Route 196's very cozy interior

Drink, dine, relax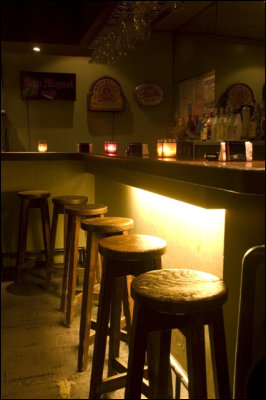 Get your booze and refreshments here!
This music lover's mecca has been around for quite a while. In fact, Route 196 celebrated its first anniversary just this month. They scrapped the usual P100-P150 gate charge and offered a kick ass line-up, which consisted of The Spaceflower Show, The Dawn, Juan Pablo Dream, Paramita, Sinosikat? and Radioactive Sago Project. It was mayhem at standing-room mode as people—music aficionados and musicians alike—danced and swayed to the beats and grooves of some of the finest bands the country has today. After that night, all the more did I stand firmly on my claim that Route 196 does know how to give the best parties in the metro.
Route's Roots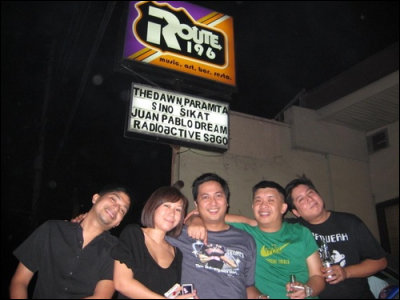 Team Route 196 during their 1st Anniversary
(Geth, Monica, Eric, Allan and
JP)
Route 196 is currently owned by five friends who have varying backgrounds but who all possess the love for badminton. They met through a badminton session and later on, started hanging out after work in a bar called Border Grill. Soon enough, the owner of Border Grill sold the bar and the five friends placed a bid but lost. The bar had new owners and was named Inihaw Republic. But as fate would have it, the owners sold it after a while and this time, current owners Monica Barretto, Geth Savellano, Eric Enriquez , JP Balboa and Allan Madrilejos finally won the coveted abode. They stayed with the name Inihaw Republic but then re-launched in mid-2007 with the tag Route 196, simply derived from its address, 196 Katipunan Extension.
Tripping on Food and Art
Though it has been known as a gig place, Route 196 is more than just about music.
Here's the part where I go gaga about their food. Did I mention they have the best pizzas this side of the world? A must-try is their
Margherita Pizza (P190)
, it's a simple recipe of mozzarella, fresh basil, tomatoes, anchovies and thin crust dough but the secret must've been in the fact that it's baked using a brick oven. It's so flavorful but not overwhelming to the palate, and healthy too!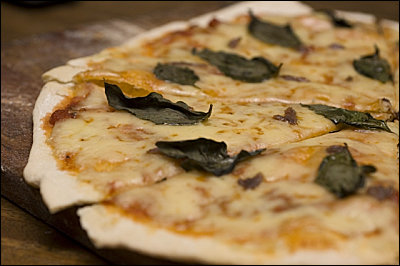 The famous Margherita Pizza of Route 196
Another favorite is the
Tinapa Roll (P120)
, which are flakes of tinapa wrapped lumpia-style, which can be dipped in vinegar. I imagine eating this with garlic rice but it can well be pulutan for the night because it goes so well with beer. The
Chili Cheese Sticks (P110)
is a divine dish too!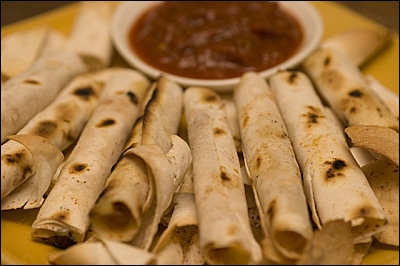 Melt-in-your mouth Chili Cheese Sticks
It's cheese which is mildly spiced, wrapped in flautas and complemented with salsa. Mmm, the cheese literally melts in your mouth especially when you eat it right about the time the waiter serves it. JP's favorite,
the Pepper-seared Tuna with Wasabi Mayo (P145)
is a unique dish that's sure to satisfy the more adventurous palate.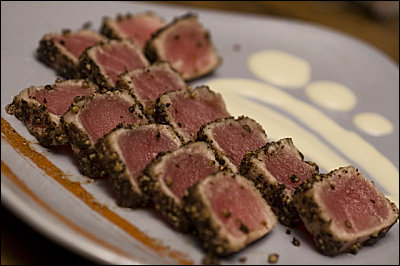 Tuna, pepper, wasabi and mayo—great burst of flavors!
The
Herbed Chicken (P155)
, which is slow-roasted half chicken infused with herbs is my best bet when I'm in the mood for meat but feeling fat for red meat. This fills me up but I don't tire of the flavor unlike other herbed chicken roasts, which sometimes taste more like leaves instead of chicken after some bites.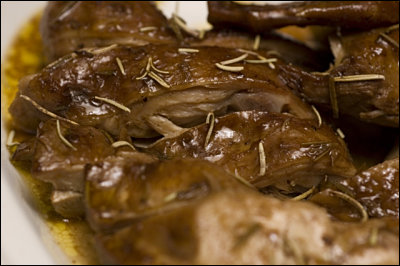 The Herbed Chicken is a perfect blend of herbs and roast flavor
Route 196 has a slew of yummy dishes worth the trip to Katipunan (if you're South reprazent). Feel free to sample new dishes at every visit because surely, you won't be disappointed. Their beers are dirt cheap, by the way! It's priced at P35/beer but you can get 3 bottles for P100 if you're with the barkada or if you want to indulge in a drinking spree. That happens every night and all night, too! More dishes will spice up the menu soon because Geth is currently cooking up a storm in the kitchen. There are plans of offering dishes with a Mediterranean flavor and other house specialties will be launched in the coming months. I'm drooling with anticipation already!
Aside from food and music, Route 196 also delves into the artsy side of things. Monica, resident photographer of the group, spearheads their art exhibits. She brought Lomo Manila in to set up a lomo wall in the bar. More art exhibits are in store in the coming months. There are plans of featuring performance art groups and adding performance poetry/drama to the repertoire. Route 196 recognizes Filipino talent and gives it a chance to strut its stuff by holding such events.
The Route Less Traveled
Things are bound get more exciting as they cook up more and more unconventional gigs, exhibits and performances. The owners simply tread on the road less traveled. JP proudly states, "Route 196 is the only place where Hannah Romawac of Session Road plays solo acoustic. We'll probably be one of the first bars to hold a beatbox convention featuring the best of Beatbox Manila. Watch out for it!" He also adds that every month, they will feature vocalists of different bands singing the songs they want sans a full band set-up. Those to watch out for are Drip's Beng Calma, Swissy, Paramita's Ria Bautista, Sandwich's Raimund Marasigan and Up dharma Down's Armi Millare to name some. Truly, there is no other joint that gives you that kind of musical experience.
Route 196's vision is simple: to offer a bar that doesn't alienate people, a comfy little nook that lets you come as you are and lets you drop your inhibitions because hey, pretenses are passé. Truly, Route 196 has managed to do that in only a year's time. It's quite a feat and for that, I remain a loyal patron. Believe it, I won't come all the way to Katipunan for nothing.
Photos by Monica Barretto.