I would have loved to become a chef, only whatever culinary dreams I had sizzled when I successfully managed to ruin a pot of mac and cheese. From then on I settled for being a food lover instead, and left the art to those who knew how. Seemingly, a visit to Enderun Colleges is all it takes to bring back the flame of my love-hate relationship with the kitchen; I am beguiled once more by gastronomic fantasies.

I was fortunate enough to score a late lunch at Restaurant 101, Enderun's exclusive student-run fine dining facility and teaching restaurant one Wednesday afternoon. By the time I get there, most tables are already filled with a mix of students, faculty, and a variety of guests including press and industry professionals. Clad in chic black and white uniforms, service students courteously attend to tables under the watchful eye of Bel Castro, the instructor for F&B Procedures, while the culinary bunch have donned aprons and toques to man the kitchen. As it happens, this is a class in session.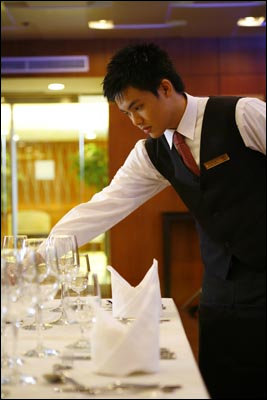 Enderun Colleges is a rising culinary institution that offers world-class culinary and hospitality management degrees to aspiring chefs and hoteliers. Holding office in Ortigas while a huge Fort Bonifacio property is in the works, Enderun boasts partnerships with some of the world's best in the industry such as Switzerland's Les Roche Swiss Hotel School of Management and the Alain Ducasse Training Center in France. It's the first of its kind in the country, and to describe it as world-class is true of its education, staff, faculty (the list reads like a who's who of the local food world), not to mention its facilities (the blackboards are made of glass!). Suddenly I want to be a chef again.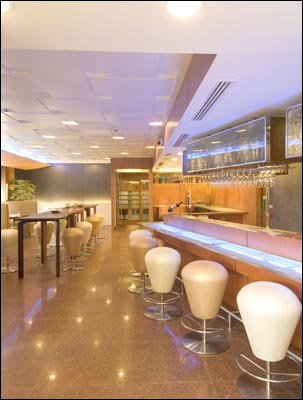 Restaurant 101 is like a swanky culinary lab where the students get to practice what they learn in class. The modern interiors almost seem too pretty to be an educational playground but its all part and parcel of Enderun training. Restaurant 101 immediately exposes students to a real formal dining atmosphere and incidentally aims to boost their confidence once they plunge into the hotel industry. Being a bustling breeding ground and an interactive classroom of sorts, they require reservations and operate on invite basis only (you can check out their site online for membership inquiries).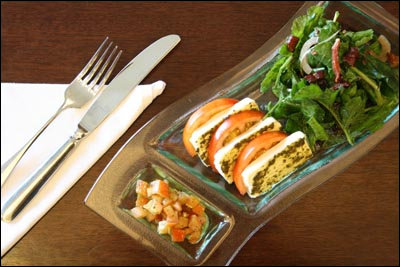 Insalata Caprese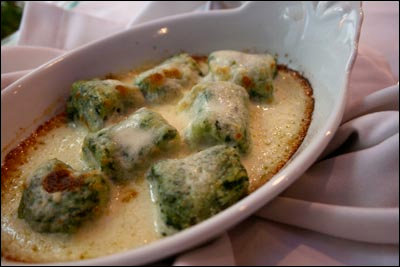 Baked Gnocchi Florentine
I was told that the menu changes periodically and is adapted to the students' learning curve. Currently it offers contemporary French cuisine, which is quite impressive. For starters our table had the
Insalata Caprese (P160)
and
Baked Gnocchi Florentine (P180)
. The former is a mix of fresh local buffalo mozzarella slices (yum!) and vine ripe tomatoes on arugula pesto; a fine example of how something simple can taste amazing. The Gnocchi dish was a little more sinful, throwing in spinach dumplings in creamy Gorgonzola sauce and baked until the sides of the plate where the cheese falls are golden brown. I hear the
Cream of Butternut Squash (P80)
is also a bestseller.
Cream of Butternut Squash
For the main course, I opted for the
Penne Al la Bascaiola (P220)
, a creamy white sauce pasta peppered with wild mushrooms, Parma ham and a generous helping of mascarpone cheese. The dish sings with well regulated and intact flavors, broken pleasantly by the saltiness of the Parma. Now I am usually not a fan of duck entrees but the
Roasted Duck (P330)
proved the most impressive. The duck meat was tender with roasted skin and a nice marbling that worked well with a sweet cranberry and peppercorn sauce. One of the first thoughts that came to mind was a reminder that this superb creation was whipped up by a young culinary student. In a word,
wow
!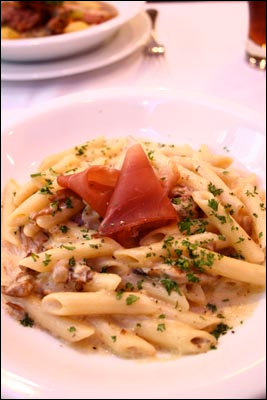 Penne Al la Bascaiola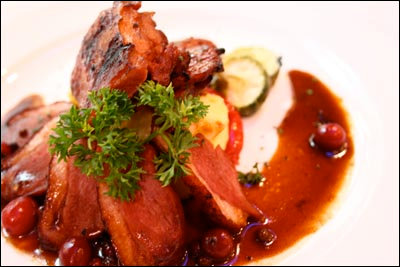 Roasted Duck
Of the most commendable things about the place is that a choice need not be made between good food and good service; at Restaurant 101, you just get both, as if it were the most natural thing in the world. The prices are not at all that steep; you might be charged double elsewhere for the same fine dining fare. Still, the most thrilling part of the dining experience is bearing witness to the makings of the next hospitality and culinary stars. Should there be an audible crash from the kitchen, or if a student-waiter fumbles over a French word on the menu, it's all in good faith.
Photos courtesy of Enderun Colleges