With hundreds of years in history spent under Western and Eastern colonial rule, The Philippines has, throughout the years, developed a cuisine that's pretty distinct from the rest of what can be had in Asia. The cuisine is often described as a melting pot of  Malay, Spanish, Chinese, American, and Latin flavors and techniques. Some examples of quintessential Filipino dishes include Adobo (chicken or pork braised in garlic, vinegar, oil and soy sauce, or cooked until dry), Kare-Kare (oxtail and vegetables cooked in peanut sauce),  Sinigang (meat or seafood in sour broth), Caldereta (meat in tomato sauce stew), Mechado (larded beef in soy and tomato sauce), and Balut (fertilized duck embryo).
In this article, we've rounded up the restaurants where you can devour traditional and modern Filipino favorites. You might also want to bookmark this page for when a balikbayan relative comes home craving Pinoy food or when you need to give a Filipino Cuisine 101 and impress foreign guests.
Kanin Club
Branches: Paseo de Sta. Rosa, Westgate Alabang, Ayala Triangle Gardens Makati, UP Ayala Technohub, Greenfield District
Since its debut in 2007, Kanin Club has grown steadily as one of the must-eat places in Metro Manila. In fact, its top notch food, excellent service has not only gained it a cult status amongst local foodies, but also a spot in the Miele Guide, which is basically the Asian version of the Michelin and Zagat guides to food.
Must-try dishes: Crispy Dinuguan (P274), Crispy Liempo (P149), Seafood Kare-Kare (P313), Itsi Bitsi (P235), Sinangag na Sinigang (P235)
Crispy Dinuguan
Adarna Food and Culture
119 Kalayaan Avenue, Diliman, Quezon City
(632) 926-87 12; (+63917) 961-81 13
Monday to Saturday 11:30am to 10:30pm
Open since January 2008, Adarna Food and Culture celebrates Filipino culinary heritage and offers Filipino historical, regional, and heirloom cuisine based on thoroughly researched old recipes, turn-of-the-century cooking and treasured family dishes that have been passed on for generations.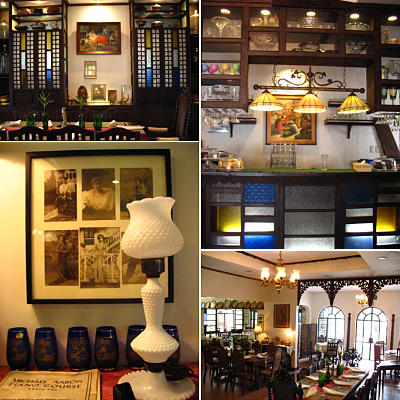 The resto has a maximum seating capacity of 250 persons and beautifully-designed five dining areas ideal for family reunions, birthday parties and other family occasions as well as corporate meetings and events.
Must-try dishes: Kare-Kare (P395), Leyte Humba (P260), Adobong Batangas ala Adarna (P260)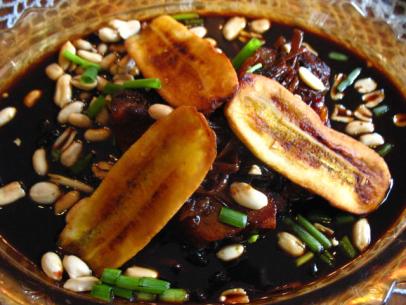 Leyte Humba
Bagoong Club
122 Scout Dr. Lazcano, Sacred Heart, Quezon City
+63 (02) 929-5450 / +63 922-802-3672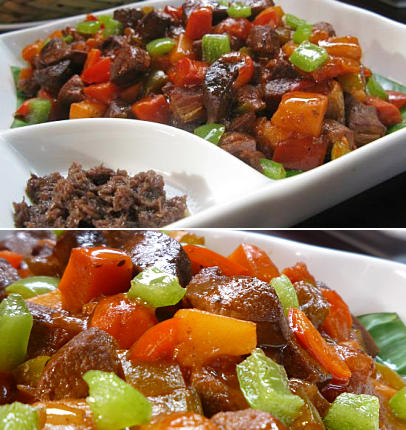 Menudong Bagnet
Bagoong Club shines the spotlight on bagoong (sauteed shrimp paste), an essential condiment in Filipino cuisine. The Club has concocted seven variants of bagoong: Pag-ibig (sweet), Umaga (spicy), Buhay (gata/coconut milk), Asya (pandan), Europa (basil), Special (aligue/crab fat) and Lipunan, the traditional one. Most of their dishes incorporates bagoong in the recipe; others are complemented by it.
Must-try dishes: Crispy Pata Binagoongan (P530), Krispy Kare-Kare (P395), Balut Adobo (P180), Menudong Bagnet (P290)
Romulo Café
Branches: Jupiter, Makati and Tomas Morato, Quezon City
To highlight untold anecdotes in the life of the late Philippine diplomat and general Carlos P. Romulo, his grandchildren Liana Romulo and Sandie Squillantini opened Romulo Cafe-- a restaurant cum museum of the late Carlos P. Romulo's slice of history and memorabilia. Romulo Cafe aims to perpetuate his legacy, and at the same time, share to everyone this world-class gastronome's favorite dishes. The menu is comprised of heirloom recipes that are most memorable to the Romulo family.
Must-try dishes: Lola Virginia's Chicken Relleno (P630; half chicken), Boneless Crispy Pata Binagoongan (P665), Crispy Squid (P205), Ginataang Sigarilyas with Tinapa (P185), Tito Greg's Kare-Kare (P460)
Tito Greg's Kare-Kare
Crisostomo
Branches: Alabang, Eastwood, Newport, Nuvali
Chef Florabel Co-Yatco's Crisostomo is named after the protagonist in  Dr. Jose Rizal's "Noli Me Tangere" and "El Filibusterismo." Survey their menu and be entertained with how they creatively incorporated Noli and Fili characters and plots into the names of the dishes. It will surely elicit a chuckle, or start an interesting conversation amongst Filipinos and those familiar with the Rizal masterpieces.
Must-try dishes: Bravo de Balut (P220), Adobo Damaso (P345), KKK Barbecue (P295; 3 pcs.)
KKK Barbecue
Namnam
Greenbelt 2
(63 2) 625-0515
Namnam, from the Filipino word 'malinamnam' which means tasty, offers budget-friendly Filipino cuisine with a twist. Their food is available in small (good for 1), medium (good for 2 to 3), and large portions (good for 6). 
Must-try dishes: Sinigang na Short Rib Beef and Watermelon, Sizzling Kapampangan Sisig, Ensaladang Namnam
Sinigang na Short Rib Beef and Watermelon
Sentro 1771
Branches: Greenbelt 3 and Serendra
In 2002, Sentro 1771 spearheaded a renaissance called the modern Filipino cuisine experience, by being first to combine Swiss and French techniques with familiar Filipino flavors.

Must-try dishes: Corned Beef Sinigang (P595), Fried Kesong Puti (P180), Kare-Kare (P550), Rated GG (P260)
Corned Beef Sinigang
Tiago Progressive Filipino Cuisine
85 Scout Fuentebella St. cor. Tomas Morato, Quezon City
(+63 2) 668-4240, (+63 2) 998-7482
Monday to Sunday 11:00am - 11:00pm
Dishes at Tiago are concocted using "progressive cooking techniques". Aside from showcasing traditional and regional Filipino food, they also adapt the Filipino tradition of having salads accompany the main fare. 
Photo from Tiago's Facebook Page
Must-try dishes: Pinausukang Chicken and Pork (P450), Bicol Express (P480), Lechon (P420), and Fried Suman
Mesa Filipino Moderne
Multiple branches all over the country
Proclaiming itself as a modern Filipino restaurant, Mesa attempts to put a new spin on well-loved classics such as the lowly tinapa (smoked fish) and the ubiquitous tilapia. 
Must-try dishes: Tinapa Roll on Lettuce, Hito Flakes with Mango, Boneless Crispy Pata, Patotim, Baby Squid in Olive Oil, Bagoong Rice, Suahe on the Rocks, Inihaw Sampler
Inihaw Sampler
Photo from Mesa's website
LJC Restaurants: Fely J / Café Adriatico / Abe 
The LJC Group of Restaurants ("LJC" stands for the initials of the late Larry J. Cruz) offers heirloom recipes, mostly Spanish-Filipino, in cozy spaces with old-world Filipino charm. Cafe Adriatico, the flagship brand, has been operational for more than 30 years already. Fely J features recipes of Felicidad de Jesus-Cruz, mother of the late restaurateur Larry J. Cruz. On the other hand, Abe (a-beh) dedicated to LJC's father, E. Aguilar "Abe" Cruz. The restaurant serves Filipino food, mostly of Capampangan origin. 
Must-try dishes: Lola Ising's Adobo Rice, Salpicao, Callos, Chocolate Eh, Spareribs Adobo, Abe's Chicken Supreme, Lamb Adobo with Popped Garlic, Knockout Knuckle, Binukadkad na Crispy Pla-Pla, Paco Fern and Tomato Salad, Bringhe, Arobung Camaru and Betute
Lola Ising's Adobo Rice
Sarsa Kitchen + Bar
Bonifacio Global City
This newcomer in BGC  showcases a unique angle on Ilonggo cuisine (an important segment of Filipino cuisine) that will make you feel like you're in the province yourself. 
Must-try dishes: Crispy Isol (P205),  Inasal Tofu with soy garlic sauce (P150), Inasal Sisig with chili sauce (P320)
Inasal Sisig
You might also want to consider visiting staple Filipino restaurants like Cafe Via Mare, C2 Classic Cuisine, Max's Restaurant, and The Aristocrat. For budget-friendly options, try Cabalen Buffet, JT's Manukan Grille, Bagnet 8065, and of course the iconic Filipino fastfood: Jollibee.
Are you a balikbayan or a foreigner who has just arrived in the Philippines? Which of these restaurants are you most eager to try? Share your cravings with us in the comments section below.