BF Homes Parañaque has slowly but surely built a reputation among residents of varied subdivisions from the South who converge for food and social gimmickry. Even people from the North travel down South to hang out in small food shops, bars, and bistros that line the lengthy strip of Aguirre Avenue. One Friday night, I was in for a chicken treat at BF Homes' Flaming Wings with a few friends.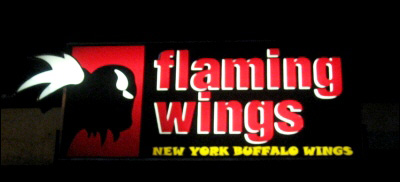 The small red, yellow and black restaurant added color to my appetite as soon I took a bite of their
Buffalo New York-style chicken
. Choices of 2, 5, 10, 15, and 24 wings were available and priced at 73, 182, 358, 536 and 845 pesos, respectively. The chicken wings were cut in half and served on a simple plastic tray. The serving was just right; we didn't expect it to be as big as the ones served in Don Henrico's.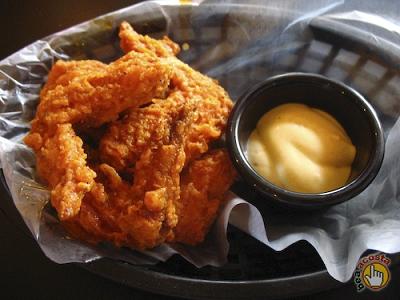 Flaming Wings in Original Sauce
Swimming in my choice of
Original, Mild and Sweet and Smokey BBQ sauces
, my bucket of wings were good, but tasted even better with the dips (
blue cheese, ranch, aioli, wasabi mayo, balsamic mayo
and
honey mustard
). My favorite combination was Mild and Sweet wings with aioli. The pickled dip complemented the hot chicken. Cooked in utmost tenderness, it was indeed lip-smacking glorious and should be better enjoyed when eaten with bare hands.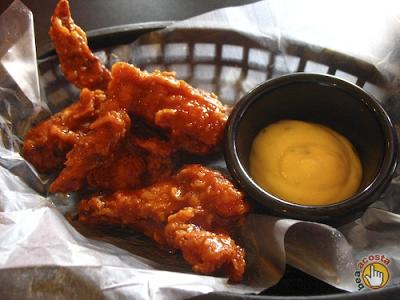 Flaming Wings in Smokey BBQ Sauce
The chicken wings go well with sidings such as creamy and freshly made
mashed potato (P40)
or
steamed rice (P10)
. Pasta is also paired well with chicken wings. Flaming Wings'
Penne with Mushroom Cream (P95)
was very tasty as hints of garlic and thyme were melting profusely in my mouth.
My friends had the
Linguine with Blue Cheese (P95)
, which had fresh tomatoes, pesto, walnuts and blue cheese cream. I'm not a big fan of blue cheese, but I found this one hewing to my tastes. Also,
Angel Hair Pomodoro, Spaghetti Bolognese, Spaghetti with Pesto
and
Creamy Seafood Linguine
heat up the pasta section of the menu.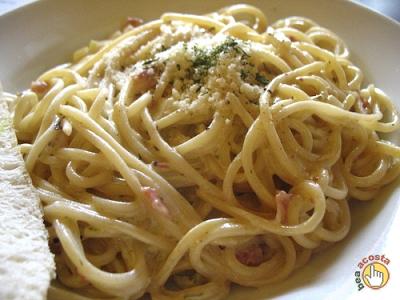 Spaghetti Carbonara
Flaming Wings also serves chicken and pasta combos. The
Chicken Piccata (P120)
--boneless chicken cutlets, capers, lemon juice and parsley served over aldente spaghetti--was indeed very good.
Chicken Parmigiana (P130)
had mozzarella and parmesan cheese melting over the chicken, and tasted piping hot with the marinara sauce.
For those who don't want pasta or rice, Flaming Wings also serves sandwiches. The Tuna Melt (P70) was oozing with tuna salad and cheese. It's perfect for those who want just a light snack.

You don't go to Flaming Wings for the ambiance. The place is not big--it actually looks a little old--but the chicken treats that're worth every penny never get old. The informal dining experience can complete a weekend, if you're looking to fill your stomach with the best chicken (which are not from the fast food chains) this side of town.

Photos by Bea Acosta.