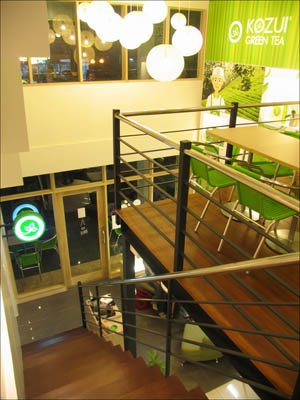 Ah,
Kozui
. When I first heard of this green tea café, I was initially unfazed by all the raves it has been getting from foodies who stumbled upon the pretty little Japanese place along Tomas Morato.
How exciting could green tea be?
, I thought.
While I am more of a tea drinker than coffee, I like my tea black with a little sugar and milk, and hardly ever green. If you share my sentiments on green tea, or if you're not a fan of any kind of tea, I can almost guarantee that Kozui will make you think twice, or change your mind completely, about this age-old beverage.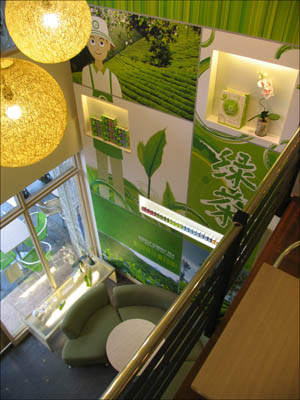 Like any commercial java joint, Kozui has an extensive tea menu (in hot or cold variations) that can rival the likes of Starbucks and Seattle's Best Coffee any day. There are cold tea drinks infused with lemon called
lemon teaz
, cool
POM teaz
that got its name from adding pomenagrade syrup,
fruit teaz
with natural fruit syrup,
tea lattes
that can be ordered hot or cold, and
ice blended korichio drinks
(Japanese version of fraps) made with
matcha
powder, milk, and topped with whipped cream.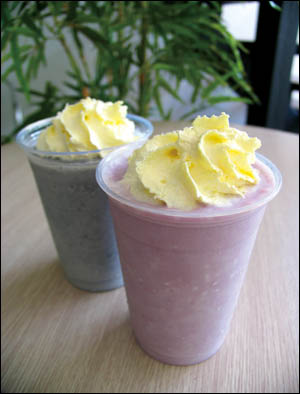 Young entrepreneur and Kozui owner
Anthony So
explains that he first came up with the idea during a brief stint in Shanghai where he was exposed to all sorts of traditional teahouses. He wanted to bring something like it home, possibly to combat the proliferating coffee culture in the local scene, but with a healthier, younger and more hip concept in mind.
The lemon teaz line is a refreshing collection of freshly brewed loose-leaf green tea served cold with thin slices of lemon. The
Genmaicha Lemon Teaz (P70)
, a cooling tea drink made with gemaicha tea leaves, enjoys a unique, tasty roasted flavor that promises to be addicting. Anthony recommends it as one of the bestsellers. To my complete and unexpected satisfaction, the taste is sublime--not too sweet and with a delightful nuttiness to it from roasted rice kernels and popped corn. It easily became my favorite.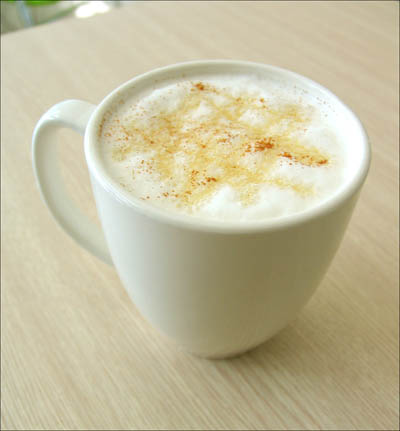 On my next visit (shamelessly returning the following day), I tried the
Moji Mint Tea Fruit Teaz (P85)
, a cool green tea mix with lime and mint leaves swirling in the cup.
The creamy
korichio
drinks, which I have yet to try, come in house blend and fruit blend varieties. The house blend includes the only non-tea-based drinks in the house, flaunting Asian flavors like
taro
and black sesame. I hear the tea lattes are a big hit too, reinventing the milk-based coffee drink with roasted green tea and matcha flavors.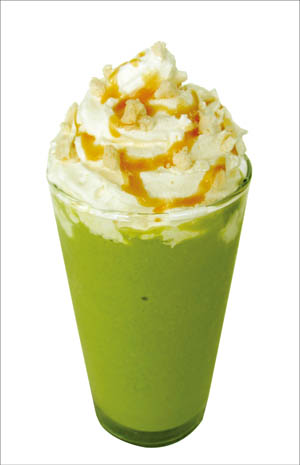 Still, there is more to Kozui than just a tea craze. Food offerings prove just as exciting through a selection of traditional and modern Asian dishes to whet the appetite.
Finding its way to the menu is Tokyo's famous
Takoyaki delicacy (P98)
, a serving of pan-grilled
tako
balls stuffed with chunks of
ika, ebi
and
negi
(squid, shrimp and Asian leek, respectively) and topped with a squirt of yummy Japanese mayonnaise. Fine strips of
nori
wrapper are sprinkled on top, as are paper-like
bonito
flakes that appear to dance with air.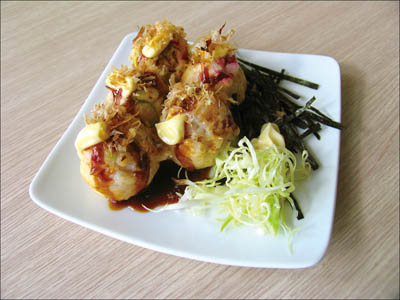 Otherwise known as samurai balls, traditional
takoyaki
is supposed to include octopus morsels but Anthony opted to substitute it with squid, which is not as tough but still chewy. Special
takoyaki
sauce drizzled on it provides a sweet escape and the end result is a savory, filling treat.
I fell in love with the
Karaage Chicken Vegetable Wrap (P148)
, a halved serving of grilled pita bread with Japanese breaded chicken, lettuce, tomatoes, onions, and a dollop of black sesame dressing for the kill. The combination is stellar; a must-try on the menu.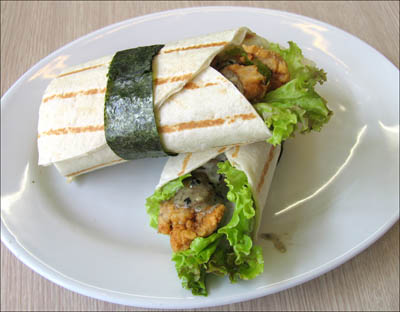 In keeping with the theme, cold noodles at Kozui include the
Chilled Green Tea Zaru Soba (P148)
, and a Chinese-inspired
Dandan Noodles (148)
, a spicy egg noodle dish with cilantro that gets its zing from pepper, sezchuan sauce and siling labuyo. I figure the genius behind this particular dish is how it's simple but inventive; the understated flavors only make it more interesting.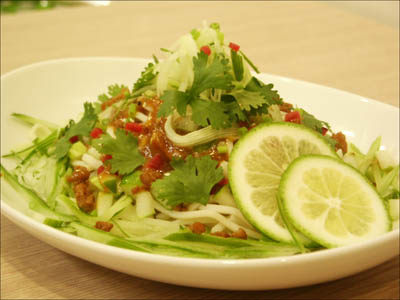 Just when I thought Japanese desserts were boring, Kozui introduced me to
Anmitsu (P138)
. I was delighted to discover that a Japanese version of our prized
halo-halo
exists; the anmitsu combines shaved ice, ice cream, taro jam, green tea jelly, fruits, sweet azuki beans, and my favorite element in the group, oh-so-chewy mochi balls (think
bilo-bilo
in
ginataan
, only silkier).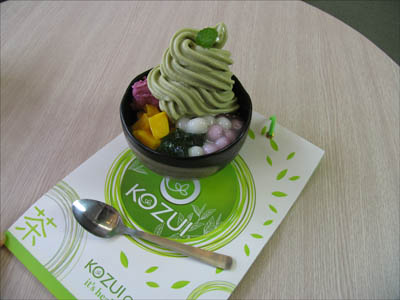 At Kozui, the anmitsu comes with several fruit flavors like strawberry, mango, and melon. I personally liked the mango with green tea ice cream. At first, I thought the mango would fall out of the place in the mix but surprisingly, it provided a welcoming, tangy zest that really boosts the flavor.
Of course, there are other desserts that I must come back for, such as the
Mount Fuji Green Choco (P105)
, a pyramid-shaped brownie with creamy green tea on top and a burst of chocolate at its peak.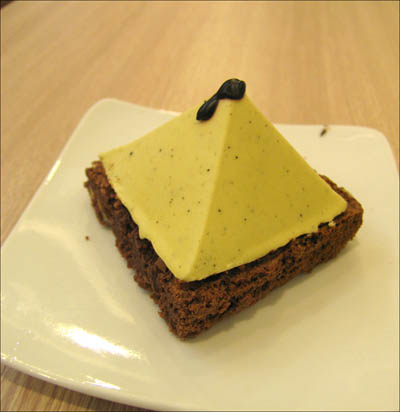 Also intriguing is the
Green Tea-ramizu (P95)
, a Kozui spin on the traditional Italian dessert.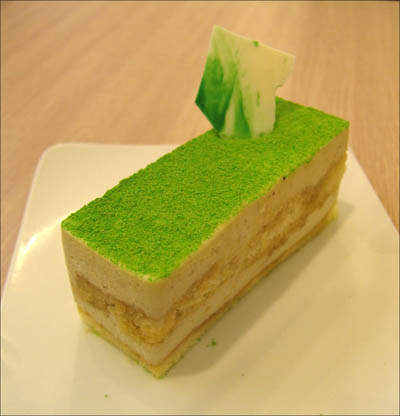 After my first visit to Kozui, not only did I find myself harboring a newfound respect for green tea, I literally could not wait to go back. So I did, the very next day.
Photos courtesy of Anthony So