I noticed that whenever people learn that I'm a food fanatic, they usually think that all I eat are the rich, 'unhealthy', and sinful stuff. Oh, they are ever so wrong! There are foodies out there who love eating pretty much anything, but I do appreciate my greens. It's funny how I get surprised reactions whenever I tell others that I love to eat ampalaya. I think it's a common misconception that 'pigging' out is only for meat-loaded meals. You can also get a gustatory veggie delight! In fact, I had just that when I visited Greens along Tomas Morato.

Eat Your Greens

Greens Vegetarian Restaurant and Cafe is located at Scout Castor Street (very near PenPen). This vegetarian nook at the Tomas Morato area is owned and operated by couple Wally and Mary Ann Duran.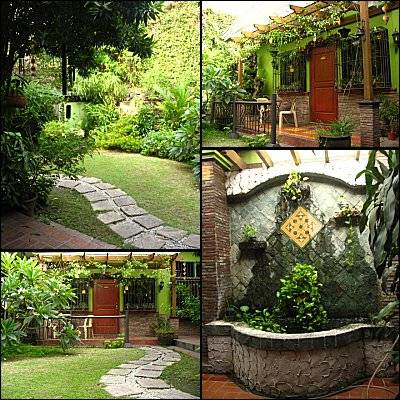 Outside Greens
"I've been a vegetarian for 21 years now," says Mary Ann. She became a vegetarian when she got married to her husband Wally who was a vegetarian himself when he was only a teenager. Mary Ann would always prepare vegetarian dishes for herself and her husband, and when they had children, they too were brought up to be veggie lovers. I was very curious how she raised her children as vegetarians, and Mary Ann shared with me that yes, they also eat out at fast food outlets, but would order their french fries or a sundae - no burgers or chicken for them.
"It wasn't hard at all for my kids to be vegetarian, they don't complain or even crave for meat," she explains. And since her whole family is vegetarian, they thought of putting up a place that will serve food that appeals to their palate, and also to entice customers into seeing vegetables and vegetarian dishes in a different way. "Being vegetarian doesn't mean we're 'deprived'", she laughs, "you know, we have so many dishes that we can cook up." So seven years ago, Greens was brought to life.
The Goodness of Green
We all know for a fact that eating your greens is good for you, but not everyone is able to truly go vegetarian. "It's a lifestyle," says Mary Ann, "but we're not very strict or rigid when it comes to other people's way of eating. We encourage them to eat healthily and simply try out more vegetables, because they really aren't boring." Greens' line-up of delectable dishes range from familiar veggie feasts to interesting vegetarian takes on meat dishes.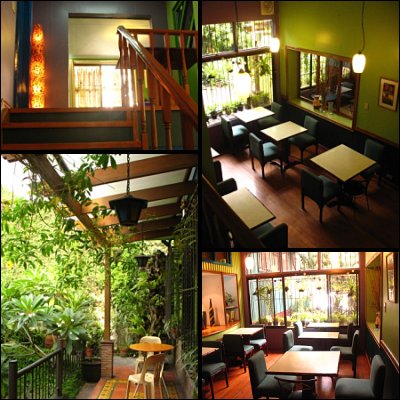 Inside Greens
When you enter the gate of Greens, you'll notice that there are a lot of, well, greens. From the lush garden outside, the place has a cozy, homey feel, being a house that was converted to a restaurant. With al fresco dining area for those who opt to have their meals with lovely garden surroundinga. Entering the restaurant is also a warm experience, with a comfortable home ambiance, nothing fancy nor flashy, and with eye-soothing green walls.
Veg Out!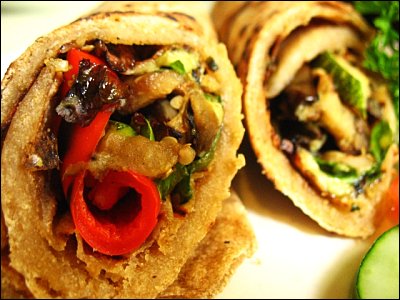 Roasted Veggies Wrap
Our feast of vegetables started with the
Roasted Veggies Wrap (P80)
, a mix of colorful vegetables served like a burrito. The play of colors, flavor and texture was simply appetizing.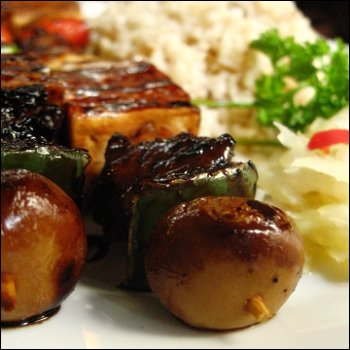 Grilled Mushroom and Tofu Kebabs
The Grilled Tofu and Mushroom Kebabs (P105)
was next. Marinated and charbroiled chunks of tofu, veggie barbecue made from gluten, button mushrooms, zucchini, bell peppers are served skewered and seemingly 'meaty' to one's eye.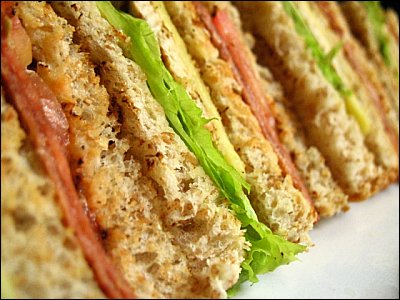 Clubhouse Sandwich
Green's
Clubhouse Sandwich (P105)
arrives on our table and I was delightfully surprised - it really looks as if it has slices of ham! And as I take bite after bite of the sandwich, I was amused to taste the flavor of 'ham', they were able to get its saltiness.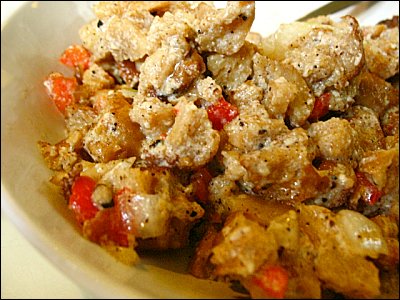 'Veggie' Sisig
We all know how sinful sisig is to our health, so here's a healthier option for you: why not try
Veggie Sisig (P140)
? Of course, the dish doesn't have the exact taste of the meaty sisig that we crave for - Greens doesn't want to hide the characteristics and nuances of vegetables, but rather present it to you in a familiar way, serving traditional favorites with their own vegetarian twist. The Sisig has gluten meat prepared in the usual way, but with lesser oil and of course, lesser guilt.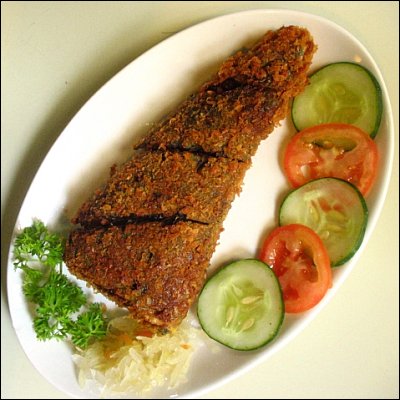 Veggie 'Fish' Relleno
A dish that I was really happy with is the
Veggie "Fish" Relleno (P140)
, firstly because of how it was prepared and presented. Doesn't it look like fish?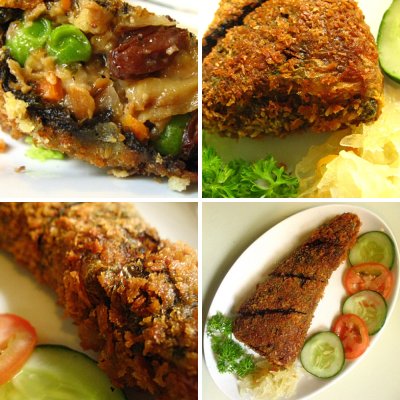 The Veggie Fish is wrapped in seaweed and shaped like a fish, then fried. Its crispy outer layer tasted good with the mix of vegetables and veggie meat inside. It actually wasn't on my mind that I was eating a vegetarian dish while I savored the relleno because it's very flavorful.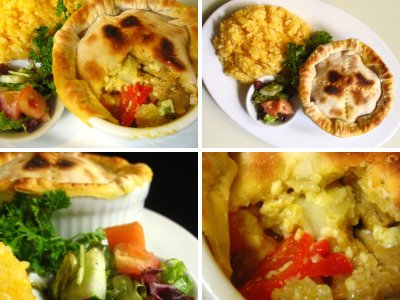 Pastel de Vegetal
The highlight of my lunch was the
Pastel de Vegetal (P105)
. This is the dish that will make me come back to Greens more often. You see, ever since I was younger I love Chicken Pastel - its thick crust blending with the rich and creamy sauce, the chicken, potatoes, mushroom, sausage bits and mixed vegetables all combining into a burst of appetizing delight. Surely, I had high expectations when I was presented Green's vegetarian version, and I was not disappointed at all. The crust was delicious and golden brown, and the diced gluten meat was able to hold together the over-all flavor of the pastel. The gluten meat's texture cannot be compared to chicken meat, but the nuances of the gluten added character to the dish.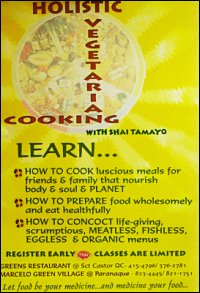 Wholistic Vegetarian Cooking
Greens also offers Vegetarian cooking lessons. Shai Tamayo teaches wholistic vegetarian cooking for those interested in cooking luscious yet healthy dishes. Early registration is required as classes are limited, so if you're interested, do call Greens (415-4796). As World Vegetarian Day was recently celebrated last October 1, these cooking lessons may be a simple way to start a healthier lifestyle.
While I am not a vegetarian, occasional trips to Greens is something I would recommend to everyone - meat lovers included. Greens impresses me because it explores many ways to prepare and present simple humble vegetables, and turn them into healthy masterpieces.

Eating at Greens will make you really appreciate your veggies, and see how sometimes, meat can be a tad overrated. To wary meat-lovers out there, this place isn't trying to push each and every customer to go vegetarian, but to simply give your greens a chance and offer you healthier options served with much flavor.