A big and elderly mango tree stands in the heart of a garden in Iloilo, a province in the center of the Philippine archipelago. The said tree inspired a family to give birth to a bistro, which promises intimacy and relaxation for locals and anyone who intends to visit the land of rice and marine products.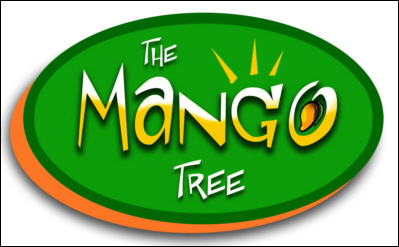 The restaurant is named after a big mango tree that has been there for so long and has been the centerpiece of the Gonzales family's garden.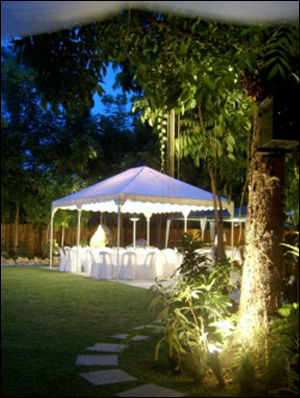 First-timers get good impressions because it's as if they're entering a breathtaking and enchanted forest. The whole setup adds a whole new level of excitement to dining outdoors. With the moon and stars shining overhead, accented by mood lights, it feels like Mother Nature's very own secret garden.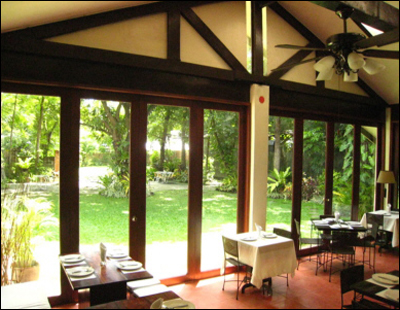 For those who prefer dining indoors, glass windows provide a full unobstructed view of the greens, as hints of flora add color to the naturally beautiful foliage. The view from the inside is especially lovelier at dawn as rays of sun grace the morning.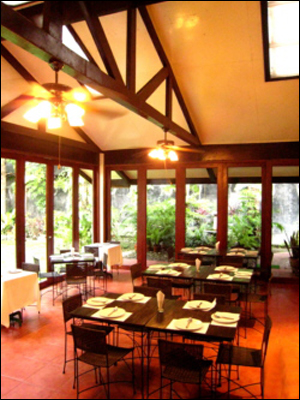 "The Mango Tree Restaurant is a haven for those who are looking for a relaxing place to dine and unwind. We have a garden area and an indoor area, to give our customers the choice of dining al fresco or in the cool indoor terrace," utters
Katz Gonzales
, whose family owns The Mango Tree. Her family loves eating, and since they had a spacious garden perfect for a restaurant, they put up one of their own.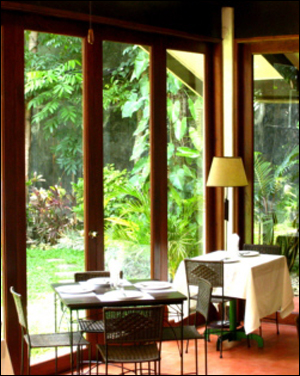 Their signature dish is the
Bulalo steak, beef shank with bone and marrow
served on a sizzling plate with Mango Tree's own
special bulalo sauce
. It is a must-try for every visitor or local because of its rather interesting and innovative version of
bulalo
, as distinguished from that in broth here in Manila. Another palate-enticing dish would be the
Sizzling Gambas
. Succulent, aromatic and pleasing shrimps are marinated in spice, served with bell peppers on a pleasantly scorching plate.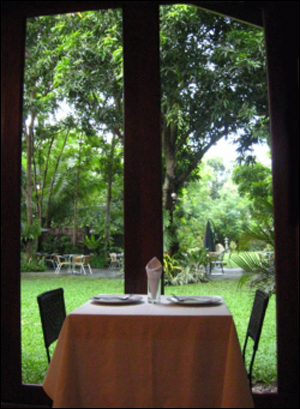 "What makes the Mango Tree unique and special is that we offer a homey and relaxing environment—a real takeoff from the commercial and fast food places that are prevalent in the city. The Mango Tree is the perfect place to enjoy a delicious meal, sit back and unwind after a long day at work," Katz adds.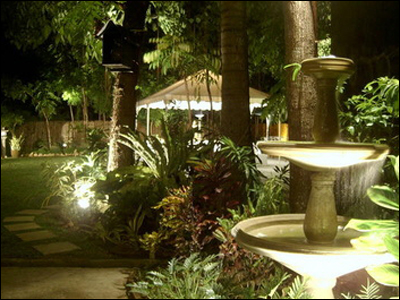 The Mango Tree is now open for lunch and afternoon snacks. They only used to be open in the evenings (from 6 PM to 12 AM), but they are now open the whole day (11 AM – 10 PM). For those who are planning to hold special occasions, consider the Mango Tree, which also holds events like weddings and/or receptions, baptisms and birthdays.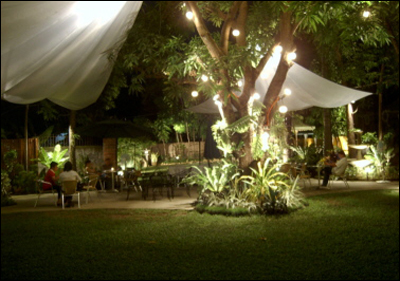 A trip made to Iloilo wouldn't be complete without having a meal at The Mango Tree. Those who make the trip will surely feel as if they're just having a picnic in their own backyard, with specially prepared food. For all it has to offer, this place is poised to last generations, like the titular mango tree that is central to the lush garden.
I'm looking for The Mango Tree.