If I could eat one thing every day (and not get fat), my meal of choice would be pizza. A whiff of baking dough topped with melted mozzarella cheese is, to me, one of the most mouthwatering, taste bud-tickling, hunger-calling aromas known in the food world. I am constantly on a quest for good pizza and an exciting new find is one in
Al Dente Ristorante Italiano
, a hip Italian restaurant along
Silver City Mall's Al Fresco strip
.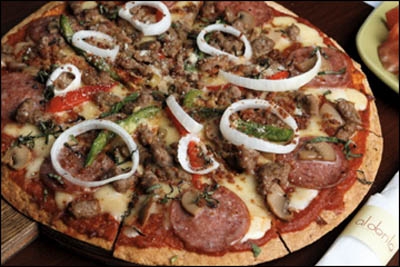 They call it a
Roman Biscuit Crust Pizza
. At Al Dente, pizza is a unique specialty because of a special crust that is the secret recipe of
Chef Pauline Goricetta Banusing
. It looks like your ordinary thin crust pizza at first but take one bite and immediately you notice the difference. I tried one of the restaurant's bestselling pizzas aptly named
Godfather's (P280)
for its list of prime pizza toppings—pepperoni, Italian sausage, lean bacon, mushrooms, onions, bell peppers, olives and mozzarella cheese. Biting into it, the biscuit-like crust is firm with a thick crisp and a homemade-baked flavor to it. The signature crust is shipped all the way from
Iloilo
, where Chef Pauline oversees the operations of the original Al Dente branch that she opened eight years ago. It was the first Italian restaurant in the province during the late nineties and was recently named
Best Italian Restaurant in Western Visayas
by the Philippine Marketing Association in 2006.
One of the best things about their crust is that it's less greasy but more filling, and incidentally, a healthier alternative to the average thin-crust pizza. If you share my pizza addiction, choosing what to order from their menu can be a bit of a challenge. Al Dente features some new and interesting flavors like the
Bacon Caesar Salad Pizza (P250)
,
Chicken Pesto (P220)
and an intriguing
Prosciutto di Parma Asparagus (P280)
, which uses slices of parma ham and grilled asparagus on top of pomodoro sauce. On my next visit, I vow to try their
Formaggio Pizza (P250)
, a medley of Italian cheeses (ricotta, mozzarella feta, blue cheese and parmesan) on herbed flavored marinara.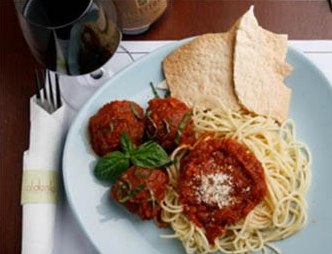 Of course, the restaurant wouldn't be named as such without pasta dishes.
Al dente
, a culinary term in Italian meaning "firm to the bite," describes how pasta should be cooked. When it is al dente, it's not soggy or mushy but tender with a chewy, spring-like quality. A hot item in the restaurant's pasta list is their
Spaghetti and Meatballs Di Mamma (P140)
. It's spaghetti with traditional Italian meatballs ("cooked like any mother in Italy," the menu proclaims) with fresh tomato sauce. The sauce is quite tasty and good enough to wipe the plate with the Roman Biscuit crust it comes with. Other intriguing specialties include the
Baked Rigatoni with Asparagus and Pesto (P170)
; pasta topped with grilled asparagus and pesto sauce; and
Spaghetti Al Salmone Vodka (P170)
; spaghetti with strips of smoked salmon, parmesan and scallions on a velvety cream sauce with a zing of vodka.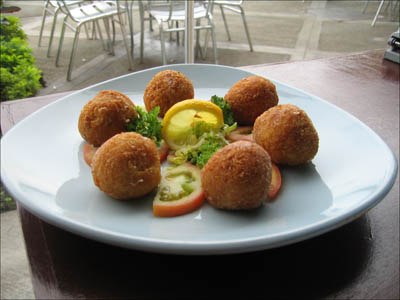 Every month new dishes are added to the menu. Currently, one of the popular newbies is the
Prawn and Mango Salad with Walnuts
, a winning combination of breaded prawns and fresh mangoes on a bed of romaine lettuce. If you're the type who stays away from carbs, hearty meat dishes like the
Milano T-Bone Steak (P450)
, or an Italian favorite, the
Ossobucco Milanese (P275)
, which marinates the beefsteak in herbs and chianti wine and braises it in beef mushroom sauce and crushed tomatoes. I enjoyed their
Potato Pimiento Croquettes (P95)
, one of their most popular appetizers because of its tasty and light parmesan crust. They say it's an excellent beer match or bar chow while enjoying a cocktail. After 9PM, the restaurant also doubles as a trendy hangout for night owls who frequent
Alchemy
(just a hop away from the restaurant) and other bars in the
Pasig
area. They also have guest DJs spinning chill out music and an extensive cocktail and wine list to boot.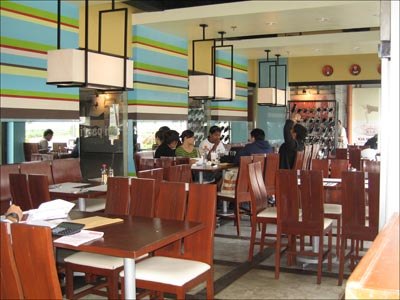 Still, if you're a pizza junkie bored with commercial and mass-produced pizza, Al Dente is a must-try if only for their inimitable pizza crust. However if you do end up returning time and again for the easy, homemade flavors of the rest of the menu, the yummy cocktails that go easy on the pocket, or the all-around relaxing vibe of this trendy Italian restaurant, I wouldn't be surprised.