The Golden Age of Piracy influences one of the most packed restaurants in Market Market – Blackbeard's Seafood Island. Named after Blackbeard or Edward Teach, the most notorious pirate in the history of seafaring, was believed to be, in Blackbeard Seafood Island history, that he got tired of being a pirate and became a chef till the end of his days. Interesting fiction, that is. Brought to life by one of the restaurant pirates of Manila, Blackbeard's Seafood Island continues to make a name for itself amongst its numerous competitors.

Imagine servers in pirate costumes, food skewered in a sword and a feast for at least 4. The restaurant is swarming with families on weekends and regular shoppers and call center agents on weekdays. The first to use the pirate concept, the food is as notorious (in a good way) as the name it carries.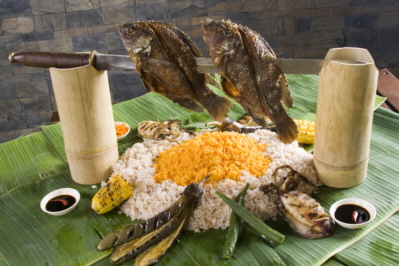 Sophisticated but casual. This is how I can best describe Blackbeard's. The cuisine is Filipino and Asian, but leaning more to Filipino. The servings are at par with your money and the service is notable, especially when it's the first time you see jolly pirates – total opposite of what was dictated in history.
Boodle Feasts
are often suggested to groups of clients with just the right amount of budget can go for a complete set meal that will leave you satisfied in the end. Or, it can serve two if you and your partner can wipe everything out:
Kevin's Boodle (Php 475 / 695)
is a huge bamboo platter filled with kalkag (shrimp) and kasag (crab) rice, ensaladang mangga, vegetable kare-kare, inasal na manok, noodles pancit espesyal and tilapia. If you want something street-like or as they say, kanto-inspired, they also offer
Calle Pirata (Php 475 / 695)
comprised of pork barbeque, tenga ng baboy, adidas, kwek-kwek, balut ala pobre, chicken inasal, lumpiang togue and garlic rice.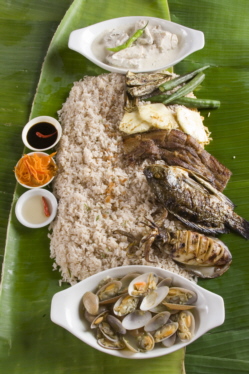 The most interesting selection for me is the
Espada Combination
. Meat, fish and the like are skewered in swords and served with grilled corn, eggplant, onion, tomoatoes, garlic rice and a slice of tropical fruit. You can go for
All Meat (Php 395)
which is liempo and chicken inasal, or
Seafood (Php 545)
– squid, tilapia, prawns or
Surf and Turf (425)
– liempo, prawns, and tilapia.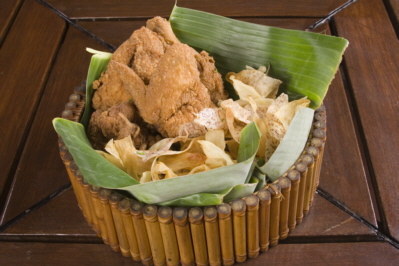 You may find it weird but what caught my attention was the
Balut sa Aligue ala Pobre (Php 169)
. I loved how the crab fat sauce complemented the balut and how the toasted garlic put the spice into it. I could have this and rice and I'm good.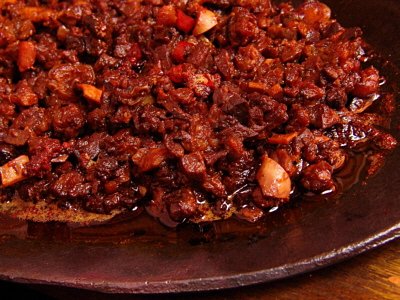 The usual Filipino treats like sisig, bulalo, sinigang, kare-kare, etc. are also in the menu for those who are craving for it or are less adventurous to eat from a sword. Its branches are in
Market Market
and
Eastwood
, both of which are also venues for call centers. They serve breakfast and have implemented a
Breakfast Beer Promo
for the call center people who don't get to party because they have to work at night.
Overall, the dining experience at Blackbeard's satisfied me and my guests. It was a special Filipino dining experience and we are sure to go back for more interesting tries.