My tea-loving friends have been telling me for months now to try out this new Japanese tea place called Bubble Tea. At first I thought, "What's new?" They were probably just serving those slush drinks with tapioca balls just like Zagu and all other similar beverage stores. Or perhaps they would have drinks pretty much like the Quickly stalls found in malls.



Ever since the 'tapioca ball' phenomenon was introduced in the country, I've tried the different versions and brands available in the city. How would Bubble Tea make things different?
So one Saturday my friend K-ann and I decided to have lunch at Bubble Tea at
The Block
at
SM City North EDSA
.
Tokyo Milk Tea Place
First of all, Bubble Tea isn't just a tiny beverage outlet or stall - it's a "milk tea place" that is brightly decorated with colorful pastel hues that definitely cheer you up, especially on gloomy rainy days.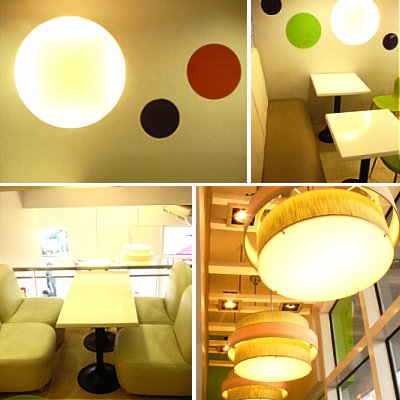 Apple-green seats, colorful wall "bubbles", and circular ceiling lights delightfully play with your eyes amidst crisp white walls and tables. Very modern and cute, Bubble Tea gives a cozy yet upbeat mood for its customers.
Bubble Tea has been bubbling their way into hearts of tea-lovers in Manila since May 2007, when they opened the Megamall branch. A couple of months later, the North EDSA branch opened.
Tea for Two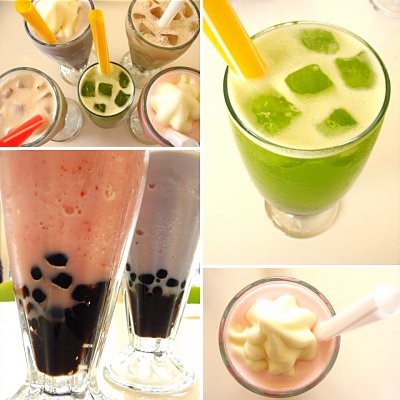 K-ann and I ordered several tea drinks to try out. Bubble Tea has so much drinks on their menu - from milk based drinks and iced tea based drinks, to tea slushes and hot beverages, they have a great selection of flavors to choose from. Bubble milk teas have a price range of
P55 - P88
, depending on size and flavor, while the bubble milkshakes are priced at around
P100
.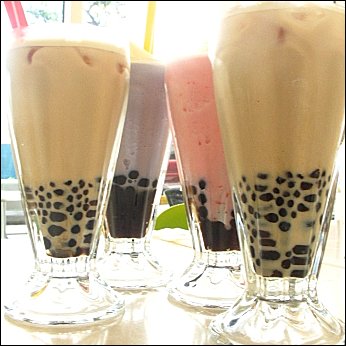 Royal Milk Tea, Taro Milkshake, Strawberry Milkshake, and Almond Milk Tea
We ordered two
Bubble Milk Teas
and two
Bubble Milk Shakes
, all of which are served with
bubbles
- chewy tapioca balls (or "pearls", as other brands call it), to be eaten along with the beverage through a wide straw.
What's impressive about Bubble Tea is that they brew fresh tea daily, and every five hours a new batch of tapioca bubbles is cooked to assure you of fresh flavor.

If you know your pearl/bubble drinks well, most that are found in stalls around shopping centers have hard tapioca balls that are difficult to chew. Some serve their pearl drinks that have dry, rubbery tapioca balls instead of it being chewy and gooey. Bubble Tea, I can say, serves the best bubbles, with the right amount of sweet coating, and a soft, chewy texture. Their bubbles also come in different sizes - my mouth enjoyed the tiny and big bubbles with every sip of my drink.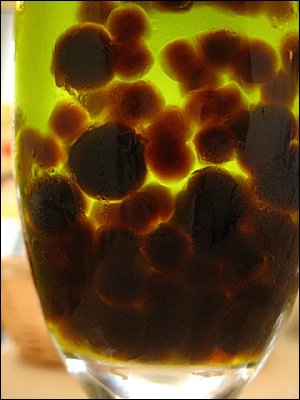 Kiwi Green Tea
My favorite drink for that day is the
Kiwi Green Tea (P50 - Medium)
. While the milk-based drinks were very sweet and make you feel more full, the iced-tea based drink was very light and refreshing, a sure thirst-quencher!
More than Tea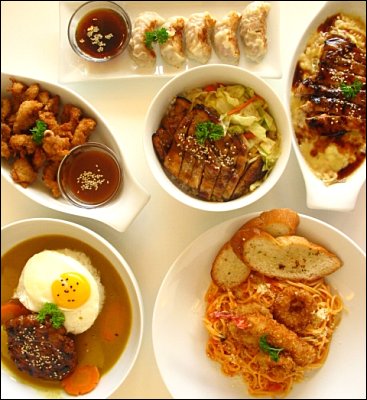 Bubble Tea doesn't only serve delicious beverages, they also serve modern Japanese food. From bite-sized snacks, curry rice platters, pasta and noodles to rice bowls, sandwiches and burgers, Bubble Tea offers a whole lot in their menu to compliment their milk teas and iced teas.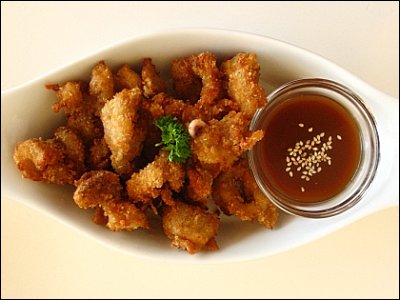 Ika Fry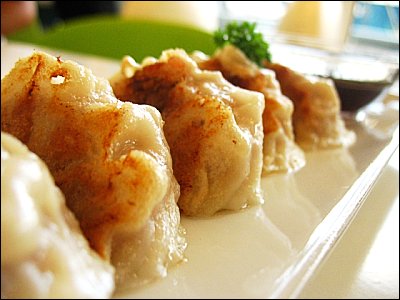 Gyoza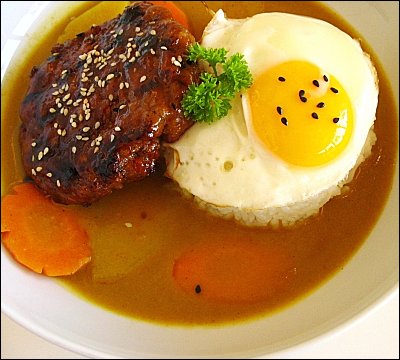 Japanese Curry Hamburg
They serve familiar Japanese food such as
Ika Fry
or Squid
(P95)
,
Gyoza (P95)
, and
Teriyaki Pork Misono rice bowl (P140)
. New and interesting meals that we also devoured were
Japanese Curry Hamburg (P155)
,
Teriyaki Chicken Doria (P189)
, and
Seafood tomato-Cream Sauce (P165)
.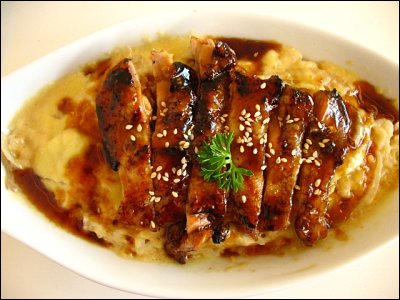 Teriyaki Chicken Doria
Our top two picks for that day are the Doria and the pasta bowl. A
doria
is Japanese baked rice casserole. The teriyaki chicken was drizzled with teriyaki sauce, and the rice was very creamy and cheesy, with a hint of Japanese mayo.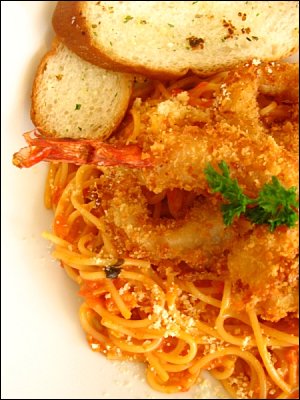 Seafood Tomato-Cream Sauce
The Seafood Tomato-Cream Sauce pasta bowl, for me, had the perfect sauce! It was very rich and creamy, with the right amount of tomatoes blended in for a tangy taste. It was also topped with fried pieces of shrimp. Oh, by simply writing about the meal makes me crave for more of their food.
After a very hearty meal and glass upon glass of bubble drinks, Bubble Tea has gained a loyal customer in me and my friend. So if you want your bubbles and a whole lot more, Bubble Tea is the best place for you. Enjoy a wide array of sweet and refreshing teas to surely keep your day a-bubblin'!