Oh My Gulay!
posted on

Tue, 7 Aug 2007 12:00 AM
If there is one phrase that best describes this outrageous restaurant, owner and renowned independent film director
Kidlat Tahimik
got it right.
Oh My Gulay! (OMG!)
is a vegetarian restaurant found on the fifth floor (no elevators here) of the
La Azotea Building
along upper
Session Road
in
Baguio City
.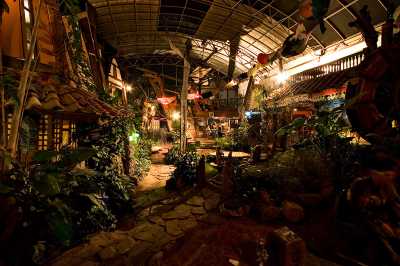 From the minute you walk through the cave-like entryway into OMG!, the first words that would come to mind would actually be its name. The area opens into an enormous space, and to a first-timer, this newfound world might just make you believe that you can fly. Seeing the eclectic interiors of OMG! will lead you to believe that it came straight out of someone's quirky imagination. OMG!'s décor will definitely remind you of Never Never Land with its odd spaces, old Spanish Galleon, indigenous artworks, a fish pond in the middle of the restaurant, not to mention the striking panoramic view of Baguio City.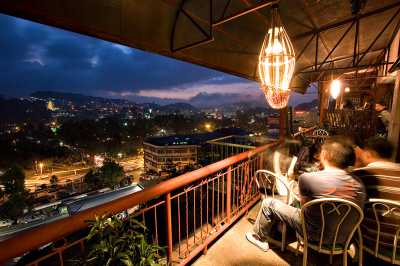 To add to this restaurant's breathtaking décor, you will find a superb array of organic dishes. Being a purely vegetarian establishment, not even a small piece of shrimp will find its way to the table.
OMG!'s bestseller, Lumpia Salad, is a glorious mix of fresh lettuce and watercress grown in Benguet, served with an Asian dressing and deep fried lumpia (also known as a spring roll). The lumpia is filled with soft tofu, oyster mushrooms and carrots. On its own, the lumpia is a bit bland, but the mild, sweet, oyster sauce based Asian dressing perfectly accents the delicate taste of this savory roll. As a whole, the flavor of the salad's different ingredients is brought to life by the refreshing dressing. The Lumpia Salad is surprisingly heavy on the stomach, even if it is a purely vegetarian dish.




The Chow2X is OMG!'s version of chow mein. Chow2X is a blend of fresh egg noodles (made in the restaurant to ensure its quality) and incredibly fresh vegetables such as carrots, broccoli, baby corn, bell peppers, etc. The sauce of this stir-fry dish is a mélange of sweet and spicy flavors which, despite its distinctiveness, do not overpower the fresh taste of the vegetables. Interestingly, the Chow 2X is a very light dish and is best consumed with a hot cup of OMG!'s signature coffee blend.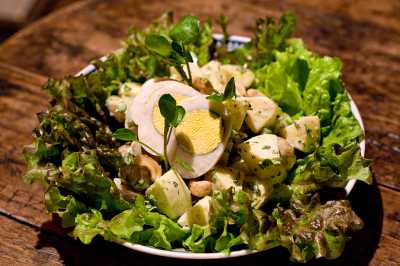 Deviating from the Asian-inspired dishes is the Waldorfesto. This dish is the marriage of a Waldorf salad and pesto. Visualize marble potatoes, apple chunks, nuts and celery tossed in a generous helping of French salad dressing blended with finely chopped basil leaves. Then imagine all these served on a bed of crisp lettuce and topped with egg slices and watercress. The play of the sweet and savory flavors, mixed with the different textures of the ingredients on the tongue, makes this dish a crowd favorite.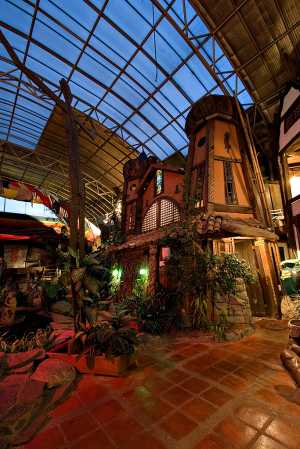 That trip up five flights to reach Kidlat Tahimik's own little Never Never Land might seem like quite a feat for some. But rest assured that it's worth it--if not for the outlandish décor or the insanely remarkable view, then for the excellent vegetarian food.


Oh My Gulay! is located on the fifth floor of the La Azotea Building along upper Session Road, Baguio City. If you are facing SM Baguio, the building will be on the right side of the road.