It has only been open for a few months but the place has already grilled it way into hundreds of hungry stomachs and put that rodeo flavor into the city.

Texas Roadhouse Grill is said to be the first authentic Western Cowboy Saloon in the country, serving authentic Western American food with that rugged cowboy appeal.

Upon entering the restaurant, you feel as if you're transported to Texas itself, with its saloon-type interior. They also have an open grill station where you see ribs, steaks, chicken and seafood being grilled to perfection.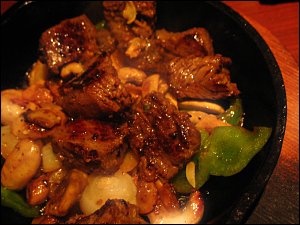 To start our Rodeo Night, my friends and I had the
Beef and Mushroom Skillet (P175)
as an appetizer, and the dish was served to us sizzling hot! The meat was very tender and the crunchy bell peppers and onions goes well with its texture.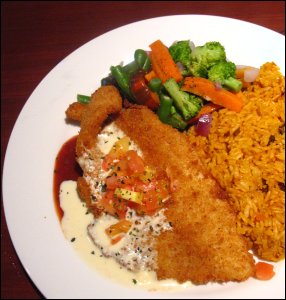 For my dinner, I ordered
Parmesan Crusted Fish Fillet (P295)
. The fish fillet is breaded with a Parmesan crust, and topped with creamy Marinara sauce. Very delicious! I love how their dishes have very festive colors that really appeal to one's gustatory sensations.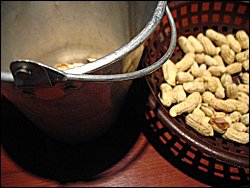 In between the starter and the main dish, you can also munch on some peanuts that are served in every table, with a tiny metal bucket so you can neatly throw away the peanut shells afterwards. We just kept on eating peanuts and since it is a great beer match, we also had our favorite cold bottle of
Cerveza Negra
.
A cool and rich-tasting Cerveza Negra, is the perfect beverage for the night. And enjoying the beer at Texas Roadhouse Grill added that Rodeo touch to our fun night out, making us feel as if we were true-blue Cowboys. The exhilarating and distinct taste of Cerveza Negra is very relaxing after a long day.
Enjoy a cold bottle of Cerveza Negra with your choice of grilled specialties at the authentic western Grill. All cowboys and cowgirls will surely enjoy the exhilarating and distinct taste of Cerveza Negra at the best Texan hang-out at Bonifacio High Street. Texas Roadhouse Grill is definitely the place for the urbanites to experience dining rodeo-style.
Sponsored post by Cerveza Negra