Apart from strolling along its stretch of powdery white sand, one of the best things to do in Boracay is pigging out. The island probably has the most diverse array of eateries in such a small space.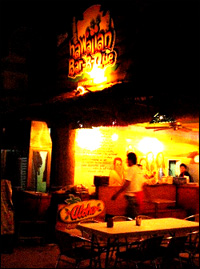 One of its newer attractions, Hawaiian Bar-B-Que, is fast shaping up as one of Boracay's "must-eat-there" restaurants. Located along Boat Station 1, the place offers Hawaiian food, with a smattering of good old local favorites.

First-timers must absolutely try the Hawaiian Baby Back Ribs. These are, by far, the most tender and chewable ribs I've ever tasted. The meat comes off the bone very easily, unlike most rib dishes that are a struggle to eat. The sauce is sweet, tangy and very tasty. At P350, the medium-sized serving is good enough for two people. For this alone, a trip to Boracay is already worth taking.

Rib lovers should also try the smoked Waikiki Honey Mustard Ribs (P370, medium) that's bathed in a honey mustard and thyme concoction, and the Lualla Ribs (P380, medium), infused with peppercorn-garlic sauce, then slow roasted in an underground crockery.

Large groups can order the Barbeque Platter. At P750, everyone can sample shrimp, pork barbecue, chicken barbeque, fish barbecue, pork belly, barbeque mussels and barbeque corn. Those going solo can order any of the Hawaiian Barbecue Plate Lunches, which already come with rice and macaroni/coleslaw salad. The Beef Ribs meal is at P210, while the Pork Belly version costs P165. The best bargain though is the Blue Marlin Barbeque plate, which is a steal at P160.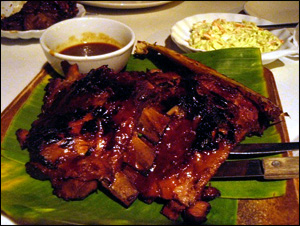 True to its tropical theme, Hawaiian Bar-b-que has a number of coconut milk dishes. Hawaii's version of "lechon manok,"
Simply Chicken Coco (P250
, half-chicken), is rubbed with coconut milk and served with coconut salsa. The
Island Style Shrimp in Coconut (P250)
is fried to a crisp and drizzled in pink-guava sauce. Grilled in a wooden bamboo trunk, the
Aloha Seafood Special (P385)
is sautéed in chili spices, coconut milk or garlic n' chives. Another coconut dish is the
Tropical Isle Pineapple and Shrimp Curry (P320)
, which is cooked in coconut milk and served in a pineapple shell.
With some dishes, the place cleverly integrates fruit with meat. Take the
Lychee Pork Barbeque (P175)
or the
Sun-Ripened Mango Chicken Barbeque (P250)
. Other unique dishes are the
Spam Masubi
(wrapped in nori and served with teriyaki sauce) and
Saimin
(Hawaiian noodle soup). Closer to home, they also serve the staple
Boracay Chori-Burger (P60)
and
Boracay's Own (P150)
, which is simply crispy fried fish.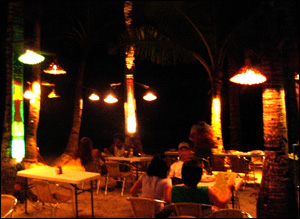 A few words of advice when eating here: do not take any of the tables on the beach at night, as the chilly evening sea breeze will easily make your food cold. The rib and barbecue dishes, with their flavorful sauces, should always be eaten warm. Also, try coming in a bit early as the place is usually jam-packed by mealtime, a testament perhaps to its mouth-watering dishes. With its creative culinary delights, Hawaiian Bar-B-Que is definitely an oasis for food lovers who have been there and done that.
I'm looking for Hawaiian Bar-B-Que
.