Japanese and Korean cuisine combined equals a delightfully different and delectable selection of fusion food. At Yakiniku Senri, you enjoy traditional and modern Asian dishes. And a true test of authentic and delicious Japanese restaurants is when the Japanese themselves dine in the place. And having eaten at the restaurant several times already, I can say that Yakiniku Senri has its share of loyal Japanese customers.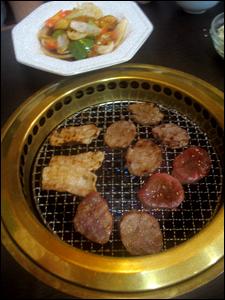 Yakiniku Senri's interiors are typical of Japanese restaurants, with wooden interiors, Japanese lanterns, and the tabletop grills for Yakiniku.
Yakiniku
is the Japanese term for grilled meat cooked on a griddle. A charcoal or gas oven may be used, and the meat is best eaten with vegetables cooked the same way. In the restaurant they have gas ovens in the middle of their tables, and you are given the meat raw and marinated. So while you sit, you barbecue the meat by yourself on the grill, and add different kinds of sauces to it to suit to your taste.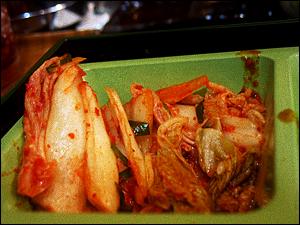 For that night, I had chosen from their set menu which comes with rice, soup, kimchi and salad. Now, correct me if I'm wrong, but kimchi isn't a Japanese side dish, but a Korean one. Yakiniku is a Japanese resto with a twist, I must say. In addition to that, they do not serve the traditional sushi and sashimi, but they do have meat sashimi. How excitingly different is that?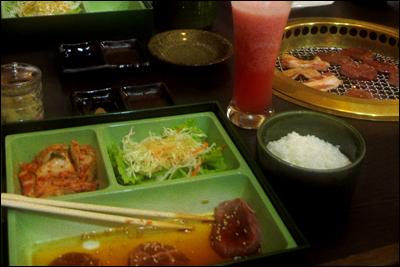 I ordered their
US Beef Rosu Cut Set
- 5 pieces of beef cut in circles. When I got the meat, I added some of the sauces. They have
Miso sauce
for a sweet taste,
Ume sauce
for a sour taste, and their
Basic sauce
which tastes like teriyaki sauce mixed with soy sauce.
And since I like spicy food, I added their spicy sauce and loads of freshly chopped garlic to the beef! Perfect to match the Kimchi and the sweet-tasting salad that comes with the meal.
After my very delicious meal, I decided to end my dinner with a cool and rich-tasting
Cerveza Negra
, perfect for quenching my thirst after the spicy Kimchi and savory beef Yakiniku.
The exhilarating and distinct taste of Cerveza Negra is very soothing, which made me feel in the zone with Yakiniku senri's Japanese minimalist interiors. It's simply a relaxing experience with your food and your beer.
Enjoy a cold bottle of Cerveza Negra with your choice of Yakiniku set menus from Yakiniku Senri - I'm sure you will enjoy the exhilarating and distinct taste of Cerveza Negra that compliments their modern fusion of Japanese and Korean food. It's just the right place for the people who are out for Japanese food with a twist.
Yakiniku Senri is located at 1030 Pasay Road, Makati City. For inquiries, call 844-9618 or 899-9733.