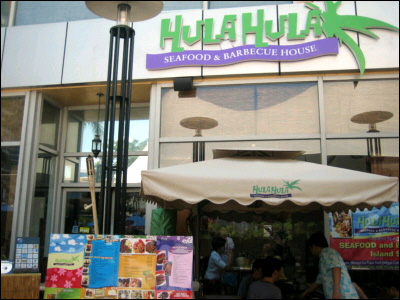 Hawaiian cuisine is a fusion of cuisines by multi-ethnic immigrants. This is very akin to the history of the Filipino. It's also probably why this kind of gastronomic fare is popular with us.
Imagine a Pacific Island-themed dining area with Hawaiian panels and eating Luau-style on banana leaves in your very own city. The outside seating area is lined with parasols, wooden seats, tikis, coconut husk lights.
Hula-Hula
brings modern Hawaiian cuisine and begets an island lifestyle like no other.
It was worth the wait. I skipped a whole day's meal to ready my stomach for a huge Hawaiian feast, which was the perfect excuse to not go on a diet, at least for that day. It was as if there was no tomorrow and I could eat to my heart's content. At luau feasts in Hawaii, the locals submit to a certain belief:
People don't eat till they are full, they eat till they are tired.
Yes, I ate till I was tired. It was a good non-bloated feeling. Following are a few of my recommendations for a sumptuous Hawaiian feast.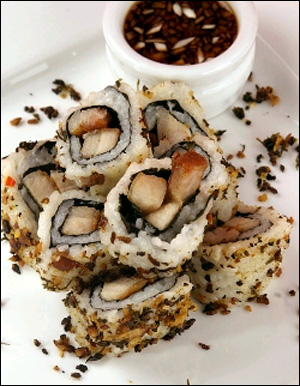 Hula-Hula's cuisine can be considered a fusion of Hawaiian and Japanese. This is very evident in their wide list of rolls, or
maki
as the Japanese would call it.
I highly recommend that you start with a platter of
Fruit Fantasy Roll (Php145)
. It resembles the Japanese California Maki, only this has kiwi and apples, aside from the mango and kani. You can really taste the tropical twist with the kiwi and mango sauce that makes it very light and is a good substitute to the usual wasabi and soy sauce.
If you prefer something a little more savory, then the
Spam Musubi (Php 145)
. If you've seen the movie
50 First Dates
, then you probably know that Spam is one of Hawaii's favorite snacks.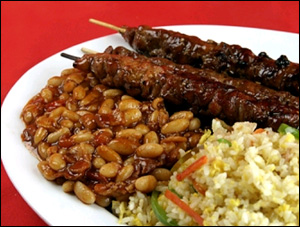 If you're dining with your family or friends, the Luau is very much Hawaiian and Filipino and celebratory in concept. It comes in servings for 3-4 and 5-6 heads. The food is served on a very big square bamboo platter lined with banana leaves and can occupy one square table.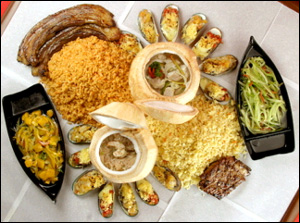 The
Davao Gulf Luau (Php 695, Php 990)
is a complete feast composed of Shrimp and Pomelo Salad, Cucumber Salsa, Mango Salsa, Tanigue Ceviche, Mussels with Wasabi Salsa, Grilled Tuna Belly, Squid, Island Belly Chop, Crab Fried Rice and Shrimp Fried Rice. No need to use extra plates because the extra space along the sides will serve as your eating space. For some, the concept looks weird and unhygienic to be eating on the same plate. To me, nothing beats eating together and sharing food with the people you value, even if it means eating on the same plate.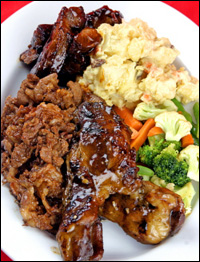 Mess of Steaks (Php 275, 495, 695)
is one of the bestsellers with American impression, which is a combination of U.S. beef cuts, yakiniku, rib fingers and short plate. Although the beef was succulent, the basting I chose (manila smoke) really captured the Manila type of barbeque. It was really tasty but it fell short of my craving for a Hawaiian barbeque--where a chunk of pineapple would have been divine, that is. I should have tried olive oil and garlic instead.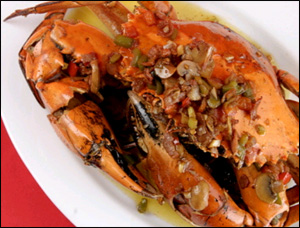 You can find its sister company's famous
Crab Maritess
in its wide array of dishes. As always, the crab was very fresh and flavorful while the garlic chili, white wine and olive oil complemented it. Other seafood dishes are also available to complement the tropical setup.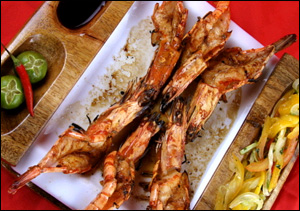 What made my Hula-Hula dining experience exciting was not only sampling an eclectic Pacific Rim cuisine that captures the diversity of Hawaii's culture. It was how Hula-Hula provided me with a good way to enjoy seafood and barbeque, island style. Probably the only thing that was lacking was the fresh island breeze and glistening blue waves. Nonetheless, it made me feel both comfortable and comforted as it added a touch of fun when the
hula
girls and
tiki
boys started dancing to a
Lilo and Stitch
song.