For the third installment of our Hungry Guide map, we take you to the no-longer-sleepy streets of Kapitolyo Village, Pasig. Check out the many unique restaurant concepts in this burgeoning foodie hub using our food and restaurant map.
NAV Modern Thai Cuisine
16-C United St., Kapitolyo, Pasig
Telephone: (63 2) 655-8395
Nav, a small Pasig nook, offers modern twists to some traditional Thai food. Best-sellers include Asian staple Chicken Satay with Satay Sauce (P235), Grilled Stuffed Squid with White Shrimp (P320), Nav's Bagoong Rice with Fixings of Khao Krok Kapi (P225), and their notable rendition of Thai Sticky Rice (P170).
Grilled Stuffed Squid with White Shrimp
Inside this Asian restaurant are wooden chairs and tables suitable for an intimate and cozy lunch or dinner with your barkadas or loved ones. The blackboards hanging on the walls contain the day's specialties or best sellers written in colorful chalk, making it a good place to browse when you haven't tried or are clueless on Thai dishes.
Uncle Moe's Shawarma Hub
16 United St., Kapitolyo, Pasig
Telephone: (63 2) 634-7943
The shawarma frenzy back in the late 1990's to early 2000's may have dwindled considerably, but many foodies of today still admit to seeking the Middle Eastern roll from time to time.
For their occassional dose of garlic breath, Pasig folks resort to Uncle Moe's-- a very small restaurant offering tasty kebabs and shawarmas at very reasonable prices. Kebabs here are highly praised (compared often to the legendary Mister Kabab) and shawarmas, like this Chicken Shawarma (P115) pictured below, are sought by those with big appetites yet small budget.
Chicken Shawarma
Longganisa Sorpresa
16 United St., Brgy. Kapitolyo
(+63 2) 696-7514
Longganisa Sorpresa is a no-frills resto for those with special affection for good ol' longsilogs (P99; longganisa, sinangag, at itlog, comes with free drink!).
Here, longganisas are grouped into two: recado and hamonado.
Recado groups together the salty, garlicky, sour, and peppery longganisas from Alaminos, Baguio, Cabanatuan, Calumpit, Laoag, Lucban, Tuguegarao, and Vigan.
On the otherhand, Hamonados are for those who like the sweeter and smokier side of the longganisa spectrum. Under Hamonado are longganisas from Cabanatuan, Cagayan de Oro, Cebu, Davao, General Santos, and Pampanga.
Eleven Tables
Ground Level, D' Ace Plaza,
United St. corner Brixton St.,
Brgy. Kapitolyo, Pasig
Telephone: (63 922) 880-5970, (63 917) 562-0086
Eleven Tables is named so, as they have eleven tables inside the restaurant. Their menu is as straightforward as its name: you can see that they offer different kinds of fondue. Categorized into three, their fondue list shows how one can have fondue as appetizer, as main course, and as dessert.
Bacon, Cheddar and Tomato Cheese Fondue
Unsurprisingly, the Bacon, Cheddar and Tomato Cheese Fondue (P340-Good for 2, P600-Good for 4) headlines the appetizer group. Main course can be in the form of Seafood Bourguignonne (P880). And you may end your meal with a Dark Chocolate Dessert Fondue (P280) that comes with five chef-selected dippers: potato chips, apple slices, graham crackers, marshmallows, and wafer sticks.
Ramen Cool
25 East Kapitolyo Drive corner West Kapitolyo Drive
Kapitolyo, Pasig
Telephone: (63 2) 636-0972
Haru Sushi Bar and Restaurant
West Capitol Drive
(+63 2) 631-0597, (+63 2) 632-0357
Two Kapitolyo lots are reserved for Japanese food lovers: Ramen Cool and Haru Sushi Bar and Restaurant.
Despite the two's proximity and the same cuisine offerings, these two can't be more unlike each other.
Bright, hip, and friendly Ramen Cool offers big bowls of Filipino-palate friendly noodles. On the other hand, Haru chooses to stick with the classics: warm pots of sukiyakis along side cold-plated and just-sliced sashimis.
Cafe Juanita
21 United Street cor. West Capitol Drive,
Kapitolyo, Pasig
Telephone: (63 2) 632-0357
Tucked in one of the small streets of Pasig is Café Juanita. It's a quaint, gaudily-decorated restaurant that's popular among dating couples.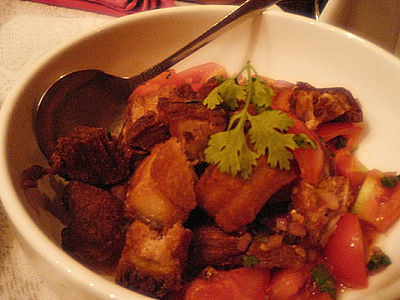 Bagnet Salad
If you're in the mood for Filipino food, try Kare Kare ni Juanita (P530) or Bagnet Salad (P313). The Sisig on Tofu (P327) is an absolute must-try– mildly hot, crispy, and very, very delectable. If you're the type who doesn't like liver in your sisig, you'll make an exception for this one. The real steals are the desserts. Don't leave without trying the Sticky Toffee Pudding (P93).
Three Sisters
10 East Capitol Drive
Kapitolyo, Pasig, Metro Manila, PH
Telephone: (63 2) 631-4431, (63 922) 495-003
Open since the 1970, Three Sisters offers basic Filipino fare like BBQ, Pancit, Lechon Kawali and Sisig. Budget-friendly, traditional, and consistent, it's hard not to like this Pasig institution.
EPIC Cafe
102 East Capitol Drive,
Brgy. Kapitolyo
Telephone: (63 2) 631-0057
Epic Cafe brings together vintage bikes, antique pieces, good coffee, and great desserts in one warm, laid-back space. The little sister of Poco Deli, EPIC also promises no-shortcuts, high-quality, and prepared with love desserts and coffees.
Epic's coffees are quite affordable:P80 for an Americano and P100 for a Cappuccino or Latte. Those who like their coffees cold can get frappes for under P150. The Sea Salt Caramel (P145) and Green Tea Matcha (P150) are most ordered.
There's also the Belgian Chocolate Cake (P95)-- deep brown, utterly moist, and relentlessly chocolatey that's very much like Poco Deli's Black Out cake. The New York Cheesecake (P140) is made exquisitely, with just enough tart in it. And the Lemon Cake (P90) is best for those with a penchant for refreshing desserts.
Milky & Sunny
9 East Capitol Drive, Brgy. Kapitolyo, Pasig
Milky & Sunny is a bright ray sunshine along East Kapitolyo Drive. Its menu has different kinds of breakfast favorites—cereal, French toast, pancakes, rice offerings--offered everyday, all day.
An amusement park for breakfast lovers, Milky and Sunny takes you on a gastric ride mixed in with a warm nostalgic feeling of childhood, waking up to slow lazy weekends.
Briggy Hall
9 East Capitol Drive, Brgy. Kapitolyo, Pasig
Briggy Hall is a bold and unique concept that aims help start up in the food industry. Just like a food court, Briggy houses different food retailers, carefully hand-picked by the owners. Think Mercato, only, smaller and indoors.
Charlie's Grind and Grill
16 East Kapitolyo Drive
Telephone: (63 2) 635-4857
At Charlie's Grind & Grill, they up the ante with fresh hand-crafted burgers. So famous and unforgettably delicious are their burgers, that they have gained a strong cult following of customers braving the Alabang traffic to head all the way to Kapitolyo, Pasig.
Perhaps the most-praised here is the Panko Crusted Deep Fried Cheese Stuffed Portabello Mushroom with Black Angus Burger Patty. A mouthful of a burger name to say, which is just fine since you will surely have to use more than a mouthful to down this baby. You get your basic Charlie's burger notches higher in awesomeness with this item that is a prime example of good marriage in textures and flavors.
CAB Cafe
18 East Capitol Drive, Kapitolyo
Telephone: (63 2) 477-5382
A Manila extension of family-run Cafe Bob's in Bacolod, CAB Cafe offers had-not-to-like pastas and pizzas. Their entree renditions are fine: sour when necessary, thin but tasty, but CAB is especially known for their desserts. Head here for memorable slices of Strawberry Cheesecake, moist Chocolate Cake, muffins, and breads.
Poco Deli
21 East Capitol Drive, Barangay Kapitolyo
(+63 2) 477-4332, (+63 922) 892-9211
Established back in 2009, Poco Deli was a neighborhood secret until 2010, when it started making rounds in almost every foodie's blog. Three years after it first started, the 50-seater nook located along East Capitol Drive now has its sizable share of patrons from all over the metro. On a weekday lunch time, the little deli gets packed with workers from the nearby offices. Nights, especially Fridays and Saturdays attract all sorts of foodies-- couples, families, and friends who usually drive from farther cities.
Bacon Slab
What are they driving that far for? Well, there's Bacon Slab (P320) Poco Deli's elusive homemade heartthrob. There's also their Gourmet Tapa with Eggs and Bacon Rice (P320)-- a strong contender for the metro's best tapa. Most of Poco Deli's patrons seek their chillers for a pack or two of their homemade, extender-free, and extra juicy sausages.
Gourmet Tapa
Homemade and Premium European-style Sausages
Thai Dara
East Capitol Dr., Kapitolyo
(+63 2) 624-9727
Thai Dara prides itself in its selection of Bangkok Street Food. Just like the prices, the menu here is approachable and newbie-friendly. Their Tom Yum, Pad Thai, and Pomelo Salad are most-ordered. You can get a complete meal at Thai Dara for less that P200.
Mad Mark's Man Sandwich and Frozen Desserts
23 East Capitolyo Drive, Brgy. Kapitolyo, Pasig
Telephone: (63 2) 342-6802, (63 922) 495-0267
Sandwiches and ice creams go together in this Kapitolyo hidey-hole. Best known for its "THE" Man Sandwich (P290), ?Mad Marks pleases carnivores with this godzilla sandwich comprised of Grilled Chicken and Angus Beef topped with Mushroom Au Jus then Melted with Mozzarella. And as if the calories are not enough, cap off your meal with a Madagascar Vanilla Bean and Half-Baked Madagascar Chocolate on Chocolate (1 scoop -P68 and 2 Scoops - P98).
Bring the entire family or gang with you to Mad Marks unless you want to end up with too much left overs.
Lia's Cakes in Season
25 A&B East Capitol Drive, Barangay Kapitolyo
Telephone: (63 2) 377-4808
You probably know now that Lia's Cakes in Season is the home of the famous Avocado Cake (Php. 670 whole/Php 85 slice). But aside from this flavorful, pistachio-topped chiffon, Lia's also has other excellent fruity desserts like Calamansi Tea Cake (Php. 340 whole/Php 45 slice), Mango Cheesecake and Ube Cheesecake.
Runners' Burger
64 East Capitol Drive, Brgy. Kapitolyo, Pasig
Telephone: (63 2) 710-5882
Designed with the health conscious runners in mind, Runners Burger offers lean fire-grilled burgers that have reasonable calorie counts. Drop by this resto during lunch or dinner to pack yourself with enough protein for your daily work out.
RUB Ribs & BBQ
88 East Capitol Drive, Bgy. Kapitolyo
Telephone: (63 2) 625-2939
All fingers point to RUB when one's searching for affordable, fall of the bone Baby Back Ribs. The Ribs dish here, smokey and properly grilled, will only cost you P205-- way cheaper but at par with American chains.
Silantro Fil-Mex Cantina
75 East Capitol Drive,
Brgy. Kapitolyo, Pasig
Telephone: (63 917) 508-4748
Silantro is a humble newcomer at the far end of East Capitol Drive surprisingly assembles nachos, tacos, and burritos better than supposedly "authentic" ones.
Nachos
The Nachos (P145) here may be the best deal you can get in this city. It's a fantastic mountain of crispy-even-when-left-for-long tortilla chips, handful of well-marinated beef strips, guacamole and the best part: melted queso. At P145, this is really a bang for your buck since this can satisfy a group of four.
Pancholon's Burger
Pancholon's Burger (P160) fares well considering its price. The patty is thick and generous, and closely resembles a well-loved burger.