As I have just graduated recently, my classmates and I have been reminiscing on our college days in La Salle, telling each other the things we would miss the most, like eating at the affordable places around Taft. And while we were thinking of all the restaurants and food stalls, one always tops most of our lists - eating at Rap's!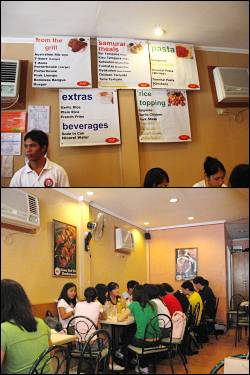 Rap Steaks and Cakes, or "Rap's" as most customers would call it - is a student's pig-out heaven: getting your great meaty meals with rice at very wallet-friendly prices. And that's not the only reason why every lunchtime Rap's is jampacked with people - the place is known for their special yellow gravy that they serve hot in jars per table. Up to now, I haven't seen nor tasted the "Rap's Gravy" in any other restaurant, and I don't have a clue what their secret gravy recipe is!

During our graduation practice, we all agreed to have our lunch break there. From DLSU's Engineering Gate, Rap's is just a 2 minute walk, located at the street across the gate. As usual, the place was full of students. Starving after a long day, we all ordered our food.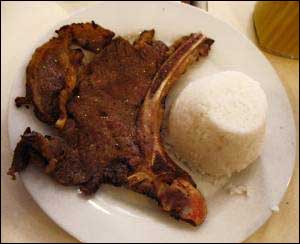 T-Bone Steak
My friends ordered
Liempo (P92)
and
T-Bone Steak Regular (P103)
. These two meaty dishes are our favorites, alongside Rap's
Porterhouse (Regular - P108, Large - P128)
. All their items
From the Grill
are served with rice.

Liempo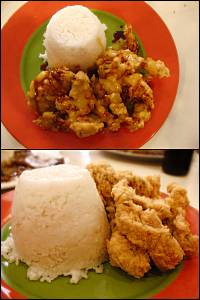 Chicken Tenders
I ordered
Chicken Tenders (P88)
, another one of our favorites in the restaurant, if we want to lay low on meat. This meal is also served with rice, just like their other
Homestyle Favorite
s. I am very impressed with Rap's food poritoning because one really gets good value for money, especially when you're starving!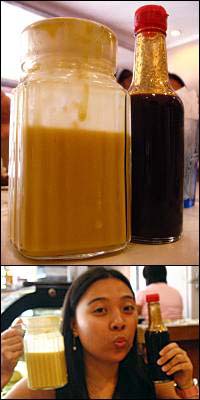 Gravy love!
Now, when you receive your order, you must never,
ever
, skip on the gravy. It's their trademark sauce, their
pièce de résistance
- it's what makes Rap steaks mouthwateringly sinful. And the special hot, buttery gravy is best paired with Worcestershire sauce. Mix both sauces together and drizzle them in your meat and rice, and you're in heaven.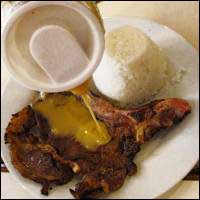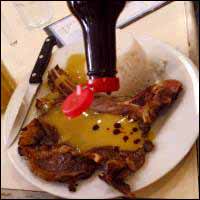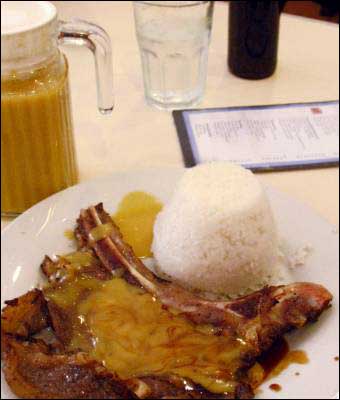 I have never been dissappointed with their steaks and other dishes. If you're not a steak lover, try their
Boneless Bangus (Large - P90)
, it's what I order if I want to skip meat for a while. They also have
Samurai Meals
, Japanese favorites served with rice like
Ebi Tempura (P100)
,
Tonkatsu (P88)
, and
Chicken Teriyaki (P85)
.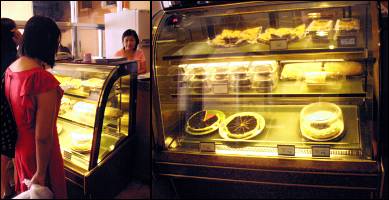 After devouring our lunch and finishing a whole jar of gravy, we topped off our lunch with two cakes, since, of course, we were eating at Rap Steaks and Cakes. We shared a
Chocolate Mud Cake (P47)
and a slice of
Brazo de Mercedes (P35)
. The mud cake's size is like the choco lava cake of
Goodies 'n' Sweets
, and is really rich and chewy, oozing with chocolate goodness. The Brazo de Mercedes is my friend Polo's favorite dessert at Rap's - a sweet and light dessert with thick custard filling in the center.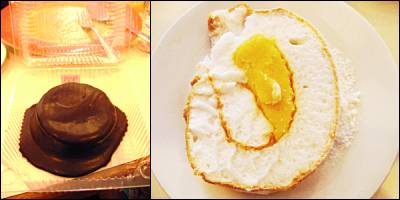 Graduation was just days ago, but I surely miss the days of eating out with my classmates after a long exam, endless hours of cramming, or maybe a boring class. My friends would always say they will miss Rap's when they finish school, but knowing them, they will still find a way to go back to Taft to savor their famous gravy with their food and of course, reminisce the good old collge days.