When one thinks of a night out for a round of drinks, one would usually go to a pub with the boys, a night out clubbing with the ladies, or maybe singing the night away with friends, taking turns with the videoke. But one simple night out at Pasto for after-dinner drinks can be a chill-out, relaxing evening with a few good friends.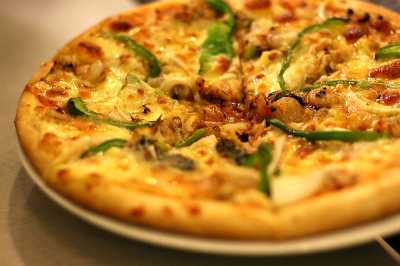 Pasto serves authentic Italian pasta, pizza and panini. The interiors of the restaurant are in black and red, and the walls have different metallic embellishments that are both modern and quirky. I usually have dinner at Pasto with my high school friends because not only do they serve their thin-crust pizzas crispy and flavorful, their price range is very easy on the wallet.
For that night, we were looking for a place to drink - something different, something laid-back and not too noisy. Pasto stands out among the rest of the resto-bars because it is always laid-back and quiet, perfect for dates, and great for bringing your barkada along and talking the night away. The restaurant was not too dark or too brightly-lit, the interiors are cool to the eyes, and best of all, no ear-pounding music. Definitely a place to unwind after a long day. Pasto's unique interior style paired with soothing music and of course their wonderful Italian cuisine favorites make for a unique dining experience.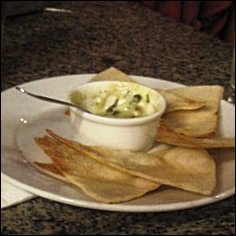 Whenever I go to Pasto, I never fail to order an
Antipasto
(starters). Their homemade
Crostini
is absolutely delicious! eight very crisp and light pieces of crostini served with your choice of dip. I ordered it with their
Pomodoro Salsa sauce (P65)
, together with our drink for the night:
Cerveza Negra (P55)
. Now, it may seem odd to you to pair Cerveza Negra with crostinis, but surprisingly, they go well with each other. I usually don't think of Italian cuisine as pulutan to go with a cold bottle of beer, but Pasto changed my mind. When the waiter served me my cerveza, the first thing I noticed is how its look seemed very "at home" at Pasto - its dark shade and flavorful rich taste compliments Pasto's red and black theme and low-key lighting that set a cool mood. Compared to other pulutans we may find in restaurants, the crostinis are very affordable, and a good value for money because one order is good for 2-3 persons. You also have many dips to choose from, like the mushroom pate, or the creamy spinach dip. If you want something different when you go out for a beer run at night, Pasto is a place you must try!
The exhilarating and distinct taste of Cerveza Negra is very soothing, and adding to the chill-out vibe was the bossa nova music being played in the restaurant. No noisy crowd, no annoying music - simply a de-stressing experience with your food, your friends, and your beer. It is definitely the perfect nightcap after a long day of work.
Enjoy a cold bottle of Cerveza Negra with your choice of crostini dips at Pasto - I'm sure you will enjoy the exhilarating and distinct taste of Cerveza Negra that compliments their authentic Italian food. it's just the right place for the people who are tired of the same old night scene and who want to stand out. The restaurant is definitely Pasto perfect!
Sponsored post by Cerveza Negra