Last month, we featured Legaspi Village's many culinary hidey-holes. Today, we'll tell you where to eat your lunch, bring your date, empty a beer bottle, and shop for organic vegetables when you're in Legaspi's busier brother: Salcedo Village, Makati.
Discover the many unique restaurants around Salcedo Village using our Hungry Guide: Salcedo Village Food and Restaurant Map.
Budget-friendly Eats in Salcedo Village
Just like almost everywhere else within the Makati Central Business District, Salcedo Village is no stranger to jollijeep: the offspring of carinderia and a wheel-less food truck. Here, you can indulge in lutong-bahay fare for less than P100 (one cup of rice, vegetable, and meat dish would cost you around P70).
But just in case you've grown tired of eating Ate Rosa's daing with munggo, Knorr-ful sizzling sisig, and Kare-kareng Pata, and the convenience stores and fast food restaurants aren't any better options, try the following buget-friendly establishments within Salcedo:
Adobo Connection
GF Heart Tower
Valero St.
Enjoy Adobo in all its forms at flavors at Adobo Connection on Valero. Try their specialties like Kuya's Fried Mixed Adobo, Chicken Adobo sa Gata, and Adobo Flakes, with unlimited servings of rice for only P99. Also popular among Makati yuppies is their 3 for P99 local beer offerings all day. (Note: Adobo Connection can get really crowded on a lunch time. Come early.)
Kang's Korean Grocery
Ground Level, Nobel Plaza
110 Valero St.
Just a few steps away from Adobo Connection is Kang's Korean Grocery, a.k.a. Valero's depot of all kinds of Korean Ice Cream (sweet Melona and the gang) and spicy noodles. Visit Kang's when you're needing a quick break or your snack supply in your office pantry is running low. 
Z's Sausage Deli
GF Valero Plaza Condominium
San Agustin St.
(+63 2) 892-5790
Hidden along San Agustin Street is a small and unassuming Z's Deli kiosk. The few who knows this place exists have been enjoying their Get Two Frankfurter Sandwiches for P155 promo that comes with one free iced tea. They also have value meals like Pork Tocino, Corned Beef, Luncheon Mean, Longganiza, and Frankfurter that come with Rice, Egg, and Iced Tea for P85 to P90.  
Bugong Roast Chicken
Ground Level, Valero Carpark 2
Valero St.
(+63 2) 892-1256
According to its profile, Bugong serves farm fresh chicken marinated with a special blend of 18 herbs and spices and roast to perfection. We don't know how accurate is the 18 herbs and spices claim but what we know is Bugong is oily, aromatic, and succulent-- just about everything we want in a litson manok. A serving of a quarter of chicken here costs P83 to P85-- depends on how many add-ons you want. There aren't as many Bugong outlets in Manila as it deserves. So if you're in Salcedo Village, feel lucky that you have Bugong within reach.
Let me take you to lunch: Casual Dining Places in Salcedo Village
Blessed with flexible lunch hours? Taking client out to lunch? Salcedo Village is brimming with options for casual dining. Try any of these restaurants that cover just about every cuisine available in the metro.   
Warung Indo-- Chinese Indonesian Cuisine (formerly Talking Tongues)
LPL Manor
116 Leviste St. (entrance is along San Agustin St.)
Beef Rendang (P400), Gado Gado Salad (P180),  Ayam Penyet (Marinated Fried Chicken; P180), and Sate Ayam Telur & Kerupuk (Chicken Satay; P225) are just few of the many authentic Indonesian fare available at Warung Indo. Bring a friend or two (because their dishes are all good for sharing) and partake your lunch in this bright-interiored hole in the wall along San Agustin Street.
Shokuji
Ground Level, LPL Center
San Agustin St.
(+63 2) 812-9235
With two decades of Makati operations under its belt, Shokuji has long been regarded as the go-to destination of Japanese food lovers in Salcedo Village. What truly makes this intimate restaurant worth visiting are the quality food, fast service, and reasonable prices.
We love Shokuji's generous Oyakodon (P195), can't-be-found-anywhere-else Gyoza Tempura (stuffed batter fried dumplings; P90), and their All You Can Eat Japanese Food promo (P575 with iced tea) every weeknight from 6PM to 9PM.
Shokuji doesn't really offer anything new to the table but its strict loyalty to a traditional style of Japanese cooking makes it one of the best in the metro.
BrewKus: The Bev-wich Shop
Unit G-02, 139 Corporate Center
139 Valero St.
(+63 2) 856-7656
Chicken Pico de Galo Sandwich
Milk teas and fruit teas
BrewKus: The Bev-wich Shop angles itself as a beverage-sandwich shop. Office workers flock the spacious nook for their entrées are good for sharing. Among their appetizers, the Crisp Spinach Ravioli (P180), has a strong following. Mains can be had in the form of Wild Mushroom Pasta (P250),  and Chicken Pico de Galo Sandwich. Pair all of these with the different blends of coffees, milk teas, and fruit teas available at BrewKus. Coffee prices start at P80, teas at P70.
Songkran
Ground Level, Valero Carpark 2
Valero St.
(+63 2) 893-7551
Named after the famous Thai Water Festival, fairly new Salcedo resident Songkran offers close to authentic street dishes from the Land of Smiles. When travelling to Thailand is not an option, be consoled that al dente Pad Thai (P195),  sour and spicy Tom Yum Goong (P245), and addicting Chicken Pandan (P225) is just a walk away, nestled at the ground floor of a car park.
The Galley
150 Valero St.
(+63 2) 880-0825
We're assuming that The Galley's ship-themed interior is reponsible for its menu's mismash of international dishes like Louisiana Crunchy Burger (Chicken burger dipped in butter dough; P185), Cabo San Lucas Roasted Chicken (P85 for a quarter piece with rice), and Mediterranean Gyros Platter (P250). If your lunch group is the type who can't decide on a particular cuisine, try The Galley, and for sure, you'll find something worth liking among their smorgasbord of flavors.
Savor Park Cafe
Ground Level, Adamson Center Bldg.
121 Leviste St.
(632)812 79 74
Savor is a bright and cozy restaurant that offers upscale and dressed-up versions of Filipino dishes like Humba (P229), Gising-gising (P159), and Cowboy Sisig (P199). Savor is also a quiet nook for an afternoon coffee and dessert. Try their Savor Blend (P65) with this relentlessly sweet Caramel Brownie. 
New Bombay
Ground Level, Sagitarius Bldg.
H. V. Dela Costa St.
(+63 2) 819-2892, (+63 2) 893-7506
Craving Chicken Biryani? Get your quick Indian fix at the main branch of New Bombay. Prices here rarely go higher than P250 and service is fast, so New Bombay is a perfect alternative for your office lunch outs.    
Alexa's Deli
Ground Level, Classical Condominium
112 H.V. Dela Costa St.
(+63 2) 813-7097, (+63 2) 813-4218
Alexa's is a dine-in deli that offers meals, imported wines and cheeses, and consistent coffee in a serene setting. Patterned after a New York cafe, Alexa's Deli offers a relaxed comfort that's rare in a bustling city like Makati.
Coffees here are priced under P150 and one can partake in any of their all-day breakfast items or pasta offerings for less than P200.
Manila Maki
Ground Level, Elizabeth Place Condominium
HV Dela Costa St.
822.7319
Craving Japanese and Filipino at the same time? Get the best of both cusines at Manila Maki, a hole in the wall restaurant along Dela Costa street, that uses Filipino ingredients in Japanese dishes. Laguna Roll (a crispy salmon belly with kesong puti in sushi rice and bacon bits), Tuna Maki with Aligue, and Sisigdon are just few of the creative dishes that you must try in this resto. 
Sky is the Limit: Top Date Places in Salcedo Village
You and your special someone will never run out of options when dating in Salcedo Village.
Relish at Ponte
Ground Level, Ponte Salcedo Building
120 Valero St.
(+63 2) 519-3543
Relish, with its elegant interiors designed by the famous Almario sisters, is an unlikely home for a Cheesesteak Sandwich (P260) that's usually found in counter-type diners. But don't let the unlikeliness hinder you from ordering one. Cheesesteak here is quintessentially big, crowded, and messy. The baguette barely has room for all the beef slices tucked within. The meat's all tender. The cheese melt is all over the place. 
Cheesesteak Sandwich
Relish Bistro Steak
There's a long list of other interesting items to try in the menu (like their Buffalo wings, and Relish Bistro Steak) but when in Relish, it's illegal to leave without sampling Cynthia Almario's Amazing Artichoke Dip with Tostitos (P325). Let the dish's name set your expectations.
Elbert's Steak Room
Unit 3A, Sagittarius Building II
111 H.V Dela Costa St.
(+63 2) 339-3363
Salcedo Village is proud home to one of the best and most premium steak houses in the metro. Elbert's Steak Room specializes in USDA Certified prime grade meats paired with equally premium side dishes. Bring your date to Elbert's and let Elbert Cuenca and his team of chefs indulge you in a dinner that's worth remembering. Reservations are recommended. (Note: Come prepared. Steak here averages at P2,500 while side dishes are priced at P200.) 
Top of the Citi by Chef Jessie
34th Level, Citibank Tower, 8741 Paseo de Roxas
(63 2) 750-5810 to 12
When Top of the Citi opened to the public in 2009 (after being exclusive to Citibank executives for over a decade), it granted Makati couples to an unparalleled view of the Makati cityscape and Chef Jessie Sincioco's (Le Souffle) culinary masterpieces. Since then, many monthsaries and aniversaries were spent at this hotel outlet-like restaurant that offers: Francis Cuyegkeng's Roast Duck Salad (Php 390), Certified U.S. Black Angus Rib Eye Steak (Php 1350), Grilled Ostrich Steak in Valentino Sauce, and Grilled Seabass with Andaluz Sauce.
Tsumura Sushi Bar and Restaurant
2nd Level, 88 Corporate Plaza
88 Sedeno St. cor. Valero St.
(+63 2) 887-4848 to 50, (+63 2) 812-1393
Sushi and sashimi are stellar in Tsumura Sushi Bar and Restaurant. But bills can get "Tsu-mahal" in Tsumura because produce is flown straight from Japan. For instance Sashimi Moriawase, an assortment of fresh Salmon, Scallops, Uni, Hamachi, clocks in at around P900 and Honmaguro Toro (Bluefin tuna) Sashimi is priced P2350. If your date is not too fond of fish, get her the Wagyu Beef Usuyaki (P600), which is mushroom-filled A4 grade Wagyu strips.
Terry's Selection
Ground Level, One Lafayette Square
L.P. Leviste St. cor. Sedeño St.
(+63 2) 889-3194
Owned by Chef Juan Carlos de Terry, Terry's Selection specializes in Spanish-Basque cuisine and supplies most of the local Spanish restaurants and residents here in the Philippines. Feast on Jamon Serrano Gran Reserva (18 months air-dried ham, carved as you order; P590/100 grams), Chistorrado (P690), Fabada Asturiana (P390), and Tocino del Cielo ("fat from heaven"; P110) at this fine but relaxed restaurant.
Brasserie Boheme by The Gustavian
Ground Level, The Picasso Boutique Serviced Residences
110 L.P. Leviste St.
(+63 2) 403-4774
Modern, chic, and comfortable are three adjectives most often used by Brasserie Boheme's patrons when asked to describe this boutique hotel restaurant. Also a favorite date spot of Makati couples, Brasserie Boheme offeres European flavors like Caprese Salad, Char-Grilled Salmon, and Chocolate Truffle Cake. Brasserie Boheme offers Menu Du Jour Prix Fixe, a three course menu selection for only P490++.
Apartment 1B
One Lafayette Square
Leviste St. cor. Sedeño St.
(+63 2) 403-4774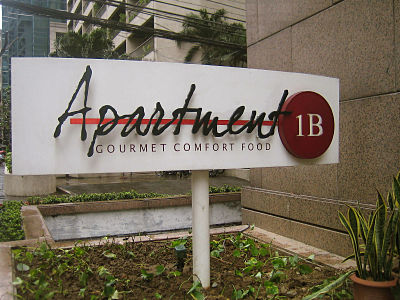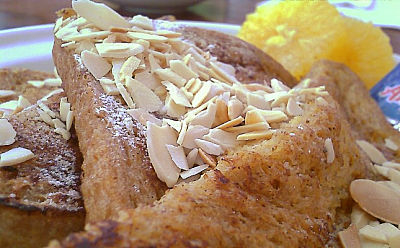 Orange French Toast
Tucked deep within Salcedo Village is Apartment 1B. Billed as the place for gourmet comfort food, the restaurant has a homey and cozy feel. Probably the most-ordered item on the menu is Eggs Benedict with Hollandaise sauce. Apartment 1B also serves the usual Pancakes/Waffles and Omelets and their Orange French Toast is "out-of-this world delectable".
Chocolate Fire
Ground Level, PDCP Bldg.
Leviste St. cor. Rufino St.
(+63 2) 840-3473
Just a sampling of what's available in Chocolate Fire
Chocolate Fire is a chocoholic's paradise. The brand born in Melbourne City, Australia, offers a wide range of chocolate experience-- from the simple pleasure of eating a chocolate-dipped strawberry to the grandeur of tasting one of the world's finest chocolates: a pure couverture chocolate from Belgium. The sleek and dim interiors of Chocolate Fire makes it a great dessert date place!
The Strand Cafe
One Pacific Place Serviced Residences
161 H.V. Dela Costa
(632) 304.7777
Hidden inside a hotel/condominium, The Strand Cafe serves international food choices in a hotel-like set up. Probably the most popular thing about The Strand Cafe is their Buffet lunch at P399-- available from Mondays to Fridays, excluding holidays, from 12 noon to 2 p.m. The buffet spread offers a wide range of international cuisine such as Italian, Chinese, Japanese, Continental and Filipino. 
XO 46 Bistro Filipino
Ground Level, Le Grand Condominium
130 Valero St.
(+63 2) 553-6632
Chef CK Kalaw's XO 46 Bistro offers unparalleled renditions of Filipino favorites like Kare-kare, Bagnet and Gulay, Kinilaw, and Adobong Pusit. But more than the food, it is XO 46 Bistro's unique and gracious service that's best lauded by its patrons. Dressed in their formal Filipino wear and trained to speak in fluent Tagalog, XO 46's waiters will surely entertain you with their curtsies that's reminiscent of what we used to read in Rizal's novels. 
HOHOL: After-Office Bars in Salcedo Village
Home to several residential condominiums and office buildings, the village makes it an ideal area for bars and restos to flourish because of the eager crowds that spill out during the day and especially after work hours. The following are the go-to bars of Salcedo workers and dwellers:
Il Ponticello
2nd Level, Antel 2000 Corporate Center
Valero St.
Telephone: (63 2) 887-7168, (63 2) 887-4998, (63 2) 887-7154
'Ponti,' as most of its patrons fondly call it, is laid-back, well-kept, and good-vibed. it has an understated elegance that is often amiss in other modern resto-bars. The floor has been divided to two sections—the bar and the restaurant. The former is more laidback and modern while the latter has a formal, Old World charm accentuated by a subdued color palette of midnight blue and browns.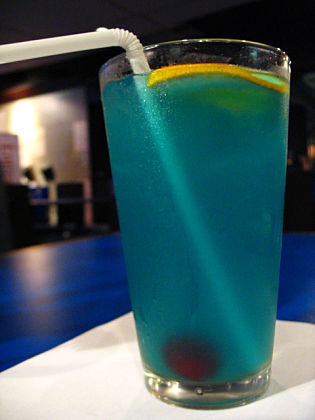 Azurri
Famous for their cocktails: Azurri, What did I do?, and Italian flag, plus their pizzas, pastas, and Ciocolato Della Nonna cake, Ponti is a destination for those very discriminating with their food and drink, but not uptight about letting their hair down and having fun.
Bugsy's
Paseo Parkview
142 Valero St. cor. Sedeno St.
(+63 2) 501-5203 
Named after the American gangster Bugsy Siegel, Bugsy's is the epitome of your friendly, neighborhood bar where absolutely anything goes. The entire place is divided into two sections: smoking and non-smoking, with each room having its own little bar. Plush red sofas, giant mirrors and black and white photos add to the cozy interiors. 
 It's a given that the drinks are yummy and pretty cheap (for Makati) but one of the biggest pulls of Bugsy's is their legendary Buffalo Tenders (P175), crispy boneless chicken fillets cooked ala Buffalo wings style and served with a shot of creamy Blue Cheese dressing.
Busgy Siegel
Other best-sellers include the Bugsy Siegel (P595), a 1-inch, 400 gram USDA Angus rib-eye steak and the Bugsy's Cured Beef Surprise (P185) , their version of tapsilog. 
If you're a first timer in Bugsy's, there's one drink that you must try: theBurn, Bugsy, and Burn (P155). It's basically a flaming shot of sambuca peppered with cinnamon powder that you have to sip fast. Afterwards, the waiter makes you inhale and exhale the flames from the shot. 
Bowler
Unit 2B, Paseo Parkview, 142 Valero St. cor. Sedeno St.
(63 2) 894-3589
Stepping inside Bowler for the first time is like being transported to jolly old England, thanks to its dark wooden cabinets, intricate floor tiles and colorful glass-stained windows reminiscent of an English pub. The place is dimly lit, with candles flickering on each table and the soft lighting from the chandeliers casting a romantic mood on the entire place.
Old World Interiors
When it comes to drinks, there are several on the list that customers keep coming back for. The Lychee Martini (P175) is a favorite cocktail among the ladies! Next up is the famous Bowler Bomb (P200), made up of 6 different kinds of alcohol and is not intended for the weak. Another popular drink is the Berry Sensation, a cranberry based cocktail with cherry brandy. If you're looking for something a little more traditional, Bowler also has its fair selection of wines, vodkas, whiskeys, etc. to choose from.
121 Bar and Grille
Ground Level, Adamson Center
121 L.P. Leviste St.
(+63 2) 892-8301
Get P50++ beer below zero and good pulutan fare (Pork Liempo, Gambas, and Cheesesticks, FTW!) at this popular after-office destination in Leviste St.  
Rue Bourbon
Ground Level, Aguirre Bldg.
108 H.V. Dela Costa corner Tordesillas St.
(+63 2) 553-4216, (+63 922) 456-9992
Rue Bourbon is a pub and restaurant that specializes in New Orleans Cuisine and wild exciting drinks. When at Rue Bourbon, order their Ancho Rancho Salad (P170: solo; P580: sharing), Bourbon Barbecue Ribs (P295-solo; P550-sharing), and Blackened Chicken with Rice and Mayan Salsa (P170-solo; P330-sharing).
Weekend Destination
The Salcedo Community Market is located in the confines of Jaime C. Velasquez Park sandwiched between the streets of Leviste and Tordesillas in Salcedo Village, Makati City and operates every Saturdays from 7 am to 2pm. Every Saturday, over 100 vendors come together and bring a wide variety of produce including meat, cheese, fish, wine, milk and pastries.
It offers the usual things you may see on a typical market such as fruits, vegetables, fresh seafoods, flowers, etc. However, these "typical" offerings appear to be bigger, more colorful and fresher. Plus, you won't walk on murky puddles while buying them. Prices may be a little over than the usual but with the quality finds, it is sure worth every peso
Interesting finds are organic sauces, dips and preserves arranged so beautifully in a stack with chalk-written signboard cards bearing the name of variants – this definitely gave it a very quaint and rustic feel. A lot of foodies flock to the market as well to sample ready to eat dishes in the different stalls of the market.