Tired of the hassle and bustle of commercial restaurants? Try the Artist Chef— a small, cozy diner nestled in the heart of Makati. It's so private that it can house only you, your date and yes, the Artist Chef, Joan Manalang.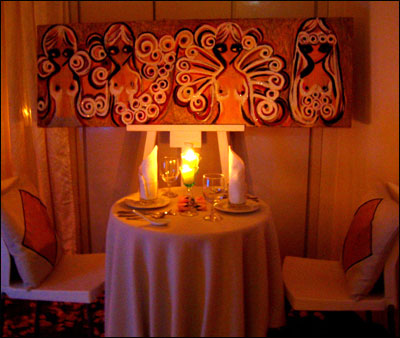 Joan works as an art director for a prominent advertising agency and has always been a lover of gourmet cooking. Inspired by the English chef Jamie Oliver, she wanted to introduce intimate gourmet dining that would be available at a very reasonable price.
For only
P1,500
, you and your date can have a full course meal, which includes a starter, appetizer, main course and dessert.
Last week, I had the time of my life when my husband surprised me with a romantic, private dinner at the Artist Chef. I really didn't know what was up as we weren't celebrating anything special. He just brought me to this commercial condo in Buendia, Makati. I never thought that inside this very ordinary building was a very extraordinary dining experience.
The chef herself welcomed us both. When I stepped inside, I really was stunned. Everything was so romantic. Little lamps were scattered throughout the room, decorated with beautiful petals. Beside the dinner table stood a very elaborate painting by Joan.
I was thrilled by the fact that it was actually the Artist Chef who cooked the meals
and
served us — there where no waiters and no assistant chefs. It's almost like having a personal chef!
We started our meal with the mouth-watering
Garlic and Cheese Cream Soup
. We then carried on with the
Mango Sausage Medley Salad
- a delightful mix of tropical and savory flavors that will really whet your appetite for the main meal; you can also opt for the
Kani Salad
, for all of you who really like the taste of mangoes with your greens.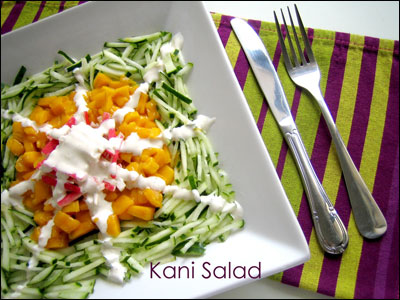 For the main event, we had the sumptuous
Paella Valencia
, served with
Green Tea Pandan Shake
, a refreshing combination.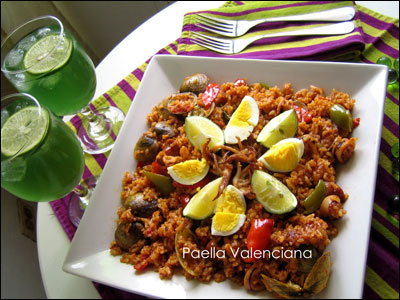 As if all these were not enough, the finale came with a hearty serving of
Almond Brulee
- a dessert to die for!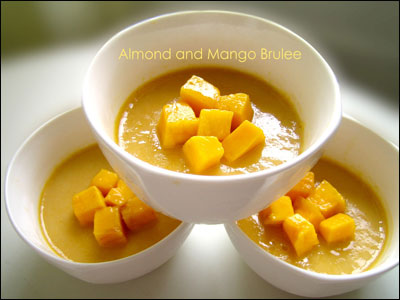 The Artist Chef has a wide array of great gourmet food:
Moroccan Chicken and Pasta, Fish and Pesto Pasta Combo, Clam and Veggie Chowder, and Strawberry Fondue
, to name a few.
With Joan, you'll find hearty servings of gourmet meals, served by your own personal chef in a private place for two.
For reservations, call the Artist Chef at (0917)537-3078. Book now for a dinner for two, especially if you'd like to dine with your significant other or friend during the long weekend or nation-wide holidays.