Legaspi Village may be the least busy among the quadrants of Makati's Central Business District, but it certainly isn't sleepy when we're talking culinary. 
Discover the many unique restaurants around Legaspi in this article below. 
Cantina Deliciosa
2F Food Court of Standard Chartered Bldg.
Ayala Avenue, Makati
(+63 917) 892-2885
Regarded as one of Makati's best kept secret food stalls, Cantina Deliciosa offers Tex-Mex, Mexi-Cali, Baja-Cali, and (sometimes) Spanish fare at affordable prices.
Owned and manned by Mexican-American husband and wife James and Gina Gallegos, Cantina Deliciosa offers Enchilada (kind of like a Mexican lasagna, P80), Burrito (big, burly, and prepared as you order; priced at P80 to P100) , Soft Tacos (P50), Flautas (P50), and Quesadillas (P50) on a regular basis. From time to time, Cantina also comes up with specials of the day like Spanish Style Pimenton Pulled Pork, Chile Verde (Mexican Stew),  Cuban Style Ground Beef Picadillo, Paella Negra and Valenciana, and Meatballs over Mexican rice.
While you can't expect made-from-scratch tortillas and flown-from-Mexico spices from Cantina, you are assured of a filling and quality Mexican meal at a fraction of mall prices.
Tip: Lines can get really long once the clock strikes 12nn. Come early or prepare to wait. And also, do note that Standard Charter Building requires visitors to surrender their ID at the reception.
Buffalo's Wings N' Things
Solaris One Bldg., De la Rosa St.,
Legaspi Village, Makati
Telephone: (63 2) 552-1103
If you're looking for a spicy wing fix, check out Buffalo's Wings N' Things' Makati branch. This restaurant that shares space with Chubby's Rib Shack is laid back, casual, with simple interiors and decor; it's perfect for a casual chowdown with friends.
Patrons of Wings N' Things seek the place for their Buffalo Wings of varying degrees of hotness. For newbies who'd like to play safe and try a little of everything first, get theTriple Sampler (New York's Finest, Honey BBQ, and Garlic Parmesan for P394) so you can pick out which flavors or sauces of wings to eat.
Rodic's Diner
Fedman Bldg., Salcedo St.,
Legaspi Village, Makati
Telephone: (63 2) 759-2875
Despite Rodic's I-couldn't-care-less ambiance, this leveled-up carinderia is considered an institution (and even heaven) by Tapsilog lovers.
Its consistently sweet and tender minced tapa is served with a huge cup of rice, greasy sunny side up egg, and tomato slices-- all for P75! If your budget is tighter, you can opt for their half-order meals that ranges from P30 to P45. No wonder, Rodic's at Salcedo is the choice of budget-conscious university students and Makati yuppies nearby the area.
Homeys Cafe
Miriam House Bldg., 151 Legazpi St.,
Legaspi Village, Makati
Telephone: (63 2) 945-7004, (63 2) 945-7009
If you're sick of fastfood and you don't have the leisure of going home for lunch, head to Homey's Cafe for a smorgasbord of mid-priced homecooked meals.
Their All-day Breakfast items (Bakaras Longganiza, Tocino, Beef Tapa, and Corned Beef), served with egg and rice, are priced at P140. Lunch staples (Bagnet Pinakbet, Sinigang, Pork Adobo, and Kaldereta) can go from P140 to P200 depending on what you order.
The menu may seem overpriced at a glance but remember that you're also paying for ambiance and service that are over ten times better that what you'd get from a Jollijeep.
Swagat Indian Cuisine
FCC Building, 119 Rada St.,
Legaspi Village, Makati
Telephone: (63 2) 752-5669
Swagat, which means "Welcome" in the Hindi, is a small, award-winning Indian restaurant down on Rada St. 
The hole-in-the-wall offers a long list of Indian specialties, headlined by the usual suspects: Chicken Curry, Dal Makhani, and Mutton Biryani. Pictured below is their Palak Paneer (P140), Chicken Makhanwala (cooked in cashews and cream), and Chicken Curry.
Dishes at Swagat are prepared ala minute. Its service is consistent and friendly. We can't think of a reason why you shouldn't visit this Legaspi Village gem.
La Grotta Cucina Italiana
Ground Level, AETNA Bldg., 104 V.A. Rufino St.,
Legaspi Village, Makati
Telephone: (63 2) 894-1320, (63 2) 817-3306
A favorite date place of ravioli-loving Legaspi Villagers, La Grotta is a dim-lit and cozy Italian restaurant, which can easily be spotted along Rufino.
Their Tagliatelle Di Tartufo Crudo (P390) is a popular order (as expected from something truffled), as well as their Gnocchi with Four Cheeses.
Go here if you're looking for hearty Italian fare that's good to share.
Murphy's Irish Pub
Ground Level, Citiland Condo III Building,
105 V.A. Rufino cor. Esteban Streets,
Legaspi Village, Makati
Telephone: (63 2) 894-1884, (63 2) 813-1378
Famous for their Tuesday Quiz Nights and sports-watching events, Murphy's is one of Legaspi Village's long-standing neighborhood bars.
This sports bar offers a wide-ranged menu consisting of all day pub breakfast, sandwiches, desserts, and beers. House specialties include traditional lamb stew, fish and chips, meat pies, and bangers and mash.
The Plantation Bar & Bistro
Ground Level, SCC Bldg., 106 Don Carlos Palanca St.,
Legaspi Village, Makati
Telephone: (63 2) 501-5727
Its affordable comfort food items and beer options are popular to Legaspi's corporate crowd but not a lot of people know about The Plantation Bar and Bistro's breakfast buffet (P200).
Everyday, from 6 AM to 10 AM, The Plantation offers unlimited access to around five to six breakfast dishes (Arroz Caldo, Tapa, et. al)  to hungry office workers within the vicinity. 
The next time you need to fill your tummy in time for a nerve-wracking presentation, you know where to go!
Balkan
109 Perea St., Legaspi Village, Makati
Telephone: (63 2) 846-0744
Legaspi Village offers all sorts of cuisines including the most unique ones like Balkan. 
The meaty Goulash (P230), a big bowl of huge chunks of beef and pasta in a very thick beef stew, is easily a best-seller. Pljeskavica (P180), ​aka the Serbian burger, is grilled and served with the usual onion, lettuce & tomato with a helping of fries. 
Ba Noi's
Ground Level, Greenbelt Mansions,
106 Perea St., Legaspi Village, Makati,
Telephone: (63 2) 666-1083, (63 2) 893-7359
Ba Noi's, just like Swagat, has long made rounds in every foodie's blog for its close to authentic food offerings. 
"Ba Noi is the Vietnamese term for paternal grandfather, and this restaurant's owner pays homage to his own. This place is a continuation of a legacy that the owner keeps sacred – home cooked food is good food. It's clean, fresh and genuine. There are no shortcuts, no magic tricks. He dreams to impart the same philosophy to the offerings of Ba Noi's. And it's hard to go wrong especially with a kitchen manned by a Vietnamese chef who closely supervises all orders that leave his domain."
"The owner prides their Phở Bò (Beef Noodle Soup) as a product of 9-hours of cooking to extract the juices of the meat, bones, and spices for a more flavorful broth."
Spring by Ha Yuan
Ground Level, BSA Mansion,
Benavidez St., Legaspi Village, Makati
Telephone: (63 2) 403-1508
Far from the madding mall crowd is Spring by Ha Yuan, a Chinese eatery tucked in a small nook in Makati's Central Business District. Spring by Ha Yuan recently opened its doors to diners who desire affordable and healthy Chinese food. 
Spring serves dim sum, noodle soups, dry-tossed noodles, rice bowls, roasts, lumpia, kapao, and desserts.Spring makes their own ingredients such as noodles, broths, buns, tofu and soy products. Even their fillings, sauces and condiments are made from scratch.
One of Spring's signature dishes is the Maki Mi (P140), a big bowl of Fookien noodles and pieces of succulent pork loin swimming in a thick, dark soy broth.
As for desserts and snacks, here's what Legaspi Village has to offer:
Mom and Tina's Bakery Cafe
Perea St. cor. Dela Rosa St., Legaspi Village, Makati
Telephone: (63 2) 894-3598, (63 2) 840-4299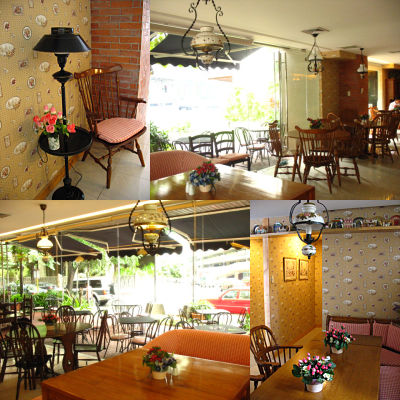 Mom & Tina's is a place one can feel at home at. Its warm, comforting food always deliver smiles to customers. Among the must tries are the frozen cups: Mango Walnut Torte Cup (P80) and the Dark Toblerone Walnut Torte Cup (P90).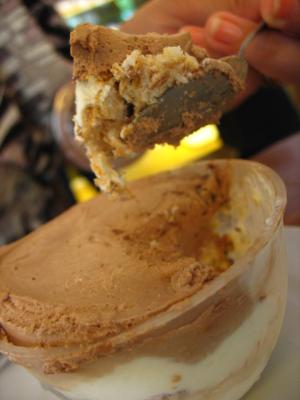 Happy Cream Puff
Unit G-16, Rada Regency, Rada cor. Dela Rosa St.,
Legaspi Village, Makati
Telephone: (63 2) 856-9447
Pass by this tiny dessert outlet if you want an instant pick me upper in between your deadlines. 
Serenitea Cha Kitchen
112, Greenbelt Residences, Rada St.,
Legaspi Village, Makati
Telephone: (63 2) 478-4799
Whether to calm spirits or to jumpstart conversations, this tea place surely hits the mark.
Weekend only: If Salcedo Village in Makati has the Salcedo Saturday Market, then Legaspi Village also has the Legaspi Sunday Market.
More than promote competition, the two complement each other in providing a weekend market to its residents and other visitors. Like the one in Salcedo Village, the market at Legaspi Village is in business between 7 AM and 2 PM. The Sunday Market allows stalls beyond food and plants; they also carry bags, crafts and furniture stalls.