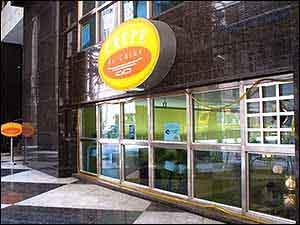 In Binondo, there is this amazing place that brings the crepe experience to a whole new level.
Crepe de Chine
creatively fuses Asian and Western cuisine with their delightfully different crepe creations. Imagine traditional Filipino food like Adobo or the Chinese staple Yang Chow enveloped in a thin pancake, and drizzled with savory sauce. Find it hard to picture? Then you've got to try their crepes yourself!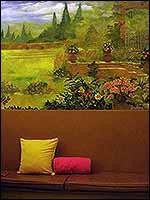 Crepe de Chine
is a cafe-resto that has been in the Binondo area for a little over a year now. the restaurant's interiors are a breath of fresh air amidst the bustling streets of Binondo. They made use of warm colors and lighting, and have painted one wall with a garden landscape that is soothing to the eyes. They also have two sets of swings with tables that give a casual al-fresco impression to diners as if they are fashionably picnicking during springtime.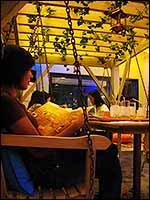 Crepe de Chine's menu boasts of unusual yet delectable fusions of Asian, French, Italian and other Western cuisines. Reinventing the usual way of serving crepes, they serve Starter Crepes, which are the salads that we are familiar with, rolled into a thin layer of crepe. Their Savory Crepes have different meaty fillings such as seafood, beef, chicken and pork. For the less adventurous, play-it-safe customers, they need not worry - Crepe de Chine is not just about their signature crepes, they also have pasta, pizza, sandwiches and pandesal to satisfy your appetite.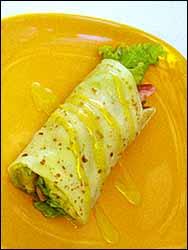 With my two college friends Kaken and Carlos in tow, we were all very excited to eat their crepes - it's a whole new experience for us, and we were eager to try out their popular dishes. We started off our lunch with the
CDC Crepe Roll (P180)
, which we have split into three. When our salad crepe arrived, we were very surprised to see that they have generous servings - if it were not split up into three, the crepe would have been very huge! A great value for money and for someone who has a large appetite, that's for sure. The CDC Crepe Roll was yummy - the soft rolled crepe compliments the crisp lettuce and slices of meat.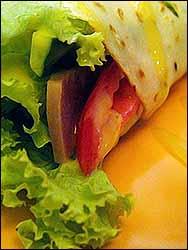 CDC Crepe Roll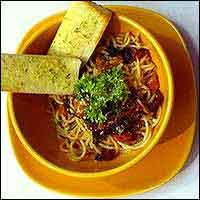 Since the three of us did not just want to try out their famous crepes, we all decided to order pasta. We tried out Crepe de Chine's
Nepolitina (P190)
, which had bacon bits, mushroom, olives and sun-dried tomato. I really enjoyed the pasta's sweet-tasting sauce, and the hint of spice that adds a kick to the over-all flavor.
We move on to the main dishes of our wonderful lunch -
Savory Hot Crepes
.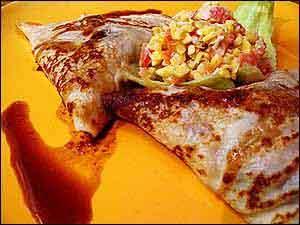 Mabuhay! Adobo
Yes, what you see in the photo above is their version of the Pinoy Adobo, crepe-
ified
. Being the adventurous food lover, I was curious to taste their Adobo, wondering if they can pull it off - and boy, did they ever! The
Mabuhay! Adobo Crepe (P180)
was the most interesting mix of flavors of my lunch at CDC that day. It also had a siding of the Filipino mango salad. Oh wow, how can I describe their Adobo? It's not exactly like our typical Adobo sauce - they have a special sweet spice that goes right down to the meat. My friend Carlos loves how the crepe was crispy, and that it goes well with the texture of the Adobo. Yummy, yummy, yummy.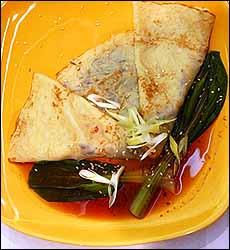 Braised Beef
Our other Savory Hot Crepe was the
Braised Beef (P200)
, thinly-sliced beef strips with a generous serving of brown sweet and spicy sauce. It tasted just like the Braised Beef rice meals of authentic Chinese restaurants, without filling you up too much because the crepe is very light.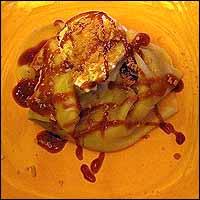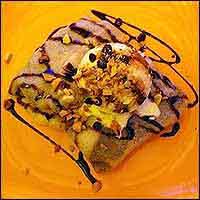 Delectable Dessert Crepes: Mangoteena and Mad Nutter
Even though by the end of our second Crepe Meal we were all getting pretty full (after all, we did eat three kinds of crepe and a bowl of pasta!), we still managed to find some room in our tummies for some Dessert Crepes. Diana of Crepe de Chine recommended to us
Mangoteena (P155)
, while my friend Kaken suggested we try
Mad Nutter (P165)
. And so, we order both crepes, our stomachs surprisingly managing to accomodate all the food we took in that day. Mangoteena is a sweet crepe with mangoes, caramel, honey crunch, topped with a vanilla ice cream. It reminded me of the taste of honey crunch cake from Red Ribbon, it was very sweet, my kind of dessert. The Mad Nutter on the other hand is a deliciously nutty crepe with banana slices, chocolate chips and chocolate syrup, and also topped with ice cream. The crepe was sinfully rich!
And so, our lunch at Binondo ended, our tummies happy and full. I tell you, it is definitely worth your time to go to Binondo and eat at Crepe de Chine. Parking is free and spacious in the building, and commuting is easy via LRT and jeepney. Do visit Crepe de Chine if you want delicious crepes served with a twist.