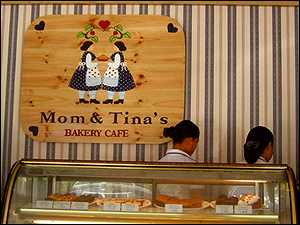 You feel the warmth of a country-style home when you enter
Mom & Tina's Bakery Cafe
located just across SM Hypermart along C5. Their interior design reminds one of family gatherings on sunny days and lazy afternoons, savoring home-cooked meals of which the recipes have been handed down from generation to generation. Ahh, comfort food. That's what Mom and Tina's Bakery Cafe has exactly to offer.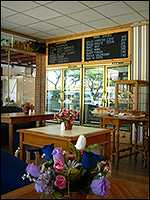 Manager Mia Torres-Cachola
explains that their restaurant has preserved the recipes that their family has grown up with. Cooking and baking are very much a passion of the Torres family, and putting up a bakery cafe was just a natural thing for them to do. Mom and Tina's is named after
Mama Belen
, their grandmother, and her daughter
Tina Torres-Santos
, women of their family who have the gift of cooking and baking delicious home-grown recipes that have now become customer favorites.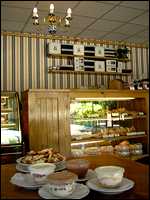 My family has been a loyal customer of Mom and Tina's for several years now and I was delighted to hear that they have expanded their cafe last March so it's now bigger and better, having a wider range of meals and desserts to choose from. Another good thing about the move is that they now have plush sofas, aside from the country-style wooden tables and chairs. Now, people can hang out for some coffee and dessert, lounging with friends, or simply while away time with a cup of java and a good book.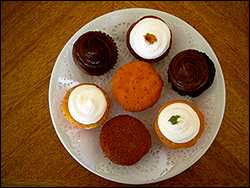 Assorted cupcakes (from P13 to P28 each)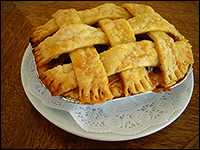 Mom and Tina's offers a whole lot in their menu – soups and salads, pasta and rice meals, steaks and sandwiches, to name a few. For desserts and sweets, they have brownies, cupcakes, apple pies, cakes, cookies, and a lot more. A lot of customers order the frozen desserts like the tortes, chocolate mousse, and mango trifle. Mom and Tina's Bakery Cafe also sells their baked goodies in boxes and jars that make great gift items and perfect party desserts.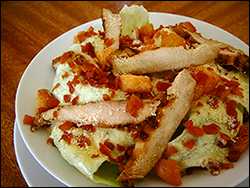 Chicken Caesar Salad (P190 - whole, P100 - half)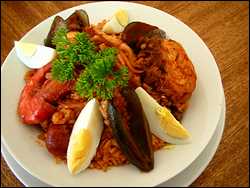 My personal favorites are their
Chicken Caesar Salad (P100, half order)
, and
Shepherd's Pie
. A lot of customers order the
Paella Valenciana (P140)
because it is very flavorful and the serving is big for its price. For lunch that day, I had
Cream of Mushroom Soup (P75)
, and
Chicken Spinach Lasagna (P105)
. All of Mom and Tina's soups and pastas are served with two rolls of garlic cheese bread or cheese bread with olive bits. Their soup of the day was served piping hot, with just a hint of pepper. The pasta was also great – the lasagna was very cheesy. I ended my lunch with a cup of
Strawberry Walnut Torte (P70)
, a frozen dessert that was both sweet and crunchy.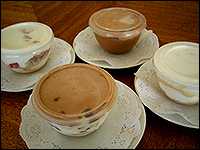 The Bestsellers: assorted frozen desserts
Mom and Tina's takes pride in their home-grown recipes, and I'm grateful the Torres family is happy to share their love for comfort food with us. If you never tire of feel-good dishes and sweets, and crave for a homey, laid-back atmosphere, this is the place for you.