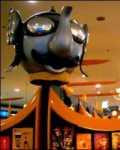 At the West Wing of
Robinsons Galleria
's second level, one is drawn to
Chaikofi Xpresso
's yellow and black modern interiors. And greeting people by its entrance is the cafe's quirky mascot: a huge silver teapot with a moustache, wings, and shades, eagerly welcoming coffee and tea lovers with a huge smile in his face.
Chaikofi Xpresso
is a delightful feast for your eyes and for your appetite. It is indeed a great dining experience because not only do they serve a wide range of coffee and tea from all around the world, they also offer customers a unique ambiance of modern and casual dining. Being a coffee and tea addict, this new place is a great find for me! Not only do I get to sip my chai tea and chat away with my friends, but I also get to indulge my eyes with the hip colors and feel of the place. After all, Chaikofi believes that it is not just a place where you can dine and have your tea or two, it's all about the art of tea, coffee and food.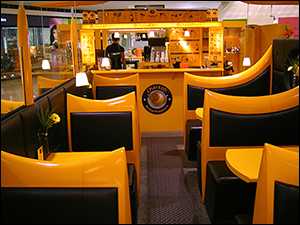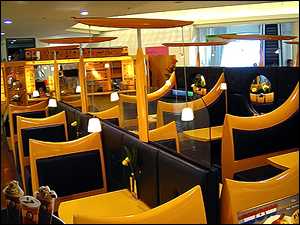 Manager Henry Queqquegan told me that their Galleria branch just opened April 18, but because the place is known for its cool look and feel, people love the cafe and meet up with friends or business partners. Even prayer meetings are being held in the lounge section that can seat around 5 to 8 people.

The little nook also has this interesting wall artwork with vivid colors. Laid back, cool, and kitschy, Chaikofi is a hotspot for dates, barkadas, and business groups. For internet geeks, they've got wi-fi so you stay connected while enjoying your cup of coffee.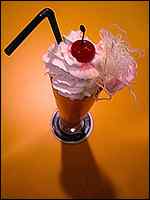 Since I have already tried their
Kashmir Spice ice-blended Chai Tea (P125 – my favorite drink!)
before, I asked their barista Mario what the best sellers are. He recommended
Blushing Bride (P125)
, an ice blended drink with a mix of strawberry, almond, milk tea and vanilla ice cream.
It sounded really good, and so I tried it. The drink is a perfect blend of sweetness with just a zing of sourness from the strawberries. And guess what? Their teas in itself are
zero calories
! Now that's what I call a great guilt-free drink!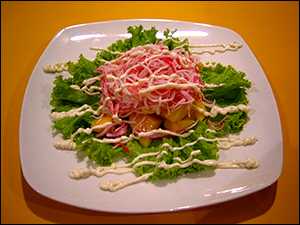 I also ordered their
Crab and Mango Salad (P115)
, it had generous chunks of ripe yellow mango and strips of kani laid out on a bed of fresh lettuce. Very delicious, I must say! They also have pastas, sandwiches and rice toppings to go with the perfect cup of coffee or tea, and yummy desserts like tiramisu and green tea cheesecake to end your meal on a sweet note.
So if you're looking for a cafe with a twist, do check out Chaikofi Xpresso – excellent service, vibrant interiors, great menu mix of coffee, tea, fruit juices and more. They'll definitely make you feel that tea, coffee and food are great works of art.