Finio
posted on

Tue, 22 May 2007 12:00 AM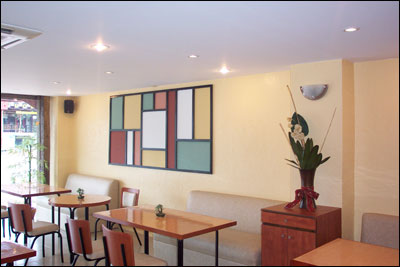 With what little is left of your monthly salary,
Finio
along Tomas Morato is one of the few places where you can put your hard earned money to use. This is a place where you can re-charge your batteries over the restaurant's delectable menu. Finio's dishes are basically modern and unique twists to old-time Filipino favorites in a comfy and functional setting.
"The Filipino palate deserves to be treated once in awhile to new and exciting fare," quips
Jerald Choa,
owner of the restaurant. And that is what Finio would like to accomplishes with its one-of-a-kind menu of otherwise regular dishes but with a unique twist. It also has a host of other dishes that will surely satisfy Pinoy cravings, whether it is with local residents, balikbayans or even expatriates living in the country.
Good thing though, I found out that
Finio doesn't use MSG
on their dishes, allowing fresh and natural ingredients to enhance the flavor of each serving. The result has been rewarding with a growing number of clientele who keep coming back for more of the various choices on the menu.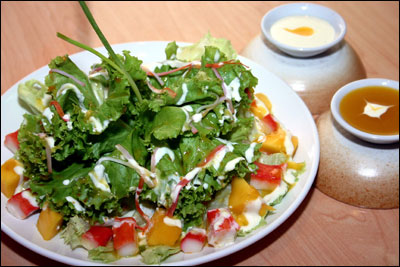 High on the list of must-tries is the
Crab & Mango Salad
(kani crabsticks and freshly sliced sweet mangoes on a bed of green lettuce dressed in aioli and mango syrup). I highly recommended this dish to all of the diet and health conscious individuals as I found it a filling meal by itself.
There is also the
Sorpresa de Balot
. This dish gives the all-time pedestrian favorite balot a makeover. Cooked in a mildly spicy sauce and served covered in a ceramic container, as its name says, this dish is a welcome surprise to the Pinoy taste buds.
Seafood enthusiasts will love to munch on the
Tilapia Strips
, crispy fried on the outside and light and tasty on the inside, it can be eaten on its own or dipped in its accompanying sauce. There's also the
Japanese Tawilis
, crispy fried Japanese capelin fish filled with roe, for a completely different gastronomic experience. Either way, these two dishes give the effect of addiction. Fans of these dishes know that one serving is never enough.
Folks who want a taste of the traditional will not go wrong with the
Boneless Crispy Pata
, served sliced into roulades. According to Jerald, this is one of the specialties of the restaurant and is never missing on all the tables of diners.
For diners craving to eat something in between meals, one must try their
Pancit Finio
, a noodle delight which uses a combination of canton and sotanghon, mixed with a special sweet sauce and topped with chopped lechon kawali. A rich meal unto itself!
Those who want a little more excitement can try some of Finio's other unique takes on the familiar, which include the
Pritson Maki Roll
, crispy pork belly served wrapped in tortilla with a dash of lechon sauce to taste; and the
Lengua ala Finio
, thinly sliced ox tongue in a mushroom gravy sauce.
Finio's other merienda menu is equally adventurous. It takes inspiration from Italian and Mexican dishes and combines it with Filipino staples, resulting in a merienda to remember. There's the
Shrimp & Squid Aligue Pasta
, an intriguing mix of seafood, crab fat and pasta; the
Garlic Longganisa Quesadilla
, a hot Mexican sandwich with a Filipino filling, and the
Shrimp & Garlic Pizza
, a classic favorite for shrimp lovers, topped with bits of quesong puti and loads of mozzarella. Try their newest
Laing Pizza
, a take-off from the famous taste of Bicol express.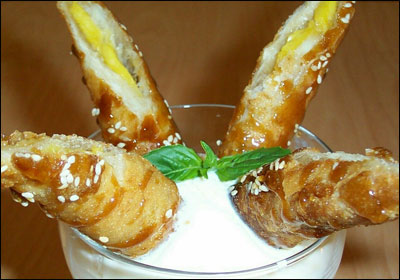 Customers with a sweet tooth will be delighted with Finio's
Banana Langka Float
, mouth watering sticks of turon served in a martini glass tucked with a generous scoop of vanilla ice cream – a true celebration of texture and warmth.
Thankfully, word-of-mouth has continuously drawn more people by the day as they are attracted to the great eats and the reasonable price (expect to spend around
P800.00
for a satisfying Finio dining experience for two). At Finio customers can expect a different dining experience with each visit.
Finio Modern Pinoy Restaurant is located at the corner of Tomas Morato Avenue and Dr. Lazcano St., Quezon City. Operating hours are from 11 a.m. to 10 p.m. daily. For reservations please call 415-1278.
Photos by Jerald Choa