Naked Juice Bar
posted on

Thu, 17 May 2007 12:00 AM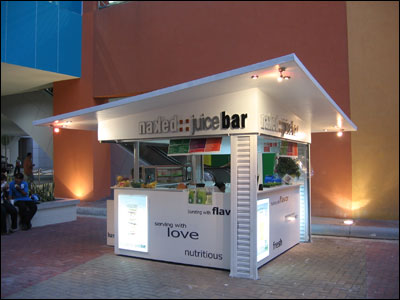 You can't help but feel drawn to
Naked Juice Bar's
white kiosk in Mall of Asia. Their shakes, sandwiches and boosters are a welcome reprieve amidst a row of stalls selling fried and processed food. Here, every day is a celebration of health and life.
The Naked dream began with three college classmates – Joanne, Cherish and Joanna, all health buffs – who longed for the healthy shakes and smoothies that they had on summer breaks abroad, but could never find here in Manila. Eventually, the entrepreneurial bug got the best of them and they decided to put up Naked Juice Bar, a haven for healthy eating that's aimed at changing the Pinoy's unhealthy eating behavior, one shake and grilled sandwich at a time.
Their bestselling shakes include the
Peach Mango and Mango Banana
(
P65.00
for 16 oz.,
P75.00
for 22 oz) and the
Fountain of Youth (P100.00)
and
Gladiator (P120.00).
What's great about Naked is that they also have pesto sandwiches, fish and vegetarian sandwiches on the menu – so you don't ever have to feel hungry at their stall. Regulars recommend the
Double Protein
(chicken pesto dressing with ham, cucumber and tomato) and the
Kani Etc.
(wasabi mayo dressing with crabstick, mango, and apple), both at an affordable price of
P65.00
.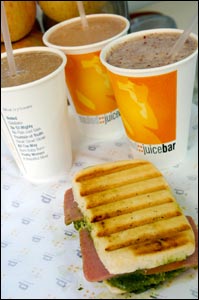 A few healthy eating tips from Naked Juice Bar:
1. Savor the flavor of your food and choose each item carefully. Eat slowly and pay attention to what you are eating and drinking.
2. Remember that alcohol is packed with calories. Choose light beer and wine over mixed cocktails.
3. Stand far away from buffets so you're not tempted to nibble constantly.
4. Don't go to a party or an event on an empty stomach. Before going out, snack on protein, which will satisfy you and help you eat less.
5. Portion control!
6. Make decisions about what you're going to eat. Weight management is all about moderation and making healthy decisions.
If you're feeling a bit low-energy or if you're coming down with something, the Naked owners recommend that you get one of their
Booster add-ons
with your preferred shake. They have
Energy, Brain, Green Tea, and Immunity & Fat Burn
boosters from which to choose.
When asked which booster she simply can't live without,
co-owner Jo Cabigon
points to the tried and tested Green Tea. "Green Tea is known to be helpful for conditions such as cancer, high cholesterol levels, impaired immune functions, and cardiovascular diseases," she says.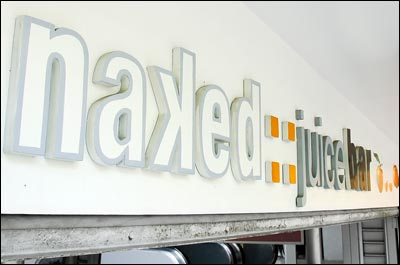 You could say that a month of detoxifying with Naked Juices and Shakes may give you that confidence to walk around naked - within the privacy of your room, preferably.
Naked Juice Bar is located in Mall of Asia (near the SM Hypermart). For catering or general inquiries, please contact Cherish Ong (0917) 520-1223, Joanne Cabigon (0917) 546-3887, or Joanna Go (0917) 533-8787.
Photos by Jay Lara