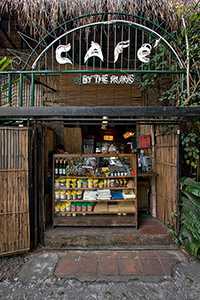 Before I went up to
Baguio
a friend of mine suggested that I visit
Café By The Ruins
. "Why?" I asked, and with a bashful smile on her face my friend replied,
"Sabi nila masarap."
That reason wasn't exactly as convincing as it was amusing, but not being one to pass up a gastronomic adventure, I put the restaurant on my itinerary.
Just by its name, Café By The Ruins already piques one's interest and because of its sheer popularity among the people in
Manila
, this small café has virally become the culinary stop every
bakasyonista
must take when they find their selves in Baguio.
Fact or fiction? Let's see.
The site where Café By The Ruins now stands used to be the pre-war residence of the governor of
Benguet
. The structure was destroyed by the American forces, in pursuit of the Japanese Army. All that was left behind was a wall which in 1988, the owners of the lot ingeniously built around to be incorporated into the overall theme of the café.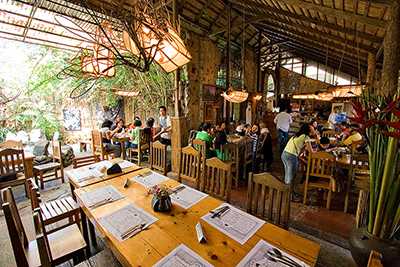 The café's vision is to nurture art and culture. It was opened to serve as an art space and a hangout for artists who live or frequent Baguio. One of the artists who frequent the place is National Artist for the Visual Arts, Bencab. Another interesting factoid is that they serve a sandwich named after our National Artist for Literature, Nick Joaquin called
Ole Nick's Open Face Sandwich (Php 95)
.
Not only does Café by the Ruins serve as place that nurtures Filipino art and culture, it also serves food which makes use of the region's bounty. The
Pinikpikan (Php 133)
, an indigenous broth based food from the
Cordilleran region
is one of Café By The Ruins' famous dishes and one which I was keen to try out. Unfortunately, they ran out of ingredients so I was not able to sample this dish. However, there were other items on the menu which seemed interesting enough to try.
Baguio Bounty Salad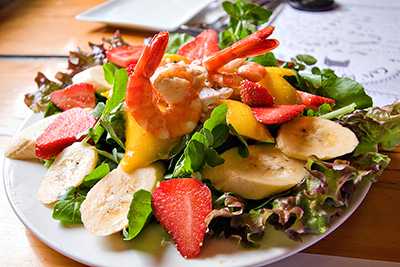 Baguio's bounty, indeed. The
Baguio Bounty Salad (Php 220)
brings together two of Baguio's best-known produce, lettuce and strawberries. Those sweet, plump strawberries! Other ingredients of the salad are watercress, mangoes, bananas, shrimps and fish. But the
piece de resistance
is the strawberry vinaigrette which has a mild earthy taste which perfectly complements the sweetness of the fruits. Biting into this salad is like letting fireworks of taste explode in your mouth thanks to the sweet and savory ingredients. Perfect!
Mechado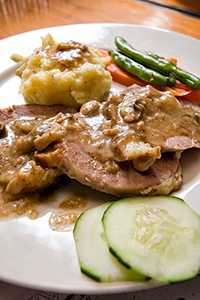 The Mechado (Php 190)
was one of the bigger surprises of my meal. I ordered the
Mechado
without reading the description on the menu which said: "pot-roasted beef with mushroom gravy, mashed potatoes and buttered vegetables." For some reason what I had in mind was the red sauce version of the
Mechado
with a
Cordilleran
twist… so imagine my surprise when I saw what I ordered. Nonetheless, I picked up my fork to taste my food which, as it turned out, didn't disappoint. Over all, I would say that the
Mechado
is OK, but the mashed potatoes with was served with was good. It was made of real potatoes, was mashed through what I suspect was a ricer and went well with the mushroom gravy.
Longanisang Hubad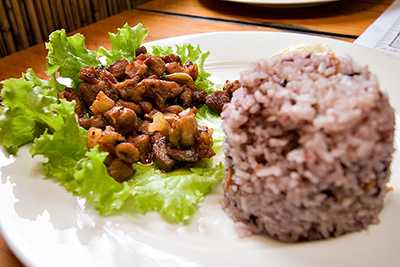 Dare I translate this into English for those who do not understand Pilipino? If I translate this literally,
Longanisang Hubad (Php 160)
would be 'naked sausage' in English. But kidding aside, it actually means, 'skinless sausage.'
My friend ordered the
Longanisang Hubad
after choosing between that,
Bangers and Green Mash (Php 220)
and
Tita Susie's Crispy Tapa (Php 170)
. Good choice. Thankfully he allowed me to have a bite of the skinless sausage. It was so good. The meat chunks were soft and marinated to taste like
Longanisang Vigan
, which I am a big fan of, by the way. It basically had the same sour and garlicky taste which the
Longanisang Vigan
is known for. To add even more delight to this delectable dish is the mountain rice it is served with. The rice had the most amazing shade of purple I have ever seen.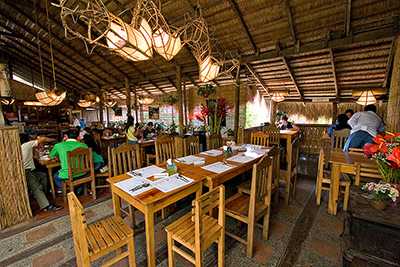 So if you ask me "Is Café By The Ruins a place that I should visit when I'm in Baguio?", I would have to say, yes. Maybe what I ordered in particular did not live up to my expectations, I'm taking about the
Mechado
here, but there are certain dishes that make it worth the trip. The ambiance is wonderful, it's like Sonya's Garden meets Baguio's art scene. Plus, not only does the place have historical significance, but cultural value as well.