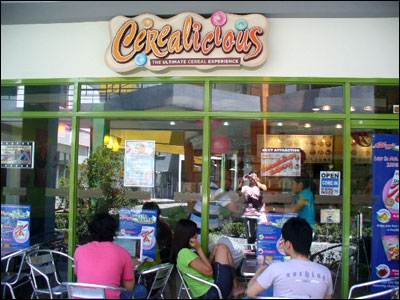 With health on their minds and fun in their hearts, a group of friends decided to jump on the entrepreneurial bandwagon to offer something unique to us Filipinos – cereal! I know, I know. Cereal has been around for years. Nothing new about it - but what this group of friends did with
Cerealicious
is to put a unique twist on our age-old breakfast favorite.
From corporate yuppies to enterprising youngsters, they set-up shop at the
Multideck Parking Lot
at the
University of Sto. Tomas
campus in Manila in January of last year. With the success of their first branch, they've branched out to other parts of the metro: near schools, call centers and hospitals, such as
Sherwood Place
along Taft Avenue in Manila and at
The Block
in SM North Edsa. Indeed, this new hang-out is successfully making its mark.
Upon my first visit to the place, the look of the setup and façade says it all. Take the friendly, bright surroundings of an American-style diner and mix it with the coziness and relaxing ambiance of a coffee shop. You have jazz and bossa nova playing in the background, free WiFi connection for branches like Sherwood, a friendly staff ready to serve you, and a whole lot of cereals and toppings to make your day!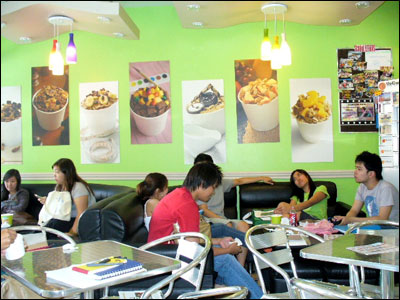 You have 14 of the usual, day-to-day, garden-variety cereals, 14 of the special varieties and 5 of the premium types. You can also mix them with 24 different of toppings, 17 special toppings and 4 extra "ooohhhs," as they call it. In short, if you do the math, you got oodles of possible combinations to choose from. If you have a difficult time deciding, you have 20 of their
Cereal Blockbusters
to choose from, like the
Jumango
(corn flakes, mango, honey crumble),
Charlie and the Choc-nut Factory
(Milo balls, banana, choc-nut),
Nutting Hill
(Koko Krunch, marshmallows, nuts, choco kisses) and the
Mona Kissa Smile
(coco chex, mango and kissables). I had some for lunch and I must say, these babies are quite heavy. Not bad for something healthy!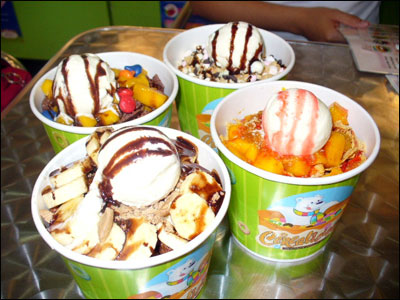 The cereal treats come in two sizes:
Trailer
bowls and
Blockbuster
bowls. Like icing on the cake, the ingredient that sets their concoctions apart from the rest is their special dairy slosh. It's more than your usual milk. It's a special blend that makes sure that your cereal does not get soggy right away so that you can enjoy the experience of filling yourself with this simple yet enjoyable comfort food. Did I mention that they offer low-fat and soy milk as well?
Aside from their cereal bowls you can also sample other concoctions such their Smoochies – their version of a cereal meal on the go – and their Cereal Splits, which is their take on the classic banana twist with a cereal twist – much like their cereal bowls. So if you want to continue your healthy lifestyle or just have a place to relax and unwind and reminisce on the good old times with your favorite childhood cereal, come on down to Cerealicious.
FIND CEREALICIOUS AT:
2nd floor Multideck Parking Lot,
I'm looking for U.S.T.
, Espana, Manila; Ground floor Sherwood Place, Taft Avenue, Manila; First Strip, Mendiola; Ground floor, The Block (new Hypermart Side), SM City,
North Edsa
; Theatre Mall Foodcourt,
Greenhills Shopping Center
.
If you wish to find out more about Cerealicious, you may e-mail them at cerealiciouscafe@yahoo.com, call them at (02) 413 8320 or text at (0917)795-4481.