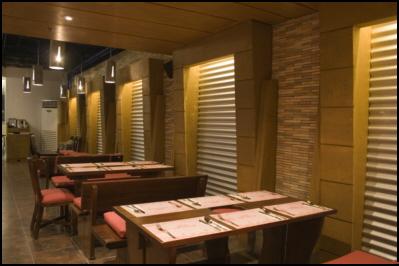 Two restaurateurs and a chef:
Raymund Magdaluyo, Murray Hertz
and
Peter Ayson
. These three men teamed up to create a haven of almost anything that can be clawed. From lobsters to crabs, oysters and ribs, clawing has now become a lifestyle for foodies. Located along "The Ledge" of the Shangrila Mall,
Clawdaddy Crab House and American Grill
, the brainchild of two well-known restaurant groups,
Red Crab
and
New Orleans
, invites all seafood-loving individuals and families to "claw" through those shells, enjoy the Southern American feast and simply eat with their bare hands.
CRAB DADDIES, BARBEES & CHICKIES
If you are a Red Crab or New Orleans fan, then you may find ClawDaddy's menu to be pretty familiar as you are sure to find some of your favorite Red Crab and New Orleans classic recipes such as
Crab Maritess
,
New Orleans Shrimp Popcorn
and
Calamari Platter
aside from the ClawDaddy specialties.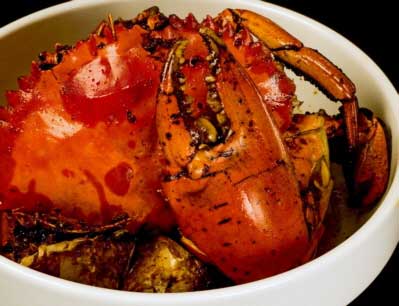 The best-selling
Seared Tuna and Calamari Salad (P285)
is a good starter although I find the balsamic vinegar dressing a bit too tangy for my taste buds. If you have a really big appetite, you may want to try the
ClawDaddy King Sampler (P895)
– a huge platter of tender and tasty baby back ribs, beef ribs, chicken barbee, black spicy crab, spuds and dirty rice. My personal favorites?
Black Spicy Crab
and the
Dirty Rice
– rice cooked with chicken liver and spices. You can finish off your hearty meal with a slice of Chef Pete's creation, the
ClawDaddy's Temptation (P190)
, a rich chocolate dessert that's not yet in the menu but getting great feedback from most customers.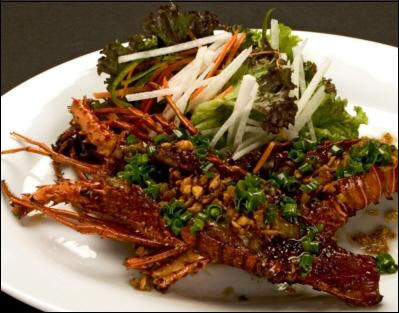 Expect your "claw masters" to present you with live crabs before preparing the dish you ordered, whether it's a Crab Casino, Deep-Fried Crab or Crab Singapura. You are asked to choose what size of crab (600g-700g, 800g-1kg, 1.1kg and above) you want. This way, you are assured that what you are about to take in is fresh as dead or almost dead crabs when cooked excrete a certain smell and fluid that can spoil your appetite and may cause food poison.
A WORRY-FREE DINING EXPERIENCE
The ClawDaddy experience can be described in two words: fun and unique. Aside from the exquisite interior resembling an old factory turned into a restaurant, diners can come in worry-free and eat using their hands merrily.
Bibs with
"Who's Your ClawDaddy?"
slogans are provided and of course, you are highly encouraged to wear them. Now, you need not worry about getting sauce stains on your clothes.
What's the fun in eating crabs if you're not going to use your hands? You will find that their "claw cracker" isn't the typical stainless tool found in most seafood restaurants. The cog can be comparable to the kitchen mortar and pestle, although their tandem is a rock and flat stone tile - bulky - but it's definitely easier to use. No more pieces of crab shells flying from one plate to another. More meat to claw from those shells!
Say goodbye to the nuisance of crammed, messy tables and piled up pieces of empty shells, corncobs and bones. Introducing the ClawDaddy
"claw bin."
This dually sophisticated and innovative bucket is crafted in a hole in the middle of each table. It also acts as an ice bath for those who want to enjoy a bottle of wine with their seafood or grill.
Nearly three months old, ClawDaddy's market seems to increase in number as the restaurant gets packed with families and large groups during lunch and dinner, and especially on weekends. Their biggest challenge? To gain more regulars and stand out among numerous and competitive seafood and grill restaurants in the Metro.
Good food. Reasonable price. My rating? 4.5 stars (out of 5).