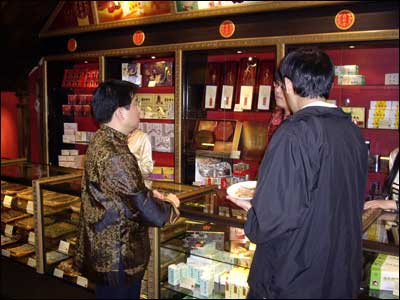 Tong Ren Tang
, China's oldest pharmaceutical company recently opened its flagship wellness center in the Ortigas area in a typical Chinese fanfare atmosphere. Leading personalities among the Filipino Chinese community in Manila came in attendance for the opening ceremony.
"We are excited about the Philippine market, and believe that there is great potential for traditional Chinese medicine here," according to Ms. Ding Yong Ling, vice General Manager of Beijing Tong Reng Tang, who flew in from the company's Beijing head office, just to oversee the opening of their first store in the Philippines situated along
ADB Avenue
.
"Traditional Chinese Medicine (TCM) has been one of China's greatest scientific achievements in its more than 5,000 year history, and Tong Ren Tang carries on that tradition in its more than three centuries of existence," adds Henry Tan, Vice President.
Tong Ren Tang is renowned the world over for its traditional Chinese medicines dating back to the Qing Dynasty. As early as 1699, it was once appointed as the only supplier of medicines to the Royal Court by emperor Yongzheng. Its founder Yue Xiangyang, a well known herbalist, wanted to offer quality medicinal herbs to the people of Beijing. Today, Tong Ren Tang has evolved into the biggest and most modern Chinese pharmaceutical company retaining its tradition of excellence carefully observed since the time of its founding father.
To enable Tong Ren Tang's Manila shop to offer the same service as its other stores in the world, the company has tapped renowned integrative medicine and acupuncture doctor
Philip Tan-Gatue
as medical director. A graduate of the University of the Philippines College of Medicine, Dr. Tan-Gatue also undertook further studies at Nanjing University of Traditional Chinese Medicine. In his local practice Tan Gatue incorporates western and eastern medicine in his practice.
Joining Tan-Gatue is
Dr. Zhang Shin Jun
, a renowned medical consultant from mainland China who specializes in internal medicine. A noted University professor, Dr. Zhang has over 30 years experience in traditional Chinese medicines and has authored several books and has presented several medical papers on traditional Chinese medicines.
The shop in Manila carries all the well known products of the mother company in Beijing China. Best selling herbs and medicines include Cow-bezoar Bous, ginseng and a host of special herb concoctions. The new shop located along ADB avenue in Ortigas also offers authentic traditional Chinese acupuncture, acupressure, ventoza and moxibustion among its services.Tong Ren Teng will also offer traumatology and osteology with the arrival of a specialist from Beijing.
I'm Looking For Tong Ren Tang.