Filipinos have been accustomed to conventional cuisines, may it be Asian, American influenced or other numerous fusions in the market today. Few dare take the purist route since it limits its market reach to a determinate minority – and yet sprouting out of nowhere a Persian restaurant, Arya, located within the shopping epicenter of San Juan city, chose this purist path, focusing on well, you guessed it, Persian food and with it some pockets of Middle Eastern and Mediterranean dishes.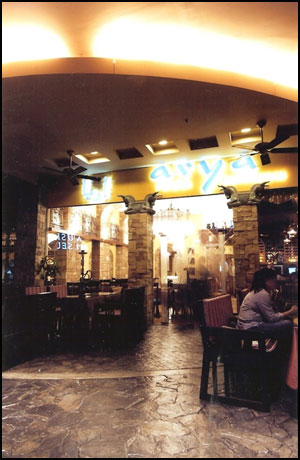 Only a handful of restaurants offering Middle Eastern cuisine are properly marketed and well regarded by its customers and clientele; Arya owner, Shin Karami, proudly claims that his restaurant offers both to the public. Arya is owned by Mr. and Mrs. Karami, where cooking is done by the couple themselves giving them a significant control on operations and food offerings. This work-horse duo delegates control equally as one focuses on cooking, while the other handles the daily operations in the kitchen and on the floor.
So what does Arya have to offer to Middle Eastern food seeking Filipinos? To start off, appetizers,
Mast O Musir (P105)
, a melange of home made yogurt with cucumber, garlic, mint and olive oil. Another offering is
Tzitziki (P95)
, a drained home made yogurt cucumber with mint.
Mirza Ghasemi (P130)
is a hearty puree of smoked eggplant in tomato sauce with a touch of garlic with egg. And to cap the appetizers urge in you, try the
Roti Chennai (P185)
, whole wheat unleavened flatbread pan-fried and served with curry sauce – a healthy and energizing dish.
Arya's salads should satiate your urge before the main course, so go ahead and try the
Tabuleh (P95)
, minced parsley with tomato, onion and crack wheat in lime, olive oil dressing;
Fattorsh (P140)
, famous middle eastern salad of tossed bell pepper, cucumber, tomato onion, lime and olive oil dressing, topped with croutons of pita bread;
Salad e Shomali (P105)
, finely minced cucumber, tomato, onion, Persian Herbs dressing, and home made yogurt;
Salad e Fasl (P140)
, crispy lettuce, cucumber, tomato, olives, and feta cheese tossed in yogurt and served with Arya's own house dressing.
Arya is known for its strict detail on their most famous dish and best seller,
Lamb Biryani
, a tender lamb stewed in spicy biryani sauce served with fluffy biryani rice, clocking in at a price tag of
P395
, a hefty price for a dish and yet demand is unbelievably high. Other notable and exotic dishes are
Kotteh Badenjan (P300)
, stew of beef balls stuffed with cheddar cheese, and eggplants in tomato paste served with fluffy basmati rice. The exotic
Zaban (P285
), ox tongue in spicy tomato sauce served with fluffy biryani rice, which should suffice any adventurous food seeker in the metro.
Arya is fairly new and yet they show an immense maturity as a service oriented establishment – rare for a restaurant in its infancy. The Karami couple have orchestrated a coup of sorts in the Philippine Middle Eastern restaurant market and fill a void that was once ruled by roadside eateries which never really portrayed the actual cultural feel Persian and Middle Eastern restaurants should in a foreign land such us our own.
Arya is located at Unit L-9 Promenade Mall, Greenhills, San Juan, Metro Manila. For reservations and inquiries please call 727-5062.