A lot of restaurants in the Metro are trying to slowly but surely diminish the accepted wisdom that healthy food means bland, tasteless and more often than not, green and leafy food. One of the pioneers of the 'fused up' healthy cuisine is
Fuzion Smoothie Café
, a franchise from Singapore that has been serving nutritious food -that's also pleasing to the palate - for almost 2 years. Now you have the option of eating quality food, guiltlessly. Although their menu is not entirely exclusive for the weight-conscious, you are sure to have tasty but all-natural, fresh and nourishing chow suited for your diet preference.
Offering a creative line of fruit beverages,
Fuzion Smoothies
are incomparable in taste. These yummy coolers don't have ice and added sugar, and you also don't have to worry about having too much syrup or getting little pieces of ice stuck in between your teeth because they're literally putting the 'smooth' back in smoothie. Fuzion uses a special kind of technology (the 'flash frozen sealing' of fruits), which retains the fruit's natural sweetness and while keeping them cool and fresh.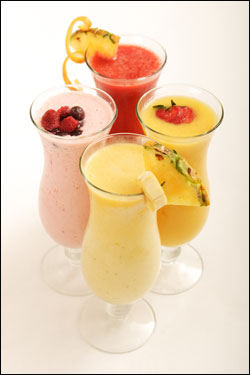 Very Berry Good
(an exciting trio of strawberries, raspberries and blueberries),
FlaMango
(perfect for tickling the taste buds with mangoes, peaches and bananas),
King Kong
power smoothie (banana, mango yogurt and whey protein, a match for those looking for a post-workout power-up), and the
Sex on the Peach
(allow me to indulge in a little cheese: the drink has
four play
to excite you as it's filled with tequila, peach schnapps, peaches, and yogurt. Can be served
mellow
or
tipsy
).
Fuzion Smoothies cost between P99-P189.
You can opt
not
to have yogurt in your drink, although if you want your drink to be tastier and healthier, then you really should opt-in with the yogurt.
Cajun Smoked Chicken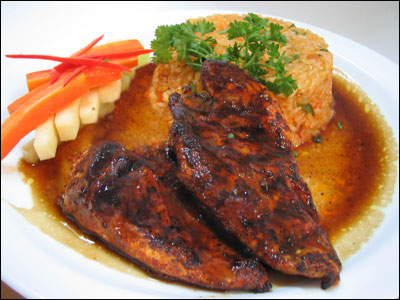 Fuzion isn't just an ordinary juice bar. All their smoothies go well with a wide variety of dishes. The must have's are the
Margarita
(
P190
, tomato, anchovy & basil pizza with added smoken bacon),
Braised Korean Beef Ribs (P190)
and
Carbonara Roma (P170).
For the diet-conscious, Fuzion serves
South Beach Diet-friendly
grilled specialties such as
Cajun Smoked Chicken
(P229, with Mexican organic brown rice). You can feel free to finish up the meal with an Oreo
Butter Finger Ice Cream (P120)
.
Braised Korean Beef Ribs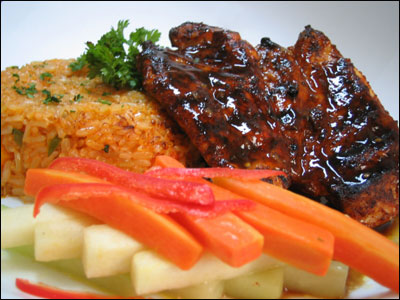 Enjoy all of these with family, friends and loved-ones in their modern Asian-inspired bistro, which has an uplifting interior of colorful walls, paintings, couches, and beds - just the perfect way to dine and lounge in one sitting.