Carrying the tagline, "Where good friends dine," and only a little under two months since it first opened to the public, Serendra Circle's latest Pinoy food addition has people lined-up to experience the underlying love of good food and good company that they have to offer. From the theme to the food and service, your money is worth every minute spent in this elegant yet homey creation.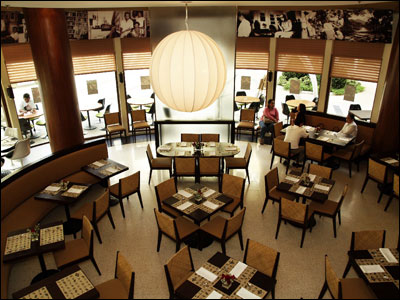 HOMAGE TO DAD
The founder and president of the LJC Group of Restaurants (Café Adriatico, Café Havana, Bollywood), Mr. Larry J. Cruz (LJC), pays homage to his father, Abe Cruz, and his works through the founding of Abe restaurant. Respected writer and artist Emilio Aguilar "Abe" Cruz (1915-1991) was considered a bon vivant and gastronome in his time. This Manila-born Capampangan has literally eaten his way around the world, a result of his position as ambassador for UNESCO in the 70's. Abe's menu reflects a selection of his Filipino favorites, from old Binondo to his favorite Capampangan dishes and other regional recipes as well. In addition, Abe's foodie artist and writer friends have shared their favorite recipes with the restaurant, such as Thelma San Juan with her mother's
Rellenong Mais
.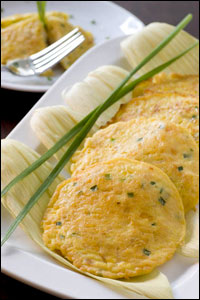 The establishment itself is worth a visit because it is the only circular structure in Serendra, offering its guests with a wide and panning view of pedestrian and commercial activity – perfect for Sunday afternoon people watching. Additionally, Abe's art works, drawings and memorabilia, can be found throughout the restaurant, along with vintage photographs and rare Philippine wood and panels. The contemporary feel and well-selected background music completes the dining experience for everyone in the family.
SERVED WITH LOVE
Offering a wide variety of dishes,
Abe Restaurant
presents its clients with sophisticated, elegant and traditional Capampangan food, in addition to its old Binondo, Filipino and World dishes. Mr. LJC himself vets every dish on the menu to make sure that each one has been prepared carefully and served with love.
The must tries are the
Paco Fern and Tomato Salad
(P130.00, appetizing greens with salted egg, tomato and vinaigrette dressing);
Spicy Sisig Pampanga
(P155.00, minced pork jowl and chicken livers sautéed in garlic that's great with rice);
Cassoulet
(P375.00, a French-style duck stew that captivated the ambassador during his diplomatic stint);
Pastel de Lengua
(P295.00,. tender and savory ox tongue cooked to perfection and matches flawlessly with its tasty pie crust topping). Match these dishes with a
Tamarind Shake
(P110.00) or
Ambassador Cooler
(P99.00, mango, dayap & guava with fizz). For
rice
lovers out there,
unlimited servings
are to be had for only
P45.00
. Most dishes are good for 2 to 3 people.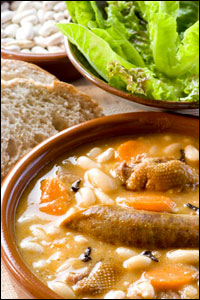 GUESTS ARE ROYALTY
"The staff has only one guideline - the guest is king. We aim to please in quality and service," confirms Mr. LJC himself. Abe surely gives that royalty feeling to its clients. Now, a few have remarked about the slow service of the restaurant. But I say, cut them some slack. You can't expect perfection considering that they have just been open for a little under two months.
Expect Abe to be packed during dinner-time and the weekends. Reservations are highly encouraged. Unlike some restaurants in the Metro, if you call-in for a reservation and you're a little late, more often than not, your table will be given to someone else. At Abe, you are sure to have that table waiting for you and your party. One piece of advice though: be considerate. If you're running late or planning a raincheck, call to inform them or to cancel. A lot of people are waiting in line!
Abe Restaurant is located in the ground level, Serendra Circle at the Fort. For reservations and inquiries, please contact them at 856-0526.