Arriving too early (or too late) for a movie at SM Mall of Asia may be one of the best things that can happen to you. It could leave you with just the right amount of time to enjoy a tasty meal and a fantastic vantage point from where you can people-watch at the sprightly restaurant that is Jatujak.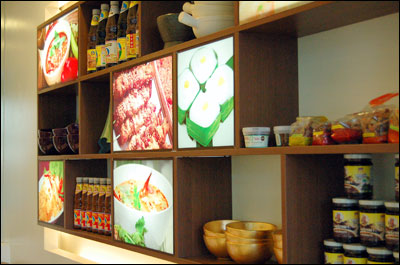 Named after Bangkok's famed weekend market, Jatujak comes as a relief to those of us who readily enjoy and crave Thai food, but can certainly do without the exorbitant asking price of Thai cuisine in Makati. Jatujak's head chef hails from Thailand – and it shows in the scrumptious and crispy staples like the Chicken Pandan (P180.00), Vegetarian Spring Roll (P90.00) and the Crispy Catfish Flakes Salad (P180), all of which shouldn't be tried without first dipping the piping hot samples into the chilly sauce (or chilly paste, fish sauce and/or oyster sauce; bottles of these Thai imports can be bought off-the-shelf at Jatujak).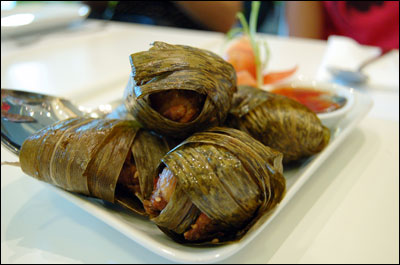 Don't make the mistake of ordering a fruit shake, or worse, a soda - as many of us are known to do during our moments of indecision – for Jatujak's claim to fame very well could be their Thai Iced Coffee (P65.00), served chilled in a gargantuan tall-glass, with the cream still dripping into the coffee's icy abyss.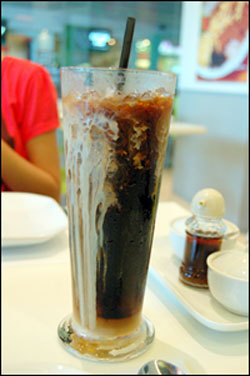 Despite the resto's quaint corner spot in the Entertainment section of Mall of Asia, it's still teeming with servers and waiters, ready to greet you with a smile and to take your order in a flash as they comfortably glide in their brown yoga pants, which are playfully accented with pink sashes and a loose Jatujak tee. Make sure you pick a corner table, from where you can catch a glimpse of the sun setting on Manila Bay and from where you can finally enjoy a cold glass of Joe, a plate of spring rolls and a sweet platter of Tako (Thai Water Chestnuts with Coconut Milk, P65.00) for a late
merienda
– unmolested, and for a price that will certainly keep you coming back for more.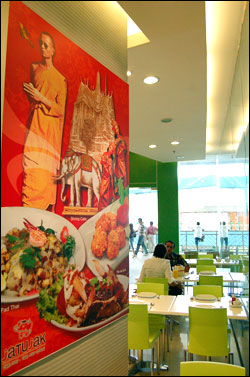 Jatujak is located on Level 2, Unit 237, Entertainment Mall at SM Mall of Asia. Operating hours are from 10 a.m. to 10 p.m., Mondays-Sundays. Open on holidays. For inquiries and reservations, please call 556-0850.
Photos by Jay Lara