Shokuji
posted on

Wed, 11 Oct 2006 12:00 AM
Japanese cuisine is one of the most staple and standard offerings that the restaurant industry has been churning out for the past few decades. It's a hit for the Filipino masses with its heavy reliability on rice and raw slices of seafood combined with killer sauces and main dishes. Regan Verceles, the venerable owner of
Shokuji
, knew the potential and stability of offering food in that form, in that manner. From there, he built his business and his loyal customer base – majority hailing from tall structured corporate establishments engulfing the surrounding of Shokuji, which in turn gives the restaurant a humbling presence due to its architectural juxtaposition.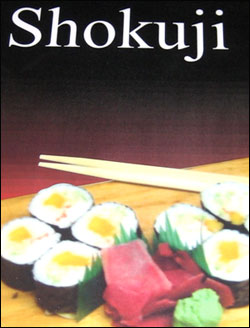 The first thing anyone notices upon entering the quite out of place sushi bar is the scent of familiar Japanese dishes, random pieces of art hang on every corner as if to remind you,
this is Japanese
. Even the carefully placed artificial plants will remind anyone of frugal Japan.
What truly makes this intimate restaurant worth visiting are the quality food and fast service. Upon checking the menu diners are offered an array of sushi and sashimi selections, from
Maguro
(tuna; P85 for Sushi and P145 for Sashimi) to
Ika
(squid; P70 for Sushi and P130 for Sashimi),
Shake
(salmon; P210 for Sushi and P380 for Sashimi) to the deliciously odd though expensive
Hamachi
(imported Japanese yellowtail fish; P260 for Sushi and P530 for Sashimi).
Not settled with small servings? Then go for assorted sashimi such as
Matsu
(P595),
Take
(P540) and
Ume
(P200). Shokuji is a master with the sited dishes above, the authenticity is noteworthy and its meticulous approach to food presentation is what they're known for.
Sushi and sashimi are but a small fraction of what this restaurant has to offer. Not so much into raw food? Try Shokuji's
Teppanyaki
(sautéed) dishes, first off, their mouth watering
Black Angus
(sautéed U.S. Black Angus Beef Steak; P500), too pricey? Then their saliva-dropping inducive
Beef Steak
, running at P275 with a high serving volume (value for money if you ask me). Affordable offerings for their sautéed dishes run at P180,
Maguro
(spicy Tuna with vegetables) and
Tai
(red snapper fish or famously known here, Lapu-lapuu fish with vegetables).
Of course, what's Japanese food without rice? Everyone knows the unique tasting Japanese rice, a hint of sweetness and strong neutral taste makes this offering a 'must' for any Japanese restaurant, especially if they plan on lasting long within the Philippine restaurant business. Shokuji's answer to that? Their
Donburi
dishes, in laymans term, rice toppings. The crowd favorite
Katsudon
(breaded porkchop and egg on rice),
Oyakudon
(chicken and egg on rice),
Sukiyakidon
(sukiyaki beef and vegetables) and
Toriyakidon
(grilled chicken teriyaki on rice) are all hits for Shokuji target's market - the yuppie crowd, which provides a large slice of its customer base. Aside from the myriad selections of dishes, a notable drink that anyone who visits Shokuji should definitely try – the
Sake Bomb
.
You could say that the number of Japanese restaurants here in the metro are overly-saturated, common, conventional, and ordinary. In choosing one, you really have to consider the quality of food and the restaurant's level of authenticity. It is the experience that one should pay and look for when going to Shokuji; its traditional take on Japanese dishes makes it one of the most unique places to go to for any Japanese food-loving individual. Shokuji doesn't offer anything new to the table but its strict loyalty to a traditional style of Japanese cooking makes it one of the best in the metro.