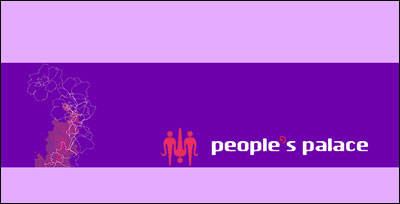 As soon as you enter
People's Palace
, you intuitively know that its price range and service offerings will reflect the painstaking attention to detail within the establishment. One look at the high ceiling, toned down colors and minimalist design and you know that the staff, managers and owners are serious about their fusion Thai restaurant in the heart of Makati. Music plays an essential part to the experience as chillout lounge tracks fill the scene and add a sense of calm among the diners, most of whom are well-heeled Filipinos and expats. The ambiance is a milieu of urban cosmopolitanism and a zen meditation room, making dining at People's Palace both a visual treat and a sensual experience.
The detailed approach to atmosphere is also reflected in the restaurant's menu. Cocktail drinks like
Bling Bling
(P280.00, a mixture of berries, citrus juice and of course, a full shot of vodka to help it give the right kick) and
Ping Pong
(P280.00, a sweet concoction of fresh lychee and vodka) are quite pricey but the volume and quality of the drinks heighten the after-hour chill experience and make the buckoos paid for the elixirs worth every peso.
Their best seller?
Prawn Pomelo and Coconut Salad
– a dried, fresh, garlic-induced, pomelo-filled salad with traces of nuts and shrimps – quite filling and very healthy (as most of their dishes are). Classic and traditional northern/southern Thai delicacies are what People's Palace is all about. Authenticity matters, and Chico Angeles and the gang make sure they live up to their own pre-requisite standards of quality and service.
Is People's Palace pricey? No doubt. High-end? Certainly. However, compared to other posh restaurants within the metro, the service, venue, food, and overall dining experience at People's Palace make their prices reasonable to the average denizen.
So, to all of you urbane, iPod-toting hipsters out there,
you
define the 'people' in People's Palace.
Image is a screenshot from http://peoplespalacethai.com.