Louisiana Pork Chops
.
James Dean's Favorite
.
Marilyn's Pan-Fried Fish
. A quick glance through
Butter Diner
's menu and it becomes clear that the diner serves predominantly American-themed dishes. Perhaps a more elusive question is - to paraphrase Shakespearean rhetoric - what's in
this
restaurant's name?
"Butter Diner gets its namesake from our concept: we use over 30 types of butter in our menu, both savory and sweet," head chef Rodel Matuba explains. Fresh from Laguna, Matuba adds that the wide variation of butter (ranging from pesto and garlic to the fruity mango and strawberry-filled) is the essential ingredient in enhancing the flavor of their concoctions.
Butter Diner is reminiscent of those charming, mobile restos commonly associated with American pop culture in the 1950s and 1960s. In recreating this nostalgic vibe, blondish-leathered stools and cozy couches were installed along with elevated lava lamps that gently illuminate the establishment. The sounds of Elvis Presley and The Supremes offer an added dimension to the reconstruction of bygone days.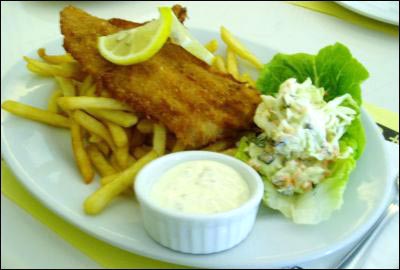 Butter Diner serves breakfast meals all day, ranging from morning staples such as the Classic Omelet and Stack of Pancakes (with the customer's choice of flavored butter) as well as the hefty Hungry Marine, the ideal combo that is sure to appease one's grumbling tummy. There are also a variety of comfort food favorites to choose from, such as the Asian Spareribs and the Beatles' Fish 'n' Chips, a generous plate of deep-fried fish fillet and tartar sauce served with French fries and creamy coleslaw on the side.
Located a stone's throw away from the Araneta Coliseum and Gateway Mall, Butter Diner's selection of meals is versatile enough to cater to any occasion, be it a family gathering, a morning breakfast fix with your loved one, or a pit stop with friends after an emotionally exhausting UAAP basketball game. I recommend heading over to Cubao one time to enjoy the exhilarating, "butter-ific" diner experience.