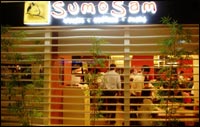 There is a relatively new Japanese joint owned by actor, Marvin Agustin, at the sixth floor of the Shangri-La Edsa Mall that seems to attract famished consumers the same way night-owls prowl the nearest McDonald's after a heavy dosage of booze. People cue in line at this place much like film buffs did during opening night for the The Da Vinci Code.
So what is all the fuss about? What exactly is the
Sumo Sam
phenomenon?
Even when you arrive at Sumo Sam early, families are already milling about the vicinity, some in animated conversations with each other. Others are seated, quietly hunched over, probably thinking about what to order - or just thinking about why their families are too stubborn to leave and to eat elsewhere.
After being seated comfortably by the hostess (which hopefully happens before your knees have turned to rubber), your mind races through the menu like Andretti to look for something appealing. And filling. After asking the waiter for his recommendations, he suggests their set menu, good for more than two people. After explaining, he also mentions that it isn't available tonight.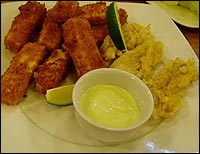 Patrons at Sumo Sam end up ordering something ordinary and ubiquitous, like the Fish and Tofu Fries with Wasabi Mayo and Green Iced Tea. But if you look hard enough, you will find interesting dishes like the Vegas Rolls Sushi, and you end up ordering more than one sampling because with a name like that, how could you go wrong?
For a restaurant that constantly serves a throng of people, Sumo Sam's service is surprisingly fast. The portions are huge, making their price range (P125-300 per meal) quite affordable and economical - especially for those eating family style.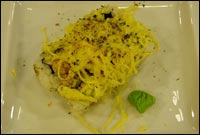 The Sumo Sam phenomenon can be attributed to three things: its location, the generosity of their portions and the affordable prices. The chow, on the other hand, is hardly noteworthy. After conducting a quick survey of dishes, you'll find that nothing strikes you as extraordinary.
However, after skimming through the menu, there are ample choices diverse enough to sway back first-time customers for another go. Just think of it this way: if SumoSam were a huge Hollywood summer movie, viewers would be adequately appealed to clamor for a sequel. And, as some films have proved, sometimes part two is better than the original.
Just try and get there early - waiting in line can be the ultimate hype buster.